Other Links
Editorial Board
Editor - Bill Kenny

Deputy Editor - Bob Briggs
Founder - Len Mullenger
Google Site Search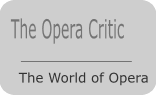 SEEN AND HEARD INTERNATIONAL OPERA REVIEW

Verdi, La Traviata: Soloists, Chorus and Orchestra of San Francisco soloists, conducted by Donald Runnicles, San Francisco Opera. 13.6.2009 (HS)

Cast:

Violetta Valéry: Anna Netrebko
Alfredo Germont: Charles Castronovo
Giorgio Germont: Dwayne Croft
Flora: Leann Sandel-Pantaleo
Gastone: Andrew Bidlack
Baron Douphol: Dale Travis
Marquis D'Obigny: Austin Kness
Grenvil: Kenneth Kellogg
Annina: Renée Tatum

Production
Conductor: Donald Runnicles
Director and Designer: Marta Domingo
Choreographer: Kitty McNamee
Chorus Director: Ian Robertson
Lighting Designer: Mark McCullough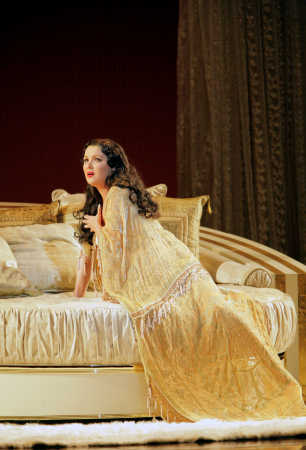 Anna Netrebko as Violetta


One mark of a true operatic superstar is that he or she never does anything quite like anyone else. That's what lifts Anna Netrebko's Violetta Valéry, the doomed heroine of Verdi's La Traviata, out of the ordinary. As if her voluptuous tone, fearless stage presence and ever-present musicality were not enough, her performance in the role on its opening night at San Francisco Opera impressed with its originality and aptness.

Time and again, Netrebko sidestepped hoary performance practices that have attached themselves to this familiar opera over the years. For example, in the final scene a dying Violetta reads a rueful letter from her lover's father, who in Act II had convinced her to leave her one chance for love so that his daughter could be free to marry. Most sopranos pull a crumpled paper from their nightgown and make a big, dramatic deal out of it. Netrebko remained supine, eyes closed, reciting the letter from memory. Not only did this reflect how often Violetta has reread the letter, but it made a more gentle, seamless transition to "Addio del passato," the heartbreaking aria that follows. Which she then sang with no scooping and fearless pianissimo attacks on high notes.

Ah yes, technical mastery. Another hallmark of Netrebko's work is her ability to cut through the busiest orchestral moments and complex ensembles without showing the least strain, all the while phrasing with impressive dynamic range from soft to loud. Every phrase had a shape that felt natural, not forced or rote. Unfortunately, the technical mastery did not show itself in Act I. She breathed in odd spots. The coloratura in "Sempre libera" never took off, and, for those keeping score, she not only disdained the high E flat at the end, she sang the E flat on the staff as written and not even Verdi's optional B flat.

More impressive were her interactions with the other characters. The pinnacle came in Act II, essentially a series of scenes with her lover Alfredo and his father Giorgio Germont. I cannot recall a more natural, conversational Act II in my 37 years at the opera. That was as much the work of baritone Dwayne Croft as Germont and tenor Charles Castronovo as Alfredo. Croft, a veteran character singer, brought to the role gravitas and just enough sense of doubt about what he's doing to make his scenes with Violetta riveting. He also rolled out the music in "Di Provenza il mar" flawlessly. In previous appearances in San Francisco, Castronovo has struck me as an uninspired actor, but here he radiated a passion and youthful vulnerability that made Alfredo into a sympathetic (if largely clueless) character. It all worked so well because Netrebko created a full-blown woman free of caricature. When Germont begins by insulting Violetta, for once we could believe that this as a character with enough substance to respond with dignity, and Germont's response later, an expression of admiration, makes sense. It created the tension that propelled the rest of the scene.

Though his voice was several significant decibels less than Netrebko's, Castronovo made up for it with seamless, sweet-toned singing and impeccable phrasing. Unfortunately, director Marta Domingo placed him far upstage for the "Libiamo" in Act I, which put him at a disadvantage. But for the rest, except for a rhythmically uninflected "Di miei bollenti spiriti," he came off as ardent and utterly believable. Croft, who had an announcement made that he was recovering from a virus, showed no ill effects and sang with his usual clarity and dramatic aptness.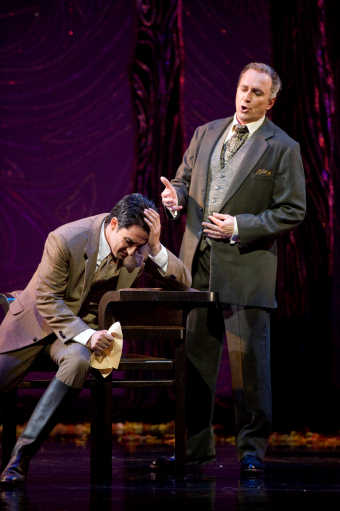 Charles Castronovo as Alfredo and Dwayne Croft as Giorgio Germont
Domingo's production, borrowed from Los Angeles Opera, relies on Art Deco elements, thus moving the action up in time from the early 19th century to Jazz Age 1920s. Violetta makes her entrance in a 1929 Buick. Flora's party is a Deco heaven, with a jazz combo miming to the music behind a ziggurat balustrade and Flora's dancers decked out in eye-catching Erté costumes. Everyone looked youthful and slim, although nine months after giving birth to a son Netrebko hasn't quite slimmed down to her previous size 4 body. She still moved easily though and looked the part.
For all that, I don't think I was the only one dry-eyed at the end. For those who rate Traviatas on how much they sob when Violetta dies, this one came up wanting. The fault lay with conductor Donald Runnicles. Balances were fine, the orchestra made lovely sounds and phrased attractively, but the tempo and rhythm lagged. Those strums from the pizzicato strings, and attacks elsewhere that anticipate the beat, not follow it, are what tug the heartstrings in Verdi's music, what make the emotions well up. These came off as flaccid. That's what was missing.
A pity, that, as this was Runnicles' final assignment as the company's music director. Nicola Luisotti, who makes a specialty of Verdi, takes over in the fall.
Harvey Steiman
Pictures © Cory Weaver
Ba
ck to Top
Cumulative Index Page