Other Links
Editorial Board
Editor - Bill Kenny

Deputy Editor - Bob Briggs
Founder - Len Mullenger
Google Site Search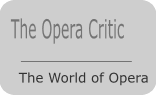 SEEN AND HEARD INTERNATIONAL OPERA REVIEW

Donizetti, Lucrezia Borgia: Soloists, Bavarian State Opera Orchestra and Choir, Bertran de Billy (conductor), Bavarian State Opera Nationaltheater, Munich 23.2.2009 (JFL)

Production Team:

Christof Loy (direction)
Henrik Ahr (set)
Barbara Dosihn (costumes)
Joachim Klein (lighting)
Andrés Máspero (chorus)

Cast:

Edita Gruberova (Lucrezia Borgia)
Pavol Breslik (Gennaro)
Alice Coote (Maffio Orsini)
Franco Vassallo (Don Alfonso)
Steven Humes (Gubetta)
Bruno Ribeiro (Jeppo Liverotto)
Christian Rieger (Don Aposto Gazella)
Emanuele D'Aguanno (Rustighello)
Erik Årman (Oloferno Vitellozzo)
Christopher Magiera (Ascanio Petrucci)
Christian Van Horn (Astolfo)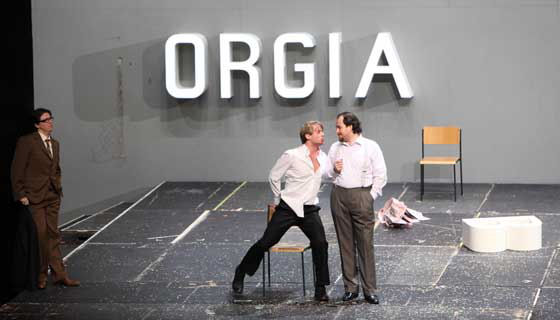 Donizetti's Lucrezia Borgia, his 30th opera, is based on Victor Hugo's play of the same name, and had its premiere at La Scala in 1833. It features three main characters: Lucrezia Borgia herself, Gennaro the tragic hero (tenor) who, unbeknownst to all but Lucrezia, is her son , and Maffio Orsini, Gennaro's very, very, close friend who—tellingly?—is sung by a contralto.

The opera features a particularly unbelievable story based on unlikely premises which steer the protagonists into artificially dramatic situations that bear the least possible resemblance to reality. As per usual with Italian opera of the time, a series of unfortunate events/conspiracies/oaths leaves the dramatis personae in life-and-death scenarios where one or more of them die only to turn out to have been the murderer's daughter/son/lover. If you've seen one, you've seen them all. Rigoletto and Il Trovatore, as slightly more sophisticated examples of the same idea, send their regards.

Of course operas like Lucrezia Borgia are not popular for the inane story linews that make the average MacGyver plot look new and sophisticated. Nor is the repetitive music, worthy of a third rate Sicilian Oompah band, the draw either. For one, every scene takes three times longer than necessary because everything has to be spelled and trice repeated with Donizetti unwilling or unable to express any emotion in music. He has but three modes: regular, powerful (loud), and 'ominous' (fast string tremolos): it's like painting with just three colors. Schubert can put the world's emotion in one tiny song... Donizetti, working at the rate of Lucrezia, couldn't put four emotions into an opera the length of Parsifal. Being premiered just six years before Verdi's Oberto, it's no coincidence that the music of Lucrezia sounds like very early (and very bad) Verdi.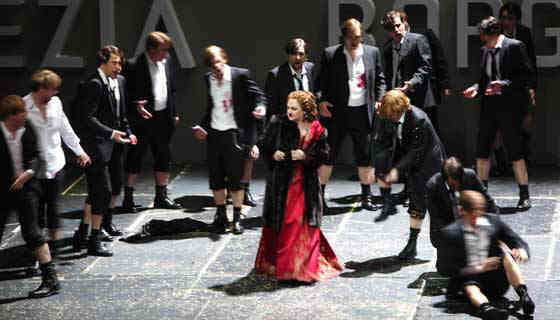 The real draw is solely the achievement of the soprano in the title role for whom the opera's vocal high-wire act the opera is one massive vehicle. Everyone in the audience waits through the entire second act for the very last five minutes (taking Orsini's "Il segreto per esse felice" in the passing) when Madamma Borgia has her gratuitous vocal coloratura moment where the singer—given sufficient ability—has the opportunity to burn off a display of fireworks that seems nearly superhuman. The inevitable roaring approval from voice fetishists - usually from the second tier upward) - make the impression of an old fashioned freak-show, albeit in a fancy setting, inevitable.

The Bavarian State Opera has Edita Gruberova for the title role, who is worshiped in the few towns—Munich, Vienna, Zurich— where she regularly performs. The primadonna assoluta is still a bel canto monster at almost 63. Although the soft hue of her voice is worn down a bit, exposing a touch of harshness, she still indulges in all the highest pianissimo notes she cares to, letting them swell to a piercing forte with ease.

The direction of Munich's Lucrezia is by Christof Loy, who was named Director of the Year 2008 by the German magazine Opernwelt and is a frequent collaborator of Gruberova's. His staging—or lack thereof—strips the opera of anything resembling a set. A raked floor and a bright white backdrop with neon-letters spelling out "Lucrezia Borgia" (Gennaro rips the "B" out, when he assaults the Borgia's coat of arms: "Oh diamin! ORGIA!") is all there is, apart from a few chairs. Why Loy makes Gruberova take her wig off again (she does so to great effect in his Munich Roberto Devereux) isn't quite clear. Her three costumes could, with some generosity, be construed as the multiple personalities that live within Lucrezia. The audience booed—as is good tradition, but the minimalist approach struck as refreshingly uncluttered.

The chorus, Gennaro, and his five friends all run around in Pulp Fiction uniform: black suites and narrow black ties. Only the ruffians in Act II look as if they had been chased through the costume magazine with the mission to pick whichever corniest 1950s Verdi costume first caught their eye. The ill fitting tights in every garish color and bad wigs were probably a clever self-referential joke of the production team, but that joke not being shared with the viewer, it just looked dumb. Zestfully throwing plastic wine glasses about, only for them to bounce off the floor with a hollow thud, is an embarrassment worthy of high-school productions that I thought would never happen at the Munich Opera.

Pavol Breslik as Gennaro and Alice Coote as Maffio Orsini made the most of their duty to pass the time between Gruberova outbreaks. Their tender duet—two men acting like a loving couple, played by a man and a woman—was a dramatic highpoint. Franco Vassallo's smooth bass mastered Don Alfonso's part agreeably. Loy's team consists of lighting designer Joachim Klein, Barbara Drosihn who is in charge of costumes, and Henrik Ahr, responsible for the set. Bertrand de Billy's conducting didn't go beyond supporting and cuing the singers, but then he had nothing to work with, musically.



Jens F. Laurson

Pictures © Wilfried Hoesl

Back to Top Cumulative Index Page