Other Links
Editorial Board
Editor - Bill Kenny
Founder - Len Mullenger
Google Site Search
SEEN AND HEARD INTERNATIONAL OPERA REVIEW

Handel
,
Xerxes
: Soloists,
The Royal Opera Chorus and Orchestra / Andreas Stoeh
,
Stockholm 15.10.2009
(GF)
Directed by Daniel Slater
Sets and Costumes: Robert Innes Hopkins
Lighting: Linus Fellbom
Cast:
Katarina Karnéus – Xerxes, King of Persia
Matilda Paulsson – Arsamenes, brother of Xerxes
Katarina Leoson – Amastris, Princess, betrothed to Xerxes
Lars Arvidson – Ariodates, Commander of the army, father of Romilda
Malin Byström – Romilda, daughter of Ariodates
Ailish Tynan – Atalanta, sister of Romilda
Mark Stone – Elviro, Arsamenes's valet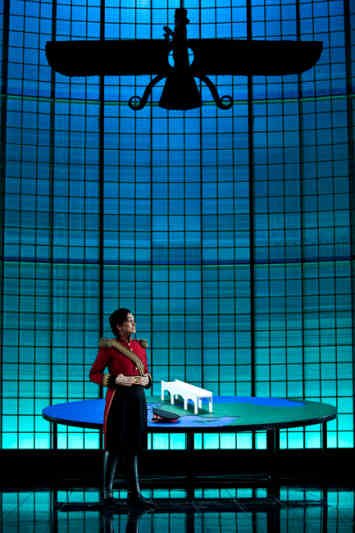 Katarina Karnéus as Xerxes


Xerxes (or 'Serse' as the Italian title reads) was no success when it was presented in 1738. It ran for only five performances and was never more played during Handel's lifetime. In fact it was not revived again until 1924 in Göttingen but since then it has been frequently seen and heard. According to Winton Dean it is the most popular Handel opera, next to Giulio Cesare. There were at least two reasons for the failure in 1738. Contrary to the previous Handel operas this is not a traditional opera seria, since there are several comic elements. The London audiences were obviously not prepared for such a mix. The other unusual feature is the near absence of da capo arias, so typical for Handel's earlier operas. In Serse there are an abundance of short arias, sometimes rather irregularly conceived. One could state that Handel in this work had become too modern for his audience, breaking the rather stale rules that had become the norm. The complicated plot, which can be confusing to a modern audience, was on the other hand something that was to be expected in the 18th century.

The Stockholm Opera has not been particularly keen on baroque opera over the years – on the other hand the Drottningholm Court Theatre has been a more natural venue for that repertoire – but Xerxes was played some 25 years ago at the Rotunda, strangely enough premiered on the same date – 23 February 1985 – as Giulio Cesare was premiered on the main stage. I saw Giulio Cesare but missed Xerxes. At Drottningholm Xerxes was presented just two years ago with the same Arsamenes as in the present production, Matilda Paulsson.

At Drottningholm the orchestra play on period instruments, at the Royal Opera they use modern instruments. But for this production they have engaged the baroque specialist Andreas Stoehr, who reportedly had worked hard to achieve baroque style playing. I saw the third performance (the premiere was on 10 October) and I found the playing very convincing, though a Stockholm morning paper's reviewer thought it was 'sprawling'. Premiere nerves, maybe.

The historical Persian king Xerxes was murdered in 465 B.C. and there are numerous allusions in the opera to factual events, including the building of a 1400 meter long bridge across the Hellespont. During the overture there are also some facts projected on the curtain. But when the curtain opens we are transported to a Persia during the 1930s. The proceedings begin in a luxurious hotel lobby, where the plane-tree, to which Xerxes addresses the well-known Ombra mai fu, is planted mid-stage. During the run of the first part of the opera the lobby is transformed into the arrival hall of an airport, to 'Spa Europa' and finally 'Bar Europa'. The sets are spectacular and beautiful but one wonders about the reason for this transportation in time. If Xerxes wanted to cross the Hellespont with his troups, why bother to build a bridge when he could just have landed the soldiers by aeroplane?

This objection pales away pretty soon, however, since the production is so enjoyable and the direction so full of life – and humour. As a matter of fact the whole opera, playing for 3½ hours including one interval, is a constant joy to watch and, not least, to listen to. With a cast of seven excellent actors, most of them young, the serious as well as the comic moments were handled splendidly and the singing was uniformly on the highest possible level.

The star of the evening was no doubt Katarina Karnéus. Born in Sweden but getting her training at Trinity College in London, she has had a busy international career for many years. Now she has settled in Stockholm and this was her first appearance at the Royal Opera. The title role in Xerxes was however not new to her; she sang it at English National Opera a couple of years ago. She has worked very hard and purposefully on how to act as a man and her way of walking, sitting, standing was every bit as male as any counter-tenor in the role would have been. That the one-time Cardiff Singer of the World Prize Winner has few superiors in the mezzo-soprano stakes is a well-known fact, and she sang this demanding role with great intensity, virtuosity and beauty.

Matilda Paulsson, who made her debut at the Royal Opera in the spring of 2008 as a very good Octavian in Der Rosenkavalier (see review) again excelled in a trouser role, as Xerxes's brother Arsamenes. She seems destined for a great career and has already been singing in several European opera houses. Katarina Leoson was a dramatic Princess Amastris and Malin Byström was a lovely Romilda, singing her entrance aria with on stage two flautists accompanying her. Ailish Tynan, who was Sophie in Der Rosenkavalier, made a spirited and delectable Atalanta, showing natural comic talent, and the two basses, Lars Arvidson and Mark Stone, were well in the picture, the latter sporting a tremendous voice in his second act aria.

In short the new Xerxes in Stockholm is a feast for eye as well as ear – and the risible muscles also get their fair share.
Göran Forsling

Photograph © Carl Thorborg