Other Links
Editorial Board
Editor - Bill Kenny

Deputy Editor - Bob Briggs

Founder - Len Mullenger
Google Site Search
SEEN AND HEARD UK OPERA REVIEW

Puccini, Turandot

( new production):

Soloists, chorus and orchestra of English National Opera. Conductor: Edward Gardner. The London Coliseum, 8.10.2009. (JPr)



Director -

Rupert Goold

Sets -

Miriam Beuther

Costumes -

Katrina Lindsay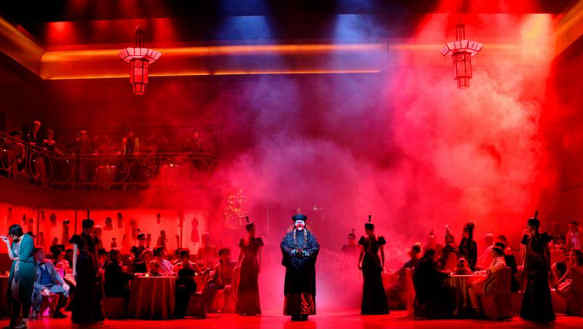 'Turandot' should always be pronounced 'Turando' according to the late Dame Eva Turner - one of the first singers to perform the role - who talked to me once about it. Apparently Puccini never sounded the final 't' for some reason and never actually seems to have allowed for it in the music. This is debatable of course but it raises the spectre of diction and opera in translation which is always an important issue for a night at English National Opera.

Another real issue is 'political correctness' - a topic so much in the news these days that it has become almost de rigueur to treat this Persian work of fiction as a commentary on modern China. It is sadly true that until the late 1990s the Chinese Government had banned performances of Turandot because they perceived it as showing their country and people in a poor light, but that's still no reason for the excesses in this production. The whole world including the UK could benefit from reviving its sense of humour.

The Ice Princess's story originated in a collection of Persian tales called The Book of One Thousand and One Days and is best known in its 1722 French translation by François Petit de la Croix. This was turned by Carlo Gozzi into a commedia dell'arte play in 1762 and it was from this that Giuseppe Adami and Renato Simoni developed their libretto. As is well known, Puccini worked on the opera from 1920 but was still unsure about the final duet in 1924 and died before finishing the music. 36 pages of sketches on 23 sheets were left behind for the ending, together with Puccini's instructions that Riccardo Zandonai should finish the opera off. Puccini's son Tonio objected to Zandonai however, and eventually Franco Alfano was chosen to complete the music for the first performance in April 1926. Puccini's publishers, Ricordi, apparently decided on him because his opera La leggenda di Sakùntala resembles Turandot in both its setting and heavy orchestration.

Over a relatively short span of 83 years, performances of this opera have become encumbered with multitudes of clichés and the pervasive odour of old fashioned chinoiserie. This is a fantasy of Persian origin, translated by a Frenchman and dramatised and set to music by Italians, every one of them people of their time. So surely no one could still infer from this nasty Grimm-type fairy tale that the Chinese are all blood thirsty torturers or that the only way to true love comes from sacrificing an innocent. Well, nobody but the young British director Rupert Goold maybe.

Rupert Goold has had his successes with Macbeth, Oliver! and Enron but he comes a cropper here. He has nothing worthwhile to give us other than a self-indulgent spectacle that must challenge ENO's rather precarious financial resources and uses up money that could be more wisely spent elsewhere. If Mr. Goold (or his team) has seen any Turandots at all, live, then the only one possible would be Andrei Serban's 1984 version from Covent Garden in one of its recent revivals: because – you can't kid a kidder – much of the style of the new one seems to be drawn from Serban's peculiar mixture of Kabuki and Globe Theatre. People may raise an eyebrow at this idea but among many points of comparison, I suggest that they remember the colours, the choreography, the chorus on the balcony and some of the entries by the principals, all of which look very similar to aspects of Serban's staging. So does the final bank of ovens and the smoke extractor in this ENO production, which has more than a passing resemblance to Serban's Act III pagoda.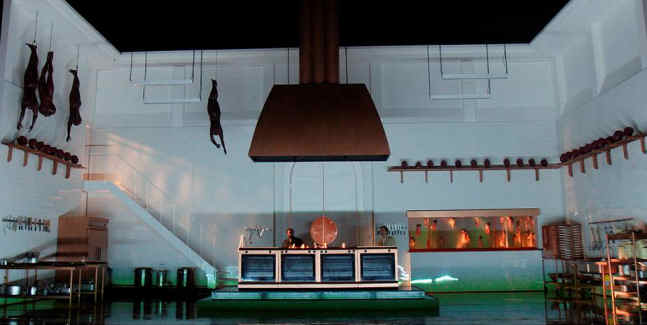 We are not anywhere near 'Peking, in legendary times' as the synopsis in the programme states, with Mr. Goold in charge. Instead we have a gaudy, red (of course) and gold, large Chinese restaurant in fairly modern times, called 'Imperial Palace.' For Act I, there cabinets on the wall containing bloodied dolls, cleaver-wielding pig-headed kitchen staff, pink haired manga waitresses with whips, and Ping, Pang and Pong become three murderous Ken Hom wannabees with flaming woks. The kitchen has hanging decapitated bodies in it and the head of Turandot's latest victim is served up on a silver platter. Timur wears a grey suit and dark glasses, Liù is lank haired and dowdy and probably stalking Calaf who seems to be a bit of a wide boy in dark suit and yellow tie. There are also two hanging lanterns and several tables and chairs; this is a 'theme night' that is (over-) populated with every pop culture stereotype imaginable including three Elvises, some golfers, a clown, a Chelsea pensioner, a nun, and some transvestites. Margaret Thatcher was there too I think and there are also some Hasidic Jews present whose caricatures seemed – at least to me – to be beyond good taste and bordering on the racially offensive. One decent idea though was a large ice sculpture image of Turandot which was wheeled in showing that the production team had thought up one or two good 'wheezes': pity they had to hang an entire evening on them.

Act II begins on the staircase in the back alley outside the restaurant with Ping, Pang and Pong removing bin bags of (presumably human) waste. Then we are back in the restaurant with the Emperor shown as a scruffy wino given a gaudy ceremonial mask and made to sit on a chair atop stacked tables. Turandot was given little to do most of the evening except to emote and carry her Kung Fu sword round. She came on stage in an elaborate white bridal gown looking strangely like Eva Perón in Evita – emphasising perhaps that this Turandot had been turned into a musical, rather as Carmen became Carmen Jones. The libretto had not been changed but it may not be long before directors get round to doing this too at ENO, judging by the way things seem to be going. For Act III we are back in the kitchen with more suspended headless corpses and their heads on shelves. Liù is tortured by kitchen implements and dies after drinking bleach.

That was basically it, as far as the setting and costumes were concerned except that occasionally there were video projections of shifting clouds and Chinese characters in lurid lime green or red lighting (by Rick Fisher) for no apparent reason. But I have left the most distracting element of Rupert Goold's vision until last. This was the omnipresent figure of 'The Writer' (Scott Handy) whose function – perhaps orchestrating, recording or inventing events - was unclear. He had received the three riddles as fortune cookies yet what he was up to remained a puzzle of its own until he died by Turandot's sword in Act III apparently freeing the princess to love Calaf. The Writer was abetted by a rather sinister small girl in a mini bridal dress who skipped about the stage from time to time and who took The Writer's book away after his demise. Who was he meant to be? Not Gozzi surely and he didn't look like Puccini – though it would have made at least some sense if it had been the composer.

After all this, what about the music? Well, there is little room for subtlety in Edward Gardner's conducting. Puccini was an admirer of Wagner and it was his continuing wish to emulate him that led to the self-doubt about the final duet in Turandot. Sadly, there was nothing Wagnerian in the sound from the ENO Orchestra - which is not to say it wasn't exciting and had some exotic colour; and it was too hard driven with little time spared to appreciate the exquisiteness, passion and grandeur of the score sufficiently. But then, more romantic swell would have been at odds with the staging even more, begging the question once again about what the most important element should be in opera productions. The enhanced chorus, who were each given their own individual characters to play, performed energetically and sang lustily, if rather too loudly.

There was some luxury casting for the smaller roles, with the veteran Stuart Kale's Emperor and Iain Paterson's Mandarin both sung as well as you are ever likely to hear them. On the other hand, Ping, Pang and Pong seemed under-cast and under-rehearsed but Richard Roberts' Pang had succumbed to a throat infection and was sung from the side of the stage by Gareth Huw John: of them all, only Benedict Nelson (Ping) made much of an impression. Hugely impressive, however, was James Creswell's Timur who was suitably sonorous and grave; though he is American and I wondered why ENO could not cast a British singer.

Amanda Echalaz (Liù) is clearly a soprano with a promising instrument who is evidently heading away from the lyric repertoire. She might even sing Wagner eventually if given the chance and will almost certainly sing Turandot - possibly even in a forthcoming revival of this production if it survives. For me, her voice did not quite have the nuance and ability to float a delicate line that this role needs to put across the necessary heart-wrenching poignancy of the final aria. Tosca at ENO next May is a part that should suit her better and I look forward to hearing her in that.

Kirsten Blanck is slight of stature but has a huge voice. In her role debut as Turandot, I think nerves may have made her try a bit too hard in Act II and sing too loudly. There is no getting away from the fact either that she is a native German singing in English: for most of Act II her diction was not good and lines like 'I'll not surrender' were sung with almost every syllable accented which broke up the musical phrasing. After that vocal trial, Act III seemed to suit her voice better and she gave us more variety of tone; this sets up the promise that she can develop into a fine Turandot as she settles more into the role.

There can be no denying that Gwyn Hughes Jones - in another role debut – provides convincing evidence that he is already a fine Calaf. His voice is strong, steady and there was no hint either of notes being forced or any sense of vocal strain throughout the evening. The audience, though warm in its applause, seemed to deny him the true ovation he deserved – strangely giving this to Liù and to the orchestra. Perhaps there was a feeling that he had not engaged himself sufficiently in the proceedings but surely this was because he was under-directed by Mr. Goold? Gwyn Hughes Jones's Calaf had a bright, ringing, sound and the right Italianate timbre, something very difficult to sustain when singing Puccini in English. In 'Nessun dorma' he reached the resounding climax with touching restraint.

At the stylised end to the evening - with Turandot and Calaf perversely on opposite sides of the stage – the audience reacted to what it had seen with lukewarm applause lasting only about three minutes - thus damning the evening with faint praise.

Jim Pritchard

Pictures © Catherine Ashmore/ ENO

For details for further Turandot performances go to http://www.eno.org/

And ror an interview with Gwyn Hughes Jones and Kirsten Blanck please see http://www.musicweb-international.com/SandH/2009/Jul-Dec09/turn_interview.htm


Back to Top Cumulative Index Page