Other Links
Editorial Board
Google Site Search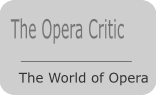 SEEN AND HEARD UK OPERA RELAY REVIEW

Met Opera Live - Puccini, Turandot: Metropolitan Opera's HD transmission live to the Barbican Cinema, London. 7.11.2009 (JPr)


Speaking about his new Turandot in 1987, the director and designer Franco Zeffirelli, said 'A spectacle is a good investment, now the Met will have a good Turandot for the next 25 years.' It was based on one he had staged at La Scala in Milan of which he said, 'I have taken away a lot of the junk from that one - unnecessary tricks or slips of taste. The spectacle remains, but it is now more refined. It seems my destiny to come to New York with my ideas clear, in full maturity, with the problems worked out. Zeffirell explained his production's full-on Chinese setting as being in 'the time of fairy tales' and admitted to not letting historical authenticity cloud his imagination. He also said, 'I have had some help with style and gestures, and the use of masks for Ping, Pang and Pong comes from the Peking Opera, but this production represents no particular dynasty. The idea for it comes from my own fantasy. Puccini is grand spectacle, it is larger than life ... and the Metropolitan Opera offers technical possibilities that no other house in the world does.' He went on to reveal how his Turandot owed much of its grandeur not to New York's stage machinery but to a special use of plastics for set-building developed in Mr Zeffirelli's home country: 'Four years ago we began experimenting with plastic techniques, we colour it with glass paint, glue, gold foil, mother-of-pearl. I used it in my film of La traviata to create a nightmarish image - walls that really aren't walls, a flimsy vision of reality.'

Twenty two years on, who knows how much of Zeffirelli's concept has been diluted by frequent revivals (here by David Kneuss)? The 'grand spectacle' remains and is extremely suitable to modern filming techniques which can make the onlooker seem as though they are on stage and right amongst everything that is happening. Franco Zeffirelli's chinoiserie (assisted by costumes from Anna Anni and Dada Saligeri and lighting from Gil Wechsler) brings us loads of bamboo, sweeping pagodas, a throne room of gold and silver, acrobats, colourful dances, moonlit nights, realistic looking severed heads on pikes, Chinese dogs and lions, as well as, a magnificent dragon: all showcasing a cast of thousands … well hundreds!

Does this leave room for much drama? Not really; and even in Gary Halvorson's close up camera direction the principal singers tended to get lost in the melée, at least, until the stage clears in Act III after Liù's death leaving Calaf and Turandot alone. Anyhow, neither Marcello Giordani nor Maria Guleghina seemed overly involved with acting what was going on up to that point, and it was only after he forced a kiss on her that there appeared any real connection between the two of them. Strangely here, it is the Alfano completion that allows the singers to display these inner emotions and due to the intimate view this broadcast gives us of this scene, this was somewhat better than I have experienced before. It is clearer than ever that Puccini's difficulty in completing this work was due to him being unable to unleash the Wagnerian tumult that the libretto so clearly deserves at this point.

Maria Guleghina, whose first Turandots were only last year, sang with all the steely, steady tone required, allied to some Italianate warmth, fearless top notes and evident emotional security. For Marcello Giordan, i these are his first Calafs and the climactic money note of 'Nessun Dorma' rang out - and on and on - ensuring him a success in the role. Elsewhere, there was some effortless beauty of tone but it was also evidence that, he lacks, as yet, the baritonal underpinning to his voice which some of this heroic role demands.

The most nuanced acting and singing came from Marina Poplavskaya as Liù who sang her arias with exquisite colour and phrasing including the most gossamer-like pianissimos possible. She made a splendidly devoted slave girl but this subtlest of performances was at odds with much that was going on around her. Samuel Ramey, who has recently celebrated his 25th anniversary at The Met, was luxury casting as Timur and brought his expected gravitas to the part even if his voice may not now have the security of its former years.

Andris Nelsons, music director of the City of Birmingham Symphony Orchestra, was making his Met debut and conducted what seemed to be a young person's guide to Turandot and it was none the worse for that. With his exceptional orchestra - containing some players who have been playing in that pit for longer than the 31 years Mr Nelsons has been alive – we had a Turandot full of intricate detail and conducted with craftlike briskness but with due sensitivity to the opera's style and dramatic power. Perhaps in the house it might have been possible to find fault in the ensemble between soloists, supers (extras) and the enormous chorus but this is impossible to judge properly from a mere broadcast. Sadly though, Nelsons stops the music after 'Nessun Dorma' for applause rather than pressing straight on.

As usual, the insights into what happens back-stage to put on one of these labour-intensive shows is often as entertaining as the performance itself, including the obligatory 'Hi Mom' from a painter touching up the set. This is the first time I have seen the soprano Patricia Racette host one of the Met Opera Live series and what an excellently professional job she made of it; helped clearly by an autocue or 'idiot boards' to keep her on track with her questions. Highlights included the prop master James Blumenfeld's tale of Bryn Terfel helping him source a seven-foot staff for Moses and Aaron from a sheep herder/craftsman in Wales which came over with a note saying 'This is the largest shepherd's staff I have made, you must have some awfully large sheep in New York', through to an interview with a very old-Met-stager Charles Anthony who was performing - with apt 80-year-old venerability - the Emperor in this Turandot. It seems that this was Mr Anthony's 2923rd appearance at the Met since his debut in the old house in 1954. He has appeared in every season since then and performed in 111 roles in 67 operas. Intriguingly his real surname is Caruso and - though no relation apparently - Rudolf Bing suggested he drop that at the audition! All of this seemed only too appropriate for an opera that hinges on discovering someone's real name.

Jim Pritchard

The Barbican Met Opera Live series continues on 19 December with Offenbach's Les Contes d'Hoffmann: for further details visit www.barbican.org.uk/film or check the listings of your local cinemas.