Other Links
Editorial Board
Editor - Bill Kenny

Founder - Len Mullenger
Google Site Search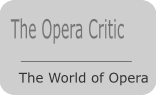 SEEN AND HEARD INTERNATIONAL OPERA REVIEW

Verdi, Il Trovatore: Soloists, Orquestra Simfònica y Coro del Gran Teatre del Liceu.Conductor: Marco Armiliato. Gran Teatre del Liceu de Barcelona. 13.14 & 15. 12. 2009 (JMI)

New production by Barcelona's Liceu in coproduction with Toulouse's Capitole, Opera de Oviedo and Lleida's La Llotja.

Direction: Gilbert Deflo.
Sets and Costumes: William Orlandi.
Lighting: Joël Hourbeigt.
Casts:

Manrico: Marco Berti/Alfred Kim/Giuseppe Gipali.
Leonora: Fiorenza Cedolins/Krassimira Stoyanova/Maria Pia Piscitelli.
Conte di Luna: Vittorio Vitelli/Anthony Michaels-Moore/Juan Jesús Rodríguez.
Azucena: Luciana D'Intino/Irina Mistura/Elena Manistina.
Ferrando: Paata Burchuladze/Stefano Palatchi.
Ruiz: Vicençc Esteve Madrid.
Inés: Ana Puche/Alba Bosch.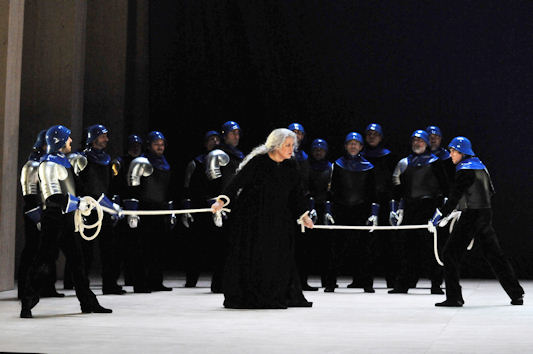 Verdi's Trovatore had not been performed at Barcelona's Liceu since the1992–93 season, which is extremely strange, taking into account the enormous popularity of this opera. It is not surprising, then, that the public filled the house for the 19 performances given during the month of December.

The Belgian Gilbert Deflo was responsible for this new, minimalist production of the opera. I have nothing against this style, which is so frequent nowadays, provided they have outstanding stage direction and excellent lighting. Sadly, this production is quite weak in both aspects. Characters enter the stage, sing with little intent and then leave, and this is disastrous. The lack of expression in some of the performers would make a newcomer to this opera unable to decide whether Manrico or the Count was the hero.

The sets consist of a few painted fabric curtains at the back of the stage. The costumes are timeless but the lighting is particularly poor. I can assure you that I have seen much better stage direction in some concert versions.

Marco Armiliato was in charge of the musical direction and his reading was bland and routine for the first cast, improving for the other two. Rather unusually for this conductor I found some of his tempi rather slow, although the orchestra gave a good performance in general. Regarding the chorus, I found the female section stunningly good during the convent scene. From a purely musical point of view the best performance of the three I saw was the second.

These Trovatore performances had three different vocal casts. It is difficult enough these days to put together one acceptable cast, so you can imagine the difficulties involved in assembling three.

The Italian Marco Berti was a disappointing Manrico in the first cast. He has the voice for the character, but he was unable to transmit the slightest emotion to the auditorium. He was emotionally flat in "Ah si ben mio" and in the following Pira he maintained the top note longer than he did at the premiere, which was televised. Manrico needs better singing. In the second cast we had the Korean Alfred Kim, whose voice is more lyrical than the character demands, but he gave some meaning to his singing, something which had not happened the previous day with Marco Berti. Kim's voice is pleasant and consistent through the whole range, and he is quite courageous and believable on stage. His performance was more than acceptable, although he had some problems in his aria, while his voice was quite vivid for the Pira. The Albanian Giuseppe Gipali has a beautiful voice, but he is rather inexpressive in his singing. His biggest handicap is that his instrument is quite small and this cannot work in a heroic role like Manrico.

Fiorenza Cedolins did not seem to be at her best. Her voice did not sound good, with a tight top register and a lack of conviction. I believe that her interpretation of the aria "D'amor su l'ali rose" was the least convincing I have heard from her. She also showed some problems with the cabaletta that follows, and was significantly below the form she showed as Norma in Bilbao last September.

Krassimira Stoyanova was the best Leonora of the three. In fact, to me she was the best singer of the 14 we have seen during these performances. She gave a wonderful performance of the Act IV aria, with beautiful piani. The Italian Maria Pia Piscitelli was a more than acceptable Leonora. She has a pleasant soprano in the middle range and knows how to sing, although her top notes are rather problematic.

Luciana D'Intino was a very convincing Azucena. Her "Stride la Vampa" was somehow flat, but she improved a lot during the performance and she was at her best at Castellor and the last scene. Irina Mishura was also good. She has not the vocal power of her colleague, but she was very reliable and she is a very valid alternative for the role. I found the Russian Elena Manistina weaker at the bottom of her range than she was some years ago, now more like a soprano than a contralto. Her voice is not large, but she gave a good interpretation.

Roberto Frontali cancelled and this brought Vittorio Vitelli into the first cast as Conte di Luna. This singer has an interesting voice, but he is absolutely expressionless, limited to a mere movement of hands while singing. The British baritone Anthony Michaels-Moore did not seem to be at his best vocally, particularly with his breath control, but he was a more convincing interpreter than his Italian colleague. In purely vocal terms he was not dazzling and his problems with "Il balen" were evident. In the third cast we had Spanish baritone Juan Jesús Rodríguez. Although not in perfect voice, he was the best Count of the three and the only one who offered a Verdi voice in the part. Pending the total recovery of Carlos Álvarez, he is the most important baritone in Spain today and was the only Count di Luna who got a lot of applause after his aria in Act II. Paata Burchuladze played Ferando. His is a large voice, but it now has a lot of vibrato. Stefano Palarchi was several steps below his standard.

There was a full house every day. The most appreciated artists in the final bows were D'Intino, Stoyanova, Manistina and Rodriguez.

José M Irurzun

Picture © Antoni Bofill