Other Links
Editorial Board
Editor - Bill Kenny
Founder - Len Mullenger
Google Site Search
SEEN AND HEARD INTERNATIONAL OPERA REVIEW
Berlioz, Les Troyens:
Soloists,
Orquestra de la Comunitat Valenciana. Cor de la Generalitat Valenciana.Conductor: Valery Gergiev.
Palau de les Arts Reina Sofia de Valencia. 31.10.2009 (JMI)
New Production
;,
Palau de les Arts in coproduction with St. Petersburg's Mariinski Theatre and Warsaw's Wielki Theatre.
Stage Direction: La Fura dels Baus. Carlus Padrissa.
Videos: Franc Aleu.
Sets: Roland Olbeter
Costumes: Chu Uroz.
Lighting: Peter Van Praet.
Cast:
Enée: Stephen Gould.
Didon: Daniela Barcellona.
Cassandre: Elisabete Matos.
Chorèbe: Gabriele Viviani.
Narbal: Stephen Milling.
Anna: Zlata Bulicheva.
Iopas: Eric Cutler.
Hylas: Dmitri Voropaev.
Panthée: Giorgio Giuseppini.
Ascagne: Oksana Shilova.
Priam: Askar Abadrazakov.
Mercurio: Tomeu Bibiloni.
Hector's Shadow/First Guard: Yuri Vorobiov.
Second Guard: Vincent Pavesi.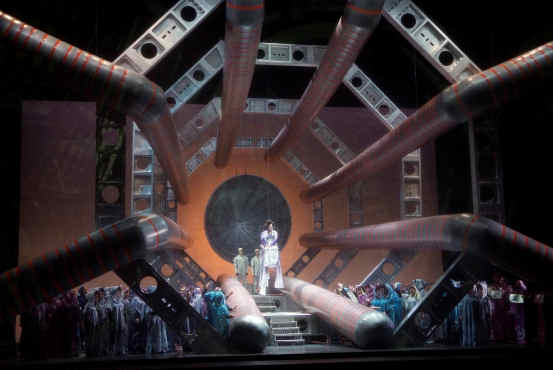 There are very few opportunities even in a life time, for seeing a performance of this monumental Hector Berlioz opera. I have had only three previous experiences of it before and this was the first time that I have been able to see Les Troyens in Spain. It is one of the toughest challenges for any opera house to face up to, since in addition to the large and almost impossible cast, Les Troyens needs the big orchestra, chorus and ballet that are only available to the great opera houses of the world. That Valencia has been able to stage the work after only four years at the Palau de les Arts shows just how far the company has come since 2005.

The new production by La Fura dels Baus, in collaboration with the Mariinsky Theatre in St Petersburg and Warsaw's Wielki Teatre offers some interesting settings, a very original approach and a rather uneven final result. As in the recent Wagner Tetralogy, the stage direction is in the hands of Carlus Padrissa. There is no historical narration of the war between ancient Greece and Troy here. On the contrary, the action is brought to the present day, or rather the future with a truly spectacular metal Trojan horse, which once opened up, infects all the defending forces with a computer virus (itself a 'Trojan') so that they are defeated by the Greeks and end in self-destruction. Carthage is presented as a haven of future civilization, possibly on another planet, where La Fura delivers an ecological message: human life is already tending towards self-destruction through violence. The moments of happiness and love in the opera are shown with projections of modern windmills and finally, Aeneas leaves "planet" Carthage to found a new civilization in the cosmos, probably on Mars. As in other productions by La Fura, video projections are abundant, although less spectacularly than in the recent Ring.

The stage design is more attractive at some points than others, while the costumes are futuristic and unattractive in general, especially those for Dido, who seems more like Turandot than Carthage's Queen. There is remarkable lighting of course, as is usual from this team. To my own taste, the best part of the production takes place in Troy, with the spectacular horse, an aged Cassandre in a wheelchair and a striking setting for the collective suicide. There are also some more than dubious details, such as replacing the ballet in the tribute to Hector with a boxing match. Carthage itself is also less convincing except for the projection of excellent images during the "Royal Hunt and Storm".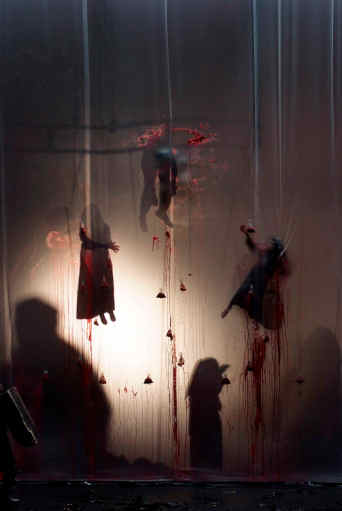 I didn't much like the way the production handled the beautiful love duet for Dido and Aeneas either, since having them singing while separated and suspended from above didn't exactly create the right atmosphere. And there were some curious details too, such as Mercury shouting "Italie, Italie" from a space platforn, or Hylas delivering his beautiful aria during a space walk. Dido's Immolation was very well done though with the full La Fura Company on stage. Overall then, this is generally a production in line with the originality expected from La Fura dels Baus, who often pay more attention to the stage effects than to the feelings of the characters in the drama.

Having Valery Gergiev conducting this opera with the Palau de les Arts own musical forces can be considered a great coup for Valencia. Mr.Gergiev has never conducted opera in Spain before without his own Mariinski orchestra and there are very few theatres in the world where he is willing to conduct the house orchestras - perhaps the Metropolitan, Covent Garden and La Bastille are the only ones over the last three years. He is a director of undisputed personality, with special magnetism emanating from him, particularly those fluttering hands that God seems to have given to him. His performance was simply fantastic, with many breathtaking moments, especially in the purely orchestral passages. But his way of accompanying the singers on stage was also of the purest delicacy. He was the great success of the evening and he drew an exceptional performance from the excellent orchestra. When a great maestro leads this exceptional group the results are spectacular but better still was the fact that the choir was outstanding too , in spite of being a non-professional ensemble. It is difficult to conceive that a non-professional chorus could ever meet the physical challenges posed by this opera successfully and even less so when I say that the version offered by Gergiev was the most complete I have heard so far: the performance took 5 hours and 20 minutes, including two breaks of 50 minutes in total.

The vocal casting for Les Troyens is particularly difficult for the three principals and it is never easy to find three top-flight singers matching the score's demands. In Valencia there was a good cast although with some mixed results.

From my point of view the most important role of the opera - although not the most demanding in vocal terms - is Queen Dido or Didon, to follow the French name. The Italian mezzo soprano Daniela Barcellona was at her most convincing in the dramatic moments, and especially in the Immolation scene. On the other hand, she was less convincing in the most romantic passages, even slightly monotonous. This was her debut in the role however, and she was not always helped by the production.

Cassandre was interpreted by the Portuguese soprano Elisabete Matos, who seems to have found her natural ground in this dramatic and expressive repertoire. She was very convincing both dramatically and vocally and she offered the best performance of the evening. The role of Cassandre is very demanding and she solved the difficulties brilliantly. I have often thought that this excellent singer is undervalued, and this performance proved me right yet again.

The American tenor Stephen Gould was Aeneas or Enée facing up to the most unpleasant role in the opera. Surely this character, along with Florestan and Bacchus, is the most ungrateful for any tenor and most of the great stars (Mr. Superman Domingo excluded) try to avoid it. Its biggest problem is that it is much longer than the tenor roles in Fidelio or Ariadne. Stephen Gould showed signs of insecurity since the beginning and he suffered a serious vocal accident during his big and most difficult scene in the last act. It is not that he does not have the notes - rather the problem is that the score makes hitting them all difficult because of how it is written. Stephen Gould's voice is large and good, although I found him apparently lacking his usual self confidence and vocally tighter than a few years back.

In the rest of the cast we had a good Chorebe from the Italian baritone Gabriele Viviani. Narbal was the sonorous Stephen Milling, who seems better suited for a different repertoire. Eric Cutler was Iopas and I found his performance below the standard he achieved three years ago in this same role. The Russian mezzo soprano Zlata Bulicheva offered a rather emotionally unexpressive singing as Anna and the Russian tenor Dmitry Voropaev did not convince me in the beautiful Hylas song, although he has an interesting voice. Oksana Shilova in the part of Ascagne should also be mention for her very pleasant sound.

The theatre had a few empty seats at the beginning of the performance, but there were some evident defections after the second interval, although the reason for that may be that the opera ended at 1.20 a.m. Daniela Barcellona and Elisabete Matos shared the greatest successes among the singers and Valery Gergiev, the orchestra and chorus were also loudly cheered. La Fura was received with mixed applause and boos.

José M Irurzun

Pictures © Tato Baeza/Palau de les Arts Reina Sofía