Other Links
Editorial Board
Editor - Bill Kenny

Deputy Editor - Bob Briggs
Founder - Len Mullenger
Google Site Search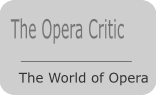 SEEN AND HEARD INTERNATIONAL OPERA FESTIVAL RELAY REPORT

Bayreuth Festival 2009 (3) – Wagner, Tristan und Isolde: Soloists, chorus and orchestra of the Bayreuth Festival. Conductor: Peter Schneider. Siemens Festspielnacht, Festplatz Bayreuth, 9.8.2009. (JPr)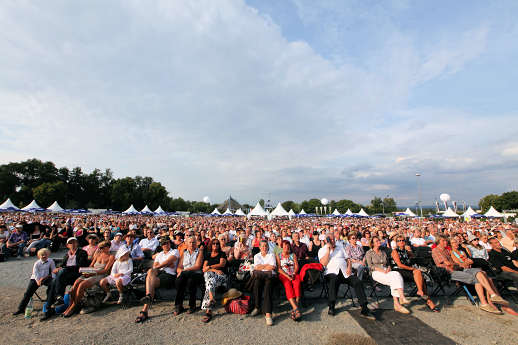 The Bayreuth Festplatz Crowd


As people who have not been to Bayreuth may not know other performances do not just stop when a Ring Cycle is being performed so on 9 August. Between Die Walküre and Siegfried, there was a performance of Tristan und Isolde in the Festspielhaus. It was this performance that was chosen for only the second live relay from the 'Green Hill'.

Katharina Wagner has stated that she wants to open up the Festival to a much wider audience and so, for this second occasion, the Bayreuth Festival joined forces with the city of Bayreuth and a leading German engineering company, Siemens, to present the Siemens Festival Night. This allowed several thousand people the opportunity of a free event at the Bayreuth Festplatz and, in addition, like Die Meistersinger last year the opera was offered worldwide as a high-quality and affordable webstream on the Internet. There was also a similar Siemens-inspired event at the Salzburg Festival this year: for the first time.

Katharina has commented that the support of Siemens who shares the Bayreuth Festival's value and goals, she believes, 'is helping make the Festival accessible to a wide public' and she adds that she is aiming for a 'a strategy of transparency while setting artistic standards for future interpretations of Wagner and winning new opera fans with the help of the Siemens Festival Night.'

I have previously used said of Bayreuth – and it's worth repeating again – that it is 'at ease with itself'. I set off for Bayreuth after reading in an article about Katharina in London's ES Magazine by someone who has clearly never been to the city, describing it as being 'half-dead'. That it might be so on a Sunday when all the shops still stay shut and unlike stressed-out Britain there is no opportunity for a supermarket run. German families relax from the cares of the working week – if there were any. Bayreuth is thriving and the already cosy 'city' (such as it is) centre is being modernised and pedestrianised. The major University there needs the same youthful energy as there is in August to be present all-year-round and this reflects itself in the relaxed café society which begins around 11.30am and extends past midnight every day. Much beer is drunk as well as coffee but there is minimal rowdiness. It is important to remember in any discussion about alcohol and the binge drinking of British youth, that in Germany a half-litre of beer is cheaper than cola and, in most cases, than mineral water. It is not the ease of obtaining alcohol that causes the problems; it's the learned behavioural standards displayed by those drinking it.

This is a little digression but is important to this Festival Night. Although bags were being checked at the entrance to the performance space, I didn't see much being confiscated and there seemed none of the restrictions placed on similar events in Britain by our 'Health and Safety' busybodies. Deckchairs were already set up but other chairs could also be brought in. Bottles were allowed too and, of course, beer was dispensed in its usual glasses: no plastic ones were there just because we were drinking outside. There was a large viewing area in front of the 90m² screen and even some sand in front of a Beach Bar with more deckchairs. Surrounding all of this were food stands with offerings from some of Bayreuth's finest eateries on sale. All were at almost normal prices and so snacking really well was possible for 3 Euros. Lots – and lots – of alcohol was consumed but not one rowdy comment or extraneous noise was heard from the several thousand attending, from the first note of each Act through to the last.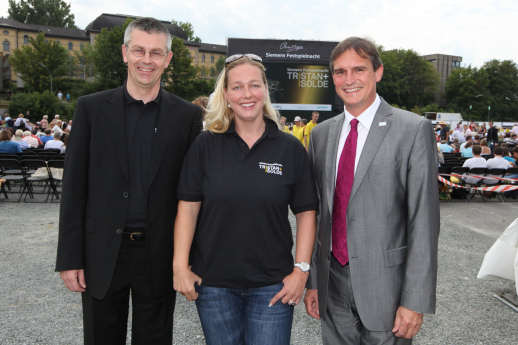 Dr Stephan Heimbach, Katharina Wagner and Dr Michael Hohl


The director of communications for Siemens, Dr Stephan Heimbach (left of Katharina Wagner in the photo) congratulated the lord mayor of Bayreuth, Dr Michael Hohl (on the right) at one point for 'arranging' a nice, rain-free, sunny - but not too hot – day and that was crucial to the success of the Festival Night or -because it was Wagner – the whole afternoon and evening. In fact, the next two days had Bayreuth subjected to some of its usual heavy summer showers so luck must have been smiling on this event.

It was the bright sun on the screen that created problems initially. Christoph Marthaler's 2005 staging of Tristan und Isolde that I last reviewed last year (review) begins in a degree of darkness with difficult to discern circles of light; they are actually light bulbs and recurring imagery for the ocean liner in which the action seems to be taking place. Katharina Wagner has said of Marthaler that 'He is a master when it comes to staging boredom, standstill and desperation'; which may be meant as praise, although I am not certain. Indeed, not a lot does happen in the production and Michael Beyer's direction for TV led our attention to focus on the faces of the singers. The truth that Beyer's images showed kept everyone's attention throughout the long broadcast which began at 3pm and ended well after 10pm when the artists - after a freshen-up and change of clothes - came in convoy across the city from the theatre, to greet the thousands who stayed on after the music ended to give them a standing ovation.

In the opera house, one is usually sitting at a distance from the singers but a huge screen magnifies even very small moments and here, mostly to good effect. Iréne Theorin as Isolde was revealed to be quite a stunning actress, shown as being quite deranged at 'Nun lass uns Sühne trinken!' towards the end of Act I. Yet having drunk the 'wrong' potion and beginning to feel the effect of passion but not death, she slowly and very subtley undoes her top button and takes her pulse. The Act ends with her looking as if she could eat Tristan alive. Almost even better, was her frustration at the start of Act II when she wants to turn off the light switches as the signal to Tristan. On stage, Robert Dean Smith's Tristan can sometimes seem to be lacking a little in personality, but he too benefitted from the close-ups particularly in his Act III ravings. His staring right at Kurwenal's (Jukka Rasilainen's) seemed to confirm for me the melancholia that Kurwenal suffers is because Tristan is actually dead all the time: their 'conversations' are only the drunken servant's imagination.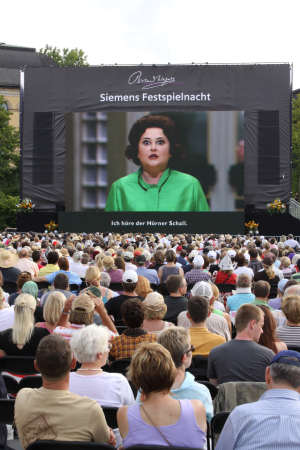 The view from the audience


Other highlights included Michelle Breedt's concerned Brangäne trying to snatch back the Todestrank from Isolde in Act I, King Marke's pain at being deceived etched clearly on Robert Holl's craggy features and the passing of the buck – the knife that fatally wounds Tristan – from Marke on to Melot and then Tristan and back again to Melot before finally being returned into Marke's hands. I also noticed for the first time how mildewed and graffiti-covered are the walls of the hold where Tristan 'lies in state' in the final Act. Some moments did not look so good unfortunately: Tristan and Kurwenal's Act I hand gestures were quite ridiculous when Kurwenal was singing about Lord Morold. Even so, everyone else in the cast acted no less committedly than these principals and only Robert Holl's occasionally flickering eyes, presumably looking towards the prompter, gave any indication that we were not watching a filmed musical drama but an real and live performance.

Another innovation this year was to have subtitles in German which made me wonder how long it will be before there are surtitles in the Festspielhaus. It was also a luxury to have eight brass players play live (in front of the screen) the fanfares that signal each Act, just as they do up on the 'Green Hill'. The music came across without distortion, clearly and with the expected quality of a 3D surround sound super-audio CD player on a grand 50,000 watt scale. It is not really possible to criticise individual performances because of the technology involved getting the sound from the theatre to this open space however. The voices sounded mostly very even and the orchestral sound under Peter Schneider's experienced baton came over as faultless and perfectly balanced: if all a little too loud for anyone seated towards the front of the viewing area. Sadly as far as I could hear, the microphones failed to pick up the important call of 'Tristan' in Act III before Robert Dean Smith replied with his exquisite, heart-wrenching, 'Isolde' just before he dies. I wondered how Iréne Theorin's quietly controlled beginning and conclusion to the Liebestod would have sounded in the theatre : could it have come over as well as in the broadcast?

Before the performance and during part of the typical hour long intervals, there was some talking with the audience, reports and interviews from backstage, as well as, scene setting for the forthcoming action. From what I saw these interludes could be improved; they have a long way to go before reaching the high standards of The Met's broadcasts. As the presenter Axel Brüggermann and Katharina Wagner were filling time after the opera and shamelessly giving advertising to one of the other sponsors of the Festival Night and its famous Weissbier they approached the brewers' Maisel's, nearby bar and asked a man there what he was doing at the Festival Night. His answer was, roughly 'I'm getting a beer'!

Overall this was a great success for Bayreuth and Wagner and if you can get there next year the opera will be Die Walküre. If you can't be there, then look in online: this Tristan was a bargain at €14.90.

Jim Pritchard

For more information go to www.siemens.com/festspielnacht.

Editorial Footnote: A Press Release just in announces that Opus Arte, The Royal Opera's multi-platform arts production and distribution company in the UK, has begun a new and long-term relationship with the Bayreuth Festival. The announcement of the signing was made at a press conference in Bayreuth today by Katharina Wagner, together with Roland Ott, the new Managing Director of Opus Arte. The first recording to be released on DVD will be Christoph Marthaler's production of Tristan und Isolde just described in JPr's report above.

At the same time, an audio recording of the complete Ring Cycle, conducted by Christian Thielemann in 2008, will be released. This 14-CD set features Michelle Breedt, Albert Dohmen, Stephen Gould, Hans-Peter Konig,Linda Watson and Eva-Maria Westbroek. Other releases will include Die Walküre in 2010 directed by Tankred Dorst and conducted by Christian Thielemann. Future productions will be announced in due course.