Other Links
Editorial Board
Editor - Bill Kenny

Founder - Len Mullenger
Google Site Search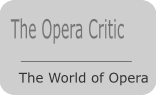 SEEN AND HEARD INTERNATIONAL OPERA REVIEW

Wagner's Tannhäuser at the Royal Danish Opera: (Premiere) Soloists, Orchestra and Chorus of the Kongelige Teater, Operaen, Copenhagen 20.12.2009 (BK)
Director: Kasper Bech Holten
Sets and costumes: Mia Stensgaard
Lighting concept: Åsa Frankenberg
Lighting design: Mikael Sylvest
Choreography: Signe Fabricius
Conductor: Friedemann Layer
Orchestra and Chorus of the Kongelige Teater
Dancers of the Pantomime Teater
Soloists from Copenhagen's Youth Choir
Cast:
Heinrich Tannhäuser: Stig Fogh Andersen
Elisabeth: Tina Kiberg
Venus: Susanne Resmark
Wolfram von Eshenbach: Tommi Hakala
Hermann Landgraf: Stephen Milling
Walther von der Vogelweide: Peter Lohdahl
Biterolf: Kjeld Christoffersen
Heinrich der Schreiber: Peter Arnoldsson
Reinmar von Zweter: Jens Bruno Hansen
En dreng: Ionnis Marinos/ Kristian Emil Paludan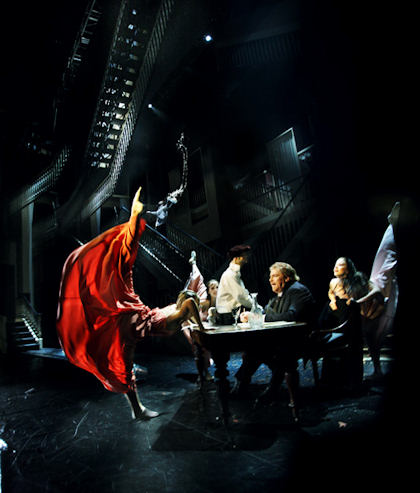 'First the music and then the words', so to speak. Using Wagner's 1861 Paris version of the opera, Royal Danish Opera has produced a truly outstanding Tannhäuser and one that made the journey to Denmark during the worst weekend for travel this year wholly worthwhile. Musically this was one of the finest productions of this opera I have ever heard anywhere in which Friedemann Layer's taut and sympathetic conducting revealed all of the score's energy and lyricism in equal measures, while giving every element exactly its proper weight.

The singing too was wholly excellent, so good in fact that it is essentially impossible to find fault with this first night cast. Stig Fogh Andersen was in better voice than I can remember hearing him, inhabiting - there is no other word - his character with an empathy which revealed his abilities as an actor exceptionally strongly. Continuing her association with gods of the underworld (she was an Erde of exceptional warmth in the Copenhagen Ring) Susanne Resmark as Venus became an appropriately Mephistophelian character. Dressed in a man's suit, she was a suitably menacing figure as Tannhäuser's alter ego : giving him the excuse he needs in this production to live out the sides to his character repressed by the demands of conventional society. Ms Resmark also brought a new depth to the song contest, as she sat among the chorus and displayed a boredom which made Tannhäuser's outburst much more convincing than is often the case. Tina Kiberg's Elisabeth was particularly sensitively sung too. She was completely convincing as the hapless heroine confronted by her lover's unaccountable behaviour.

Tommi Hakala as Wolfram von Eschenbach was also in fine voice and was immensely sympathetic as he pondered the virtues and drawbacks to being a genius like his hero Tannhäuser. Stephen Milling was as powerful and convincing as ever in the role of Hermann. Without exception, the minor roles were all well performed and the chorus surpassed every expectation. This must be one of the finest opera choruses anywhere in the world just now and a true credit to Chorus Master Philip White.

The production itself is more problematic and I must admit to some initial disappointment with it. Following Kasper Bech Holten's major success with the Copenhagen Ring, surely one of the most insightful productions of recent times, I went with high hopes for this Tannhäuser – a work which needs careful consideration to reveal its profound, Faustian depths to a new public.

The key to Kasper Holten's production however may lie in Mia Stensgaard's sets which are beautifully constructed with almost architectural precision. Transforming themselves almost imperceptibly from the ordered neatness of Tannhäuser's elaborate bourgeois mansion, they turn into something like one of MC Escher's impossible distorted visions of the world of the imagination. A real man walking the right way up (head downwards) along a real mirror image staircase hanging high above the original one spells out the production's "world turned upside down" message - just in case we hadn't guessed that something very strange was happening in Tannhäuser's mind. Similarly, the degeneration of Tannhäuser's brightly lit room into a picture resembling Piranesi's imaginary prisons seems to represent the prison-like darkness of his unconscious mind, as the influence of Venus on Tannhäuser takes hold. These visual effects are all extremely effective if more than slightly puzzling, at least at first.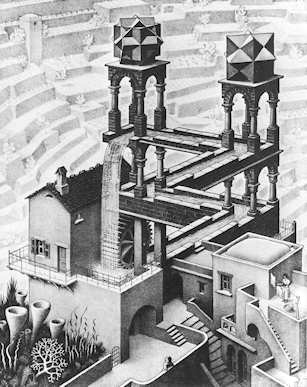 MC Escher - Waterfall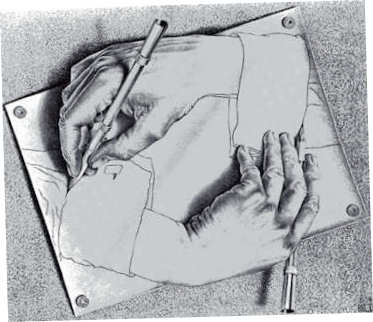 MC Escher - Drawing Hands


The point about much of Escher's art though is that it depends on self-reference for its effects. The stream feeding the waterfall flows uphill in an endless loop and the hands continually draw one another. The result is paradox - something completely impossible seems to be happening but in each case what we see also remains curiously logical.

This puzzle is the core of Holten's idea about Tannhäuser. All of the action takes place in both Wagner and Tannhäuser's minds and is in fact nothing less than a representation of Wagner's working out of his own intellectual and emotional problems. The Tannhäuser we meet in this production is engaged in writing a masterpiece epic and we see him first dressed exactly like Wagner himself complete with velvet beret. As he prepares to work at his desk in his richly appointed mansion, his alter ego Venus appears to him, urging his thoughts and fantasies onwards to greater and greater excesses. The chief tension in the unfolding epic is the conflict between the idea of something like courtly Love - represented by Elisabeth (to whom Tannhäuser is apparently already married) and their teenage son - which uneasily competes with Venus's unbridled sexuality. In essence, Holten's Tannhäuser is wholly identified with Wagner and their twin personalities are both writing an epic called Tannhäuser. Each of them is also apparently striving for some kind of redemptive integration between the various elements within their conjoined psyches.

The idea sounds persuasive on paper because Wagner, like most authors, was surely always writing about himself in some way, regardless of whether he was dealing with gods or men. There is nothing troublesome in Holten's idea so far and similarly the notion that all of human reality is always primarily in our own heads is also hard to dispute: the apparently simple act of perception is clearly infinitely more complicated than it so often seems, as Escher has pointed out. The problem with the production though lies in the practical working out of these ideas on stage, some of which turn out to be more than a little confusing.

Presenting Tannhäuser's life as a particularly vivid fantasy is something very hard to deliver within the context of a nineteenth century opera which is already speaking in essentially mediaeval language. Too much of the libretto has to be ignored or distorted to make the fantasy interpretation clear and that's exactly where the problems with this production begin. As an example, the pilgrims returning from Rome are presented by a chorus wearing tuxedos. They stand in confrontation with the audience, holding out crosses which they wear rather like orders of chivalry, and they sing their 'Hallelujahs' with such aggression that it feels as if they are cursing everyone rather than praising the redemptive power of their god. Curious and also distracting.

Act 1 was particularly difficult as one tried, and failed at first, to figure out what was really going on. How (and when) did Tannhäuser and Elisabeth marry and have a son? Of course – it's all in Tannhäuser's mind. Why are the maids in his bourgeois home throwing buckets of water over themselves and ripping off their clothing? Aha! the Venusberg is all in Tannhäuser's mind too and the servants are all dancers - they always undress while writhing around to suggest sexuality. What else would they do? QED.

In fact, by Act II I was more attuned to the whole thing and found the unexpected humour in it very refreshing, especially as the musical pace and the ensemble continued to be exceptional. Not only did Venus look more and more bored at watching Tannhäuser's sycophantic goings-on but it was a moment of pure Gilbertian genius to have all the ladies present faint simultaneously on hearing Tannhäuser sing his entry for the song contest. Even so, watching Elisabeth die of a broken heart, after trying unsuccessfully to gain entry to the room in which Tannhäuser is still busily scribbling away at his 'masterpiece' felt like a metaphor too far and having the opera close with an unfurling banner displaying the words 'In memory of Tannhäuser, Great Poet and Singer' felt fairly unsatisfactory as an ending.

The upshot I suppose, is that Holten's new vision needs more than one viewing since it does feel very cluttered at first sight. Reading Danish might have been useful too because the programme essay written by Holten himself might have provided more clarity but then that raises another issue for contemporary opera productions: can they be considered completely successful if they need written explanations to make them comprehensible?

Holten's Ring certainly didn't. That was perfectly self-explanatory and radical, while this Tannhäuser is radical but bewildering. There was some booing for the production team at the end although to be fair this was short lived and drowned out by prolonged and wildly enthusiastic cheering for the singers and conductor. The true test of course is whether or not I'd be keen to see the production again: and because of the sheer musicality of this production as well as a second chance to work out its intricacies, wild horses - or even a repeat of this week's blizzards - wouldn't stop me returning to Copenhagen, that's for sure.

Bill Kenny

Production picture © Det Kongelige Teater, Copenhagen. Sources for the Escher pictures are believed to be public domain.