Other Links
Editorial Board
Google Site Search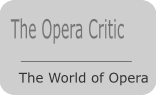 SEEN AND HEARD INTERNATIONAL OPERA REVIEW

Rossini, Tancredi: Soloists, orchestra and chorus of Opera Boston, Gil Rose (Conductor), Boston, Massachusetts, 23.10.2009 (LS)

Conductor: Gil Rose:
Stage Director: Kristine McIntyre
Producer: Carole Charnow
Scenic and Costume Design: Carol Bailey
Lighting Designer: Christopher Ostrom
Assistant Conductor: Edward Elwyn Jones
Répétiteur: Linda Osborn-Blashke
Resident Coach and Surtitles: Allison Voth

Cast:
Tancredi: Ewa Podles
Argirio: Yeghishe Manucharyan
Amenaide: Amanda Forsythe
Orbazzano: DongWon Kim
Isaura: Victoria Avertisyan
Roggerio: Glorvy Arroyo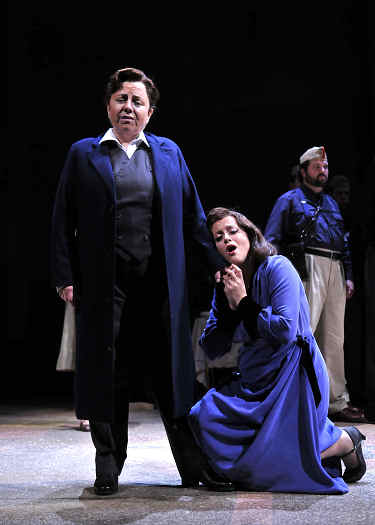 Ewa Podles (Tancredi) and Amanda Forsythe (Amenaide)

Tancredi, the tenth of Rossini's operas, was his first big hit. It premiered in Venice on February 6, 1813, but wasn't heard in its complete form till February 12, because both Amenaide and Tancredi fell ill during its first performance. Its second staging was in Ferrara where it acquired a new and unhappy ending consistent with Voltaire's tragedy on which Rossini's Tancredi was based. For the rest of the 19th century the happy ending returned.

Most of Tancredi was new music. But Rossini wasn't averse to some borrowing. Indeed the overture came from Pietra di Paragone and one chorus plus some fascinating musical phrases were taken from the ill fated Ciro in Bibilonia. Perhaps the most famous aria in Tancredi – Di Tanti palpiti—is eerily similar to Eco pietosa in Pietra di Paragone.

The plot is relatively simple. The year is 1005 AD and the place is Syracuse, Sicily. Argirio wants his daughter Amenaide to marry Orbazzano in order to unite their families against their common enemy—Solimar and the Saracens. But Amenaide loves Tancredi - a trouser role played by a mezzo or contralto. She sends him a letter begging for his return to save Syracuse and to be reunited with her. Unfortunately she doesn't address the letter or even mention Tancredi's name. When Orbazzano is rebuffed he produces the letter and says it had been sent to Solimar. Amenaide is charged with treason and sentenced to die. Her father, after much agony, signs the death certificate. An unknown warrior –Tancredi of course – challenges Orbazzano to a duel on Amenaide's behalf and prevails. In most bel canto potboilers this would be the end of the opera, and the ecstatic heroine would bring down the curtain with a rondo finale. But Tancredi is part Hamlet. He is forever crying out "Where am I" and "Why is my life so terrible". He refuses to believe that Amenaide is faithful to him, and rushes off to do battle with Solimar - prepared to die.

In the original version, Tancredie kills Solimar and returns to Amenaide. The truth about the letter is revealed and all ends happily. In the Ferrara ending –utilized by Opera Boston— Tancredi is mortally wounded though the Saracens are defeated. The extraordinarily poignant death scene with Tancredi's forgiveness of Amenaide is matched nowhere else in Rossini's operas.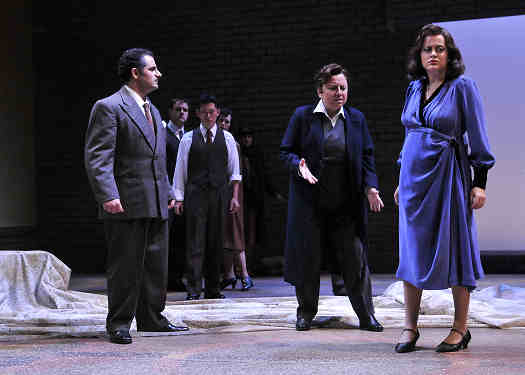 Yeghishe Manucharyan (Argirio) Podles and Forsythe


Stage Director Kristine McIntyre chose to propel the Tancredi tale into what appears to be Spain in the mid 1930s. Instead of rival families, the first scene shows a group of businessmen led by Argirio seeking peace with a gang of military officers led by Orbazzano. Swords are replaced by pistols. Yet, Solimar and the Saracens remain as the common enemy. The set is gloomy minimalist. Frankly I did not find this modernized version convincing, although fortunately it did not detract from the singing and acting.

Bel canto means beautiful singing of course, and Opera Boston's Tancredi included some of the most wonderful singing Boston has experienced in many years. Heading the cast was the world famous Ewa Podles whose operatic career began in 1955 at the age of 3 when she she played the son of Pinkerton and Cio-Cio San in Puccini's Madama Butterfly. Her repertoire is vast – from Wagner to Handel.

Tancredi has always been one of her favorite roles however In a recent article by Harlow Robinson in the Boston Globe she is quoted saying, "The role of Tancredi is vocally rather smple. It doesn't have all the elaborate ornamentation and cadenzas of the coloratura, of the role of Amenaide. I always say that the opera should really be called Amenaide. But it is the character of Tancredi who brings tears to the eyes of the audience. In this role I can convey a message through words and expression. I can use the masculine color of my voice to its full effect. These days, after singing for so many years, I don't like to show off by just singing coloratura, only to be calculating how to measure my breath or to fight over the tempo with conductors. I can develop a character, and not just produce vocal tricks."

Podles' performance was simply fantastic. From her triumphant entry culminating in Di tanti palpiti to the heartbreaking death scene Poldes overwhelmed her audience. She handled both high and low notes without trouble, but her power came from her middle range where she could best blend music and drama, Yet unlike some prima donnas who try to take over a production, she maintained a perfect balance with her partners in the ensembles and concerted pieces.

Amanda Forsythe sang Amenaide with beauty and emotion, notwithstanding the fact that she was six months pregnant. Her condition may have explained the fact that she perhaps could have been more forceful, but her ability to hit the high notes with bell like precision in Giusto Dio che umile adoro reminded me of Mariella Devia singing Temer un danno in Rossini's Adelaide Di Borgogna.

Some of the most beautiful music in Tancredi can be found in the duets, and when Forsythe teamed up with Podles in Lasciami: non t'ascoloto the audience followed with feverish applause. Forsythe's credits include appearances at the Rossini festival at Pesaro (both 2007 and 2008), the Bayerische Staatsoper in Munich, and Covent Garden. Among other engagements she will sing Galatea at the forthcoming Boston Early Music Festival.

The role of Argirio is one of the most complex in Rossini's operas. Not only does he sing some very difficult music, but he must display a full array of emotions including anger, power, agony, remorse, and ultimately love. Yegishe Manucharyan was up to the challenge. (And in the spirit of full disclosure please note that my wife and I were sponsors of Manucharyan's appearance). He was particularly effective in the demanding Ah! Segnar invano io tento at the beginning of Act II where he debates whether to sign his daughter's death certificate. He too, was paired with Podles in a major duet—Ah se de'mali miei—and the two "brought down the house". Manuchuryan has appeared with Opera Boston twice before in productions of Bizet's The Pearfishers and Shastakovitch's The Nose. He is scheduled to sing Eustazio in Rossini's Armida at the Metropolitan Opera next spring.

Dongwon Kim as Orbazzano was new to Boston, but has performed extensively in Korea and Europe during the past ten years. He displayed a strong, solid bass baritone with no problems of projection in his duet with Argirio, Se amista verace e pura. He is currently working towards an Artist Diploma in Opera at the New England conservatory and should be someone to watch during the next few years.

Victoria Avetisyan was a very effective Isaura. Her "sorbet" aria Tu che I miseri conforti was a delightful treat squeezed in between major arias for Argirio and Amenaide at the beginning of Act II. She began her singing career as a principal artist at the National Opera Theatre of Armenia and received the Young Vocal Artist of the Year award from Caramoor for her performance in Gluck's Orfeo e Euridice. Glorivy Arroyo sang and acted the role of Roggerio well including the other "sorbet" aria Torni alfin. She has played several roles at Opera Boston since 2004. The male chorus performed very well adding to the excitement of the evening.

Tancredi requires an excellent orchestra with sensitive conducting The famous Rossini contemporary critic Stendahl felt that Tancredi's orchestration reinforced the expressiveness of the vocal line very effectively. He said "This not the art, so popular in Germany, of expressing the sentiments of the characters on the stage by clarinets, cellos, or oboes. It is the far rarer art of expressing by means of instruments that portion of their sentiments which the characters themselves could not convey to us." Gil Rose and the Opera Boston orchestra were up to the challenge.

What a wonderful evening this was, especially for those of us who enjoy bel canto. Opera Boston demonstrated that with Ewa Podles world class singing could come to Boston. I hope that this will be the start of a new trend.

Lew Schneider

Pictures © 2009 Clive Grainger