Other Links
Editorial Board
Editor - Bill Kenny
Founder - Len Mullenger
Google Site Search
SEEN AND HEARD INTERNATIONAL OPERA REVIEW
Handel, Tamerlano: Soloists, Chorus and Orchestra of Los Angeles Opera, William Lacey (conductor) Chandler Pavilion, Los Angeles 22.11.2009 (LV)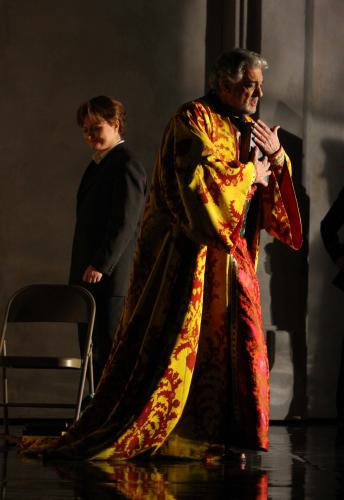 Placido Domingo as Bajazet


LA Opera puts on a good show with its new and first ever staging (shared with Washington National Opera) of Handel's 'Tamerlano' united by Plácido Domingo's warmth and genius, regrettably the first of only five performances (through December 1).

The singers are a lusty, musicologically brilliant crew - lots of trills and appoggiaturas from this crowd, with the exception of Domingo who usually finds the best non-trilling substitute; meanwhile, the players in the pit do the impossible: make a world-class modern-instrument orchestra sound like a world-class original instrument band. Accordingly, the modern-instrument orchestra adds 2 harpsichords and 2 pluckers (the musician's vernacular) on theorbos, baroque guitar, and lute. The continuo cellist uses a baroque cello.

At their helm, William Lacey belongs to that increasing number of conductors who know how to work with modern-instrument players to get a sound that's appropriate for baroque music, not only from the winds (who are usually ahead of the curve in such scholarly matters), but from the strings as well. (The productions uses the Bärenreiter parts, with the conductor's modifications.)

Bejun Mehta plays Tamerlano as a sleek and vicious corporate suit (think 'Lock, Stock, and Two Smoking Barrels') who, when he isn't playing with guns, is wild, wicked and half out of his tyrant's homicidal mind; it's like you'd sing Handel in a cabaret, and it coincides with what is supposed to make the drama work in the first place: the impossible situation with which Domingo's character, King Bajazet, is faced.

Sarah Coburn as Princess Asteria however, gets a raw deal with the muted splendor of her appearance accentuated by a bad hair day. Patricia Bardon's very short Andronico comes off as too inconsequential, like Charlie Sheen in Wall Street, or Don Ottavio in Don Giovanni, hardly a rival for anyone's love (and perhaps a consequence of pitting a soprano against a countertenor).

Both Bardon and Coburn sing well and emote passably, but are handicapped not only by their costumes. The height of the drama in this production is the timeworn ruse of rushing towards an exit then hesitating and returning to sing either a new aria or the rest of an aria already begun. Ryan McKinny's Leone scores a huge hit with crowd though his vocal horsepower takes a long time warming up.

I like Jennifer Holloway's Princess Irene the most though it can be a thankless role. Tall and imperious, she is the only singer who seizes her opportunities with teeth clenched and fingernails digging into the notes; Tamerlano is a glorious, hair-raising musical drama whenever Ms Holloway is on stage.

Then along comes Placido (his 126th role) and, by the end, he manages to straighten it all out, even if it means that as the humiliated father Bajazet he commits a particularly inglorious but operatically stunning suicide - taking his last breaths face down on the tyrant's bare floor - redemption coming from the transformational impact it has on each of his friends and adversaries.

In addition to his splendid singing, more relaxed than in many years, Domingo clearly enjoys the occasion and the interaction with the cast, conductor and musicians; in turn, working with Plácido must be something that every young singer dreams about, although it's something hard to carry through when a such a superstar is involved. Domingo however, works his magic not only by means of his voice and his wisdom, but with an inalterable respect for the music and, in tragedies, with the ironic gravitas that comes from knowing something inevitable and deeply profound is about to happen. This mood and the musicality spreads to the entire cast and inspires their focus and intensity. At such times, the production can well create a unique performance every time because getting to the emotion in Handel is not just a matter of having the right music education, or even reveling in the lack of it - which can sometimes be fun admittedly - but of finding out what is driving the composer's dramatic instincts beyond the prospects of a profitable show.

As usual, the size of the Chandler Pavilion makes it difficult for there to be much intimacy or emotional chemistry between the characters; something amplified by the fact that there are only six characters in this cast, so they are often a good ten feet apart from each other. Even with ten secret/military/corporate police supernumeraries patrolling the stage, the set felt like the gray marble halls of vacant Wall Street palace waiting for a spruce-up on one of those House & Garden TV shows.

I had forgotten how tame the onstage action is, considering the real-life Tamerlano's grisly history, although an athletically-inspired performance played in a hall with dramatic intimacy can make it seem exciting. And of course, no production these days starring Plácido as a relentlessly depressed father is going to be light on its feet. But the compensations were such that when the end came on opening night, the crowd rose to their feet cheering for the singers, for Handel and, I suspect, with some relief that they could finally go home. Enjoying Handel can be a gruelling feat sometimes.

Coming up next for LA Opera is Barber of Seville, starring Juan Diego Flórez and Joyce DiDonato, conducted by Michele Marietta (Nov. 29-Dec. 19), and a gala recital on December 12 by Renée Fleming. The next time that LA will hear Placido will be as Siegmund in next year's Ring Festival.
Laurence Vittes

Picture: © Robert Millard. Courtesy of Los Angeles Opera from the Washington National Opera production.