Other Links
Editorial Board
Editor - Bill Kenny

Deputy Editor - Bob Briggs
Founder - Len Mullenger
Google Site Search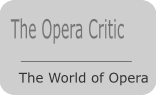 SEEN AND HEARD INTERNATIONAL OPERA REVIEW


Puccini, Il Tabarro and Leoncavallo, Pagliacci : at Skäret, Kopparberg, Sweden, 1.8.2009 (Premiere) (GF)

Directed by Alexander Niclasson (Il tabarro)and Sten Niclasson (Pagliacci)
Sets by Sven Östberg
Costumes by Sigyn Stenqvist
Lighting design by Anton Sjöstrand
Choreography by Per-Birger Stenudd

Il Tabarro

Luigi – John Horton Murray
Michele – Robert Hyman
Giorgetta – Charlotta Larsson
Frugola – Karin Lovelius
Tinca – Bengt Nordfors
Talpa – Bo Rosenkull
Song pedlar – Erik Boström
Un amante – Matilda Wahlund

Pagliacci
Canio – John Horton Murray
Nedda – Liine Carlsson
Tonio – Robert Hyman
Silvio – Daniel Hällström
Beppe – Fredric Hellgren
Contadino 1 – Peter Haeggström
Contadino 2 – Erik Boström

Bergslagens musikdramatiska kör, Stockholm New Chamber Orchestra (SNYKO) / Tobias Ringborg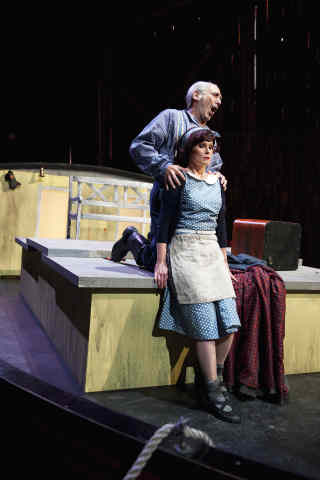 Il Tabarro : Robert Hyman (Luigi) and Charlotta Larsson (Giorgetta)


For the sixth season at Skäret Sten Niclasson and his team present a double bill. Leoncavallo's Pagliacci and the much less frequently performed Il tabarro (The Cloak) by Puccini, one of the one-acters in the trilogy Il trittico. There are close links between the two works. In both there is a wife who has fallen in love with a younger person, in both the husband finds out that she is having an affair and in both the deceived husband kills the lover – and in Pagliacci also the wife. Though separated in time by 25 years both operas belong to the versimo style but musically they are still worlds apart. Leoncavallo paints with broad brushstrokes and glaring colours and there are many traditional numbers, arias for great voices to excel in. Puccini's canvas is subdued. The nightly atmosphere permeates the score. There are no real arias – apart from Michele's long monologue towards the end, where he tries to figure out who Giorgetta's lover may be. But also Puccini often lets the music expand and there are ample opportunities for soprano and tenor – also the mezzo-soprano Frugola – to burst out in Puccinian cantilena.

Both operas have been transported closer to our own time – and very successfully at that. More precisely it is 1958 – at least in Pagliacci. The audience is made aware of this on arrival: three flashy big American 1950s cars are places outside the opera house and in the nearby building there is an exhibition displaying furniture and other gadgets from the decade.

Tabarro could just as well be the original time. Costumes are timeless workers' outfit, the barge looks like any barge during the last hundred years and the only modernisation is that the Song Pedler doesn't sell sheet music, he flogs records to giggling teenage girls. As usual at Skäret there is a minimum of props, just what is needed to get an idea of the setting. Set designer Sven Östberg says in his notes in the programme: 'The fact is that the performance doesn't take place on the stage, but inside your head. What is seen on the stage are there only to trigger the adventure in your brain.´

Alexander Niclasson's direction is also straightforward without 'clever' idiosyncrasies. He lets the drama unfold naturally and trusts the libretto and the music – and his singers. This is reality and reality is an end in itself.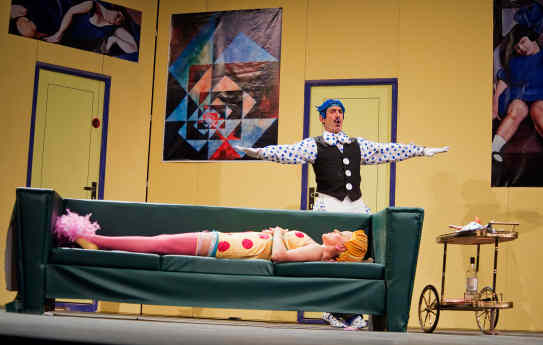 Pagliacci: Liine Carlsson (Nedda) and Robert Hyman (Tonio)


In sharp contrast to the sombre Tabarro Sten Niclasson's Pagliacci is as colourful as Leoncavallo's music. The actors don't belong to a shabby touring company visiting countryside villages, as the original has it. No, we are in Las Vegas and Pagliacci is a very successful TV-show. Today episode 100 is being shot. Silvio is the young director who has fallen in love with Nedda and quite logically he sings the prologue, where he explains the background to the opera, sorry, the show. Tonio, who in the original is physically deformed, is in this production a drunkard. It should be pointed out that the Swedish surtitles are very freely translated and give clues to the story as shown but it is Leoncavallo's good old libretto that is sung.

The second act with the commedia dell'arte performance is really great fun, as it always should be, and one totally forgets that one is sitting in that enormous barn where one can see the surrounding woods and lake through the narrow openings in the walls. The overall impression is that this is possibly the best 'show' at Skäret so far.

To this impression has to be added with emphasis the soloists. John Horton Murray with a busy international career, including more than 200 appearances at the Metropolitan Opera in New York, has a true Heldentenor, expansive, voluminous and with gleaming ringing top notes. He didn't seem very interested in more subtle nuances but as Canio he has very few opportunities to that anyway and I must admit that the intensity in Vesti la giubba, even more in No, Pagliaccio non son was felt almost physically. He once or twice resorted to barking but in general this was heroic singing on a high level. Not since I saw Vladimir Galouzine on a DVD from Teatro Real in Madrid have I been so impressed. He also made a good stab at Luigi.

Robert Hyman's tone was partly rather gritty but was well suited to both Michele and Tonio, who are both rather elderly characters. He is a convincing actor and in the second act of Pagliacci he stood out as a splendid comedian.

Charlotta Larsson, who was Aida at Skäret two years ago, is steadily developing in dramatic direction, her voice has darkened and has today a mezzo timbre. She was a brilliant Giorgetta though, curiously enough, her voice didn't carry out well when she was singing below mezzoforte.

The young Liine Carlsson was a sensationally good Nedda. Not only is she the possessor of splendid voice and sure-fire technique but she is a dazzling actress and visually she dominated the last act of Pagliacci.

Her lover Silvio was sung and acted with the same youthful elegance by Daniel Hällström, since 2007 a member of the permanent ensemble at Oper Leipzig. He sang the Prologue with such beauty of tone and expressivity that should make him demand at all the great opera houses. The duet with Nedda was also a highlight. Fredric Hellgren was a more than acceptable Beppe and in Il tabarro Karin Lovelius was a good Frugola.

Tobias Ringborg led well paced performances of both operas. I don't know how often SNYKO get the opportunity to play opera but after this I really look forward to hearing them in an opera pit again. The chorus, who have a spectacular task in Pagliacci, also sang and acted well. Even the weather was fine.

In other words: a splendid opera evening.

Göran Forsling

Pictures © Andreas Hylthén