Other Links
Editorial Board
Editor - Bill Kenny

Deputy Editor - Bob Briggs
Founder - Len Mullenger
Google Site Search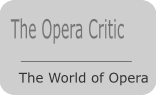 SEEN AND HEARD UK CONCERT REVIEW

Music by Schubert – Neue Perspektive Volume 3 'An die Frau' (songs he dedicated to women): Dorothee Jansen (soprano), Francis Grier (piano). Wigmore Hall, London 13.7.2009 (JPr)



Nothing in the programme or the publicity I had seen foretold that this was a celebratory concert but so it was. The concert's promoter Haydn Rawstron gave a short speech before it began to give the history of how John Robert Godley and Edward Gibbon Wakefield established a colony in New Zealand in the middle of the nineteenth century to follow the teaching of the Church of England; this led to the establishment of the Canterbury Association in 1848 and the main town was called Christchurch after Christ Church Oxford that Godley had attended and this concert was to celebrate many years of apparent international cultural collaboration between Oxford and New Zealand. Mr Rawstron was keen on 'introducing to each other' three interrelated groups in the audience; those from Christ Church Oxford, those from Christchurch New Zealand and others supporting the legacy of the Canterbury Association and he commented that 'no composer typifies a spirit of friendship' better than Schubert.
The 'Jansen-Grier-Duo' - as the German soprano, Dorothee Jansen, and her English composer-pianist, Francis Grier, call themselves - have prepared three all-Schubert programmes; 'Die Modezeitung' (songs for a fashion journal) and 'An die Frau' concerned with Schubert's obsession with having his songs published and 'Therese Grob' (songs he wrote for his first love) that they will bring to Wigmore Hall in December 2009.
Franz Schubert was born in Vienna in 1797 and died young at only 31. He wrote around 630 songs and although he had a close circle of friends and associates who admired his work there was little general appreciation of his compositions during his short lifetime. He never had permanent employment and for most of his career he relied on the support of others. He only made a little money from publishing what music he could and occasionally gave private musical lessons. It was only in the last year of his life when Schubert began to receive wider acclaim.
His was therefore the typically nomadic, poverty-stricken, tragically short life of the bohemian artiste but as well as other works he left us his songs that are almost all immensely lyrical with a heightened dramatic sense where the words and music are equal partners.
An die Frau
was compiled by Dorothee Jansen and Francis Grier from the seven separate opus numbers that Schubert dedicated to women – singers (such as singer and actress Katharina von Lászny), musicians (such as the pianist Marie Pachler) and the aristocratic hostesses of the important musical soirées of the time, for example, Princess Mathilde Theresia Schwarzenberg.
The 'Duo' performed 18 Schubert settings of texts by various poets including - amongst others - Shakespeare (
An Silvia
), Sir Walter Scott (the three Ellen songs) and one of the composer's favourite sources, Goethe, with seven songs from the 1815
Geistes-Gruss
to the three Mignon's Songs of 1826 (
Nur wer die Sehnsucht kennt
,
So lasst mich scheinen
and
Heiss mich nicht reden
).
It was interesting to hear this themed collection of Romantic era songs but as this short recital (each half was not very much longer that 30 minutes) progressed I longed for Dorothee Jansen to make the drama of the texts more evident for us as listeners and for Francis Grier, who is a psychoanalyst by profession as well as a pianist, to enhance the vocal line more and create an atmosphere for the individual songs. In their first song
Auf dem See
I would have liked to experience some of the waves the song mentions in the piano. Despite some fine moments such as the tremulous opening to
Geistes-Gruss
and the galloping sound of a horse in
Ellen's erster Gesang
, Francis Grier seemed content with merely accompanying his singer rather than being an equal partner in the performance.
This would probably not be so noticeable with a stronger characterisation of each song from his soprano however Miss Jansen sang throughout with an over-bright and fragile tone and when she sang of 'torment', 'grief' and 'suffering' it seemed little different from when she sang of 'joy', 'laughter' or 'love'. She could have made a lot more of the words she was singing. I thought she was more of a high mezzo and less of a soprano because she employed only a narrow vocal range throughout her performance of these songs though
Heiss mich nicht reden
did descend towards the end to a chest voice Miss Jansen clearly does not yet have at her disposal.
The official recital programme ended with Schubert's popular music from his setting of the
Ave Maria
Latin text but here with the words of Sir Walter Scott (
Ellens dritter Gesang
) and at last voice and piano were more truly united. Yet it was left to the encore of the familiar
Die Forelle
('The Trout') when there was light and expression in Miss Jansen's eyes and along with Francis Grier's typically babbling accompaniment they brought an engaging freshness to an over-familiar song. It was a shame these qualities were missing during most of the rest of the recital.
©
Jim Pritchard