Other Links
Editorial Board
Editor - Bill Kenny

Deputy Editor - Bob Briggs
Founder - Len Mullenger
Google Site Search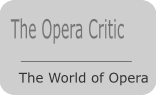 SEEN AND HEARD INTERNATIONAL OPERA REVIEW

Strauss: Salome: Soloists,Orchestra Simfònica del Gran Teatre del Liceu.Conductor: Michael Boder.Gran Teatre del Liceu de Barcelona. 1 & 2. 07. 2009 (JMI)

New Production Barcelona's Liceu and Theatre del la Monnaie (Brussels).

Director: Guy Joosten.
Sets: Martin Zehetgruber.
Costumes: Heide Kastler.
Lighting: Manfrd Voss.

Cast:

Salome: Nina Stemme/ Erika Sunnegardh
Herodes: Robert Brubaker/Gerhard Siegel.
Jochanaan: Mark Delavan/ Robert Bork.
Herodías: Jane Henschel/Vivan Tierney.
Narraboth: Stefan Heibach/Francisco Vas.
Herodias's Page: Ana Tobella.
Jews: Clemens Löschmann, Jon Plazaola, Joseph Fadó, Jordi
Casanova and Alberto Feria.
Nazarenes: Stanislav Shvets, Pavel Kudinov.
Soldiers: Patrick Schramm, Kurt Gysen.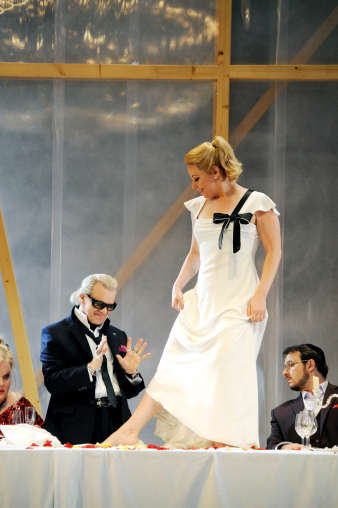 Nina Stemme (Salome) and Robert Brubaker (Left) as Herod


One of the high points of the present opera season at Barcelona's Liceu was the debut of Nina Stemme as Salome, after her previous cancellations in the announced concert versions in Strasbourg and Paris two years ago.

For such a special occasion the Liceu ordered a new production, in collaboration with Brussels' La Monnaie, from Dutch director Guy Joosten. His previous work has often seemed to me to be quite disappointing and sometimes actually irritating. More and more, we have to get used to the fact that stage directors feel free to offer their personal visions of operas, without much respect for their librettos and scores. Guy Joosten is no exception to this trend towards personal readings and makes this own Salome his own, not Oscar Wilde's nor Richard Strauss's and it could have easily been re-titled "Salome's Revenge".

He transfers the action to the present day and sets it in a decrepit palace, where Herod or perhaps Karl Lagerfeldt is giving a banquet. The first part of the opera takes place outside the rather shabby banquet hall, in a space surrounded by bodyguards dressed in black. Jochanaan is supposed to be in an underground prison, but he comes freely out onto the stage, always accompanied by the armed guards. Narraboth and Herodias's Page are part of this personal police force. Joosten's first originali idea is to have Narraboth killed by Salome rather than commit suicide as the libretto prescribes. In the second part of the opera we are at Herod's banquet, with Jews and Nazarenes seated at the main table. Jochanaan's voice does not come from the basement, but rather he comes to the banquet, although not as a guest. The Dance of the Seven Veils does not exist as such: instead we see a video tape projection of Herod trying to rape an almost child-like Salome, following the line that Thomas Vintberg showed in his film celebration of this opera. Joosten continues with very his personalised version and at the end nobody obeys the order to execute Salome, while the Baptist finally returns to her with his head back firmly in place.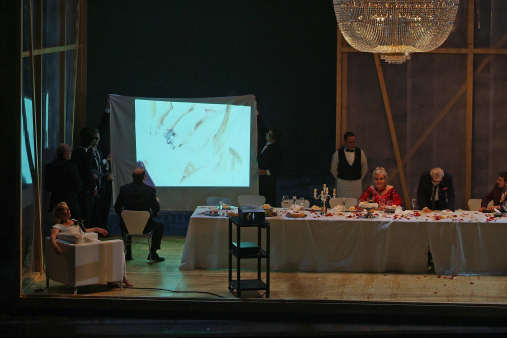 There will be many people who will find Mr. Joosten's vision of the opera very interesting, but they may need reminding that it has very little to do with either the libretto or score. It is not only that Oscar Wilde's intentions are substantially altered, but also that what we see runs against the music itself. The music of the Dance of the Seven Veils is deliberatly enormously erotic, and its climax has to transport Herod to sexual raptures. Here there was none of that: what we saw made no sense of Herod's words after the dance, "Ah, Herrlich! Wundervoll, wundervoll! You saw it, your daughter has danced for me." It's fair to ask what that has to do with a video projection of some kind of rape in which Herod is the perpetrator.

Mr. Joosten was loudly booed on the evening of the premiere and why not? There's no reason at all why an audience should respect a director who does not offer even minimal respect for music and text.

Michael Boder's musical direction remained below what might be expected from the Liceu's new musical director. There was a lot of volume, but his reading was superficial. Richard Strauss's music is certainly loud but there much more to it than decibels. The orchestra obligingly produced lots of those on request but nothing else that I was expecting.

The great attraction of the production was the debut of Nina Stemme as Salomé. I do not know whether she had anything to do with Mr. Joosten ideas but I mention this because relieving a soprano of the Dance of the Seven Veils allows her to arrive fresh for the difficult and demanding final scene of the opera. Nina Stemme was therefore quite rested for it and her last twenty minutes were worth the rest of opera put together as an authentic exhibition of power and conviction. It would be difficult to sing the scene with Jochanaan's head any better than she did and in fact I can think of no other soprano who could be better in this hugely demanding monologue. She was equal to any of the truly great Salomes in history.

In the second cast we had another Swedish soprano, Erika Sunnegardh, singing the role. She is a great actress, but it is difficult to understand why she was chosen as Salome in this production. In purely vocal terms, she is a lyric soprano, brilliant in the upper register, but for the rest of the tessitura she falls rather short of punch. She was also more the capricious teenager as portrayed by Wilde and Strauss than the vindictive Salome as conceived by Joosten. Watching her movements on stage, I felt convinced that she was invited to the role with the Dance of the Seven Veils still present in mind. Something must have happened afterwards.

American Mark Delavan was an patchy Jochanaan, with some very good moments yet with others where his voice was lost to the point of being almost inaudible. He also lacks the visionary, fundamentalist and charismatic aspects of the character. I preferred Robert Bork in the second cast, although he was also rather lightweight for the role.

Robert Brubaker was an excellent Herod. He is a very good actor with an important dramatic voice, a great combination. By comparison Gerhard Siegel was more like an almost buffo tenor, better suited to other parts.

Jane Henschel was a good Herodías, here presented as a lady alcoholic, although Vivian Tierney was no more than acceptable in the second cast. Stefan Heibach was a decent Narraboth, while Ana Tobella was also too light for Herodias's Page, again inaudible at the bottom end of her range. The five Jews were all excellent.

There was full house on both days and Nina Stemme had a well deserved triumph. Robert Brubaker was also cheered. In the second cast, Erika Sunnegardh also received a warm reception. The reactions to the other artists, including Michael Boder, did not stretch further than polite courtesy.

José M Irurzun

Pictures © Antoni Bofill