Other Links
Editorial Board
Google Site Search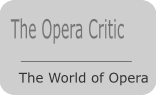 SEEN AND HEARD INTERNATIONAL OPERA REVIEW

Dvorak, Rusalka: (Premiere) at the Finnish National Opera, Helsinki, 28.11.2009 (GF)
Directed by Richard Jones
Assistant Director: Anna Dirckinck-Holmfeld
Sets by Giles Cadle
Costumes by Nicky Gillibrand
Lighting design by Mimi Jordan Sherin
Choreography by Linda Dobell
Cast:
Rusalka – Olga Romanko
The Water Gnome – Vladimir Baykov
The Prince – Erik Fenton
The Foreign Princess – Lilli Paasikivi
Ježibaba, the Witch – Anna-Lisa Jakobsson
The Gamekeeper – Juha Koskela
The Young Assistant – Pauliina Linnosaari
Three Water Nymphs – Tove Åman, Riikka Rantanen, Jeni Packalen
The Hunter – Jyrki Anttila
Chorus and Orchestra of the Finnish National Opera / Ivan Anguélov



Antonin Dvorak's water world seems to flood the Nordic countries at the moment. This production was first seen at the Royal Danish Opera last year, Operaen in Oslo presented their own version earlier this autumn (see review) and now Rusalka and her water nymph companions emerge at the Finnish National Opera. In Oslo, Paul Curran and his team created a fairytale atmosphere, which I thought rhymed very well with Dvorak's lavish music, but with a frame story about a girl growing up and being confronted with the problems as a grown up. Richard Jones, who always manages to find new aspects on the operas he directs, thinks a little along the same lines but avoids the romantic haze that surrounds the Oslo production and goes for naked realism and more than a pinch of cynicism.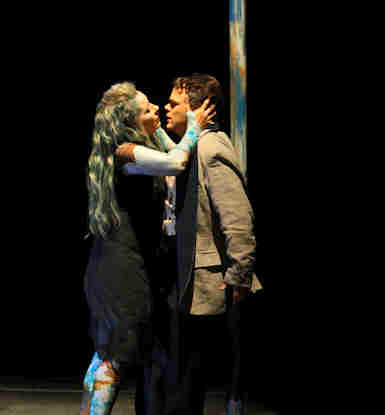 Rusalka – Olga Romanko and The Prince – Erik Fenton
It is true that the first act has its elements of fairyland with its little lake surrounded by a picture-book landscape, with the water nymphs truly realistic in their fish outfits and with a gigantic moon looming above, which it does throughout the performance. And the moon is not only a passive onlooker; now and then his rough crater-strewn surface gets human features, he winks an eye and in the final scene, when Rusalka gives the Prince the deadly kiss, the moon also has a big shining red mouth. Something of the fairytale also prevails when the witch's hut appears and Ježibaba carries out her witchcraft, transforming Rusalka from water nymph to human being.
But the second act, playing not in splendid staterooms but a simple little meeting-hall with practically no furniture, is chillingly down-to-earth and the people's contemptuous mobbing of Rusalka makes her vulnerability heart-breakingly manifest. 'This opera is about somebody who wants to make a fundamental change to the body and the consequences of that' said Richard Jones in an interview in connection with the Copenhagen premiere. To become a human being in order to get her prince Rusalka agrees to certain conditions, hoping to be able to get through them in some miraculous way, but, as Richard Jones says 'you can not avoid them. You have to live with the consequences, you have to live with the contract you have made. Because we all do'.
In the last act Rusalka is condemned to live among the living dead, or undead, as Jones calls them. Their task is to lure men to their death. The undead are in this case a group of whores, dressed in black, sitting beside a bar waiting for their next victim. It is a disgusting scene that, on the face of it, seems utterly unsuited to Dvorak's lush romantic music. In reality it works brilliantly – though probably not to all tastes. I could observe members of the audience who didn't bother to clap even once after the performance. I'm still full of admiration for the Oslo production but have to say that Richard Jones's concept touched me ever so much more.
Solveig Kringlebotn's Rusalka in Oslo was excellently acted but Olga Romanko's slender shape and nervy appearance made her an even more vulnerable water nymph. Vocally she also invested the part with even more passion, more despair and her voice is more youthful and has more dramatic ring. She was so deeply inside her role that it took her a long long time to get out of Rusalka and become Olga Romanko again. Erik Fenton's healthy lirico-spinto tenor made him a fine Prince and in the love scenes he poured out impassioned brilliant tones that reminded at least me, of the fact that he studied with James King. Vladimir Baykov also sported a magnificent voice, voluminous and steady and made the water-gnome's solos the highpoints they should be. Lilli Paasikivi's foreign Princess was as far removed from the traditional glamorous personification of the seductress as could be imagined. Dressed in a glaring green suit she looked more like a school-teacher in bad taste. That the Prince preferred her to Rusalka was of course even more humiliating for the poor water nymph. But Paasikivi sang as well as ever, as did her mezzo colleague Anna-Lisa Jakobsson, who was a formidable witch. There were also fine contributions from Juha Koskela's gamekeeper and Pauliina Linnosaari's young assistant.
With a real Dvorak expert in the pit (Ivan Anguélov has among many other things recorded all nine symphonies by Dvorak) there was Slavonic glow in the playing and the chorus lived up to the standard we have become used to.
Controversial the production may be but there is such logic in the direction that it is hard to resist.
Göran Forsling
Photos © Heikki Tuuli