Other Links
Editorial Board
Google Site Search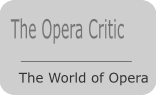 SEEN AND HEARD UK CONCERT REVIEW

Donizetti, Maria di Rohan: (Concert Performance) Soloists, Geoffrey Mitchell Choir, Orchestra of the Age of Enlightenment. Conductor: Sir Mark Elder CBE. Royal Festival Hall, London. 7.11.2009 (MMB)
Maria, Contessa di Rohan (soprano) Krassimira Stoyanova
Riccardo, Conte di Chalais (tenor) José Bros
Enrico, Duca di Chevreuse (baritone) Christopher Purves
Armando di Gondi (tenor) Loïc Félix
De Fiesque (bass) Brindley Sherratt
Il Visconte di Suze (bass) Graeme Broadbent
Aubry (tenor) Christopher Turner
Un Familiare di Chevreuse (baritone) Riccardo Simonetti
Courtiers and servants - Geoffrey Mitchell Choir/Renato Balsadonna (chorus director)


Years ago, I read a somewhat disdainful article on the bel canto operas of the first half of the 19th century, referring primarily to the operas of Rossini but also to Donizetti and Bellini. I do not recall who wrote it but the theory defended by the author was that in general terms bel canto operas lacked drama, had rather superficial plots and that their characters were innocuous and devoid of any real human emotions or psychological depth. The argument was that because these composers focused only on the singing their operas suffered in all other respects. Why I remembered this while watching Maria di Rohan was because this opera easily proves the whole idea false.

Maria di Rohan was the penultimate opera that Donizetti wrote. He composed it for Vienna, where its premiere took place at the Kärntnertortheater in June 1843, and then revised it later that same year for the Théátre-Italien in Paris where it premiered in November 1843. The Vienna version is sombre, intensely dramatic, relentlessly moving towards the tragic climax in the third and final act. The revised version was a much lighter affair, possibly tailored to the tastes that prevailed in Paris at the time, which made the piece more superficial though richer in melodic, beautiful tunes.

The version presented here at the Royal Festival Hall, was the original written for Vienna. According to Jeremy Commons, who wrote the programme notes, to the best of his knowledge, this performance was important as it was the first time that the Viennese version has been played in England. If this is indeed true then it was a real privilege to witness this historic moment.

Sir Mark Elder conducted the Orchestra of the Age of Enlightenment in what turned out to be a magnificent concert performance of this dramatic masterpiece. Sir Mark is an unbelievably energetic conductor whose enthusiasm is contagious, easily transferring into excellent rapport with the orchestra, choir and soloists. He extracted incredibly dramatic playing from the musicians of the OAE, solidly delivered with emotion and precision at every instant. One could easily catch each note, the contribution of every instrument and above all, perfect cushioning and projection of the singers' voices. Of course with an orchestra like the OAE, Sir Mark's task was made easier, but even so, bringing all the musicians together to a performance of relentless dramatic intensity, and getting the audience, to hang onto every note, is no small achievement. This concert performance was a glorious, powerful presentation of a great work, too often neglected. Sir Mark's love for the music and his understanding of the composer and the score were patent throughout. In the end, it was also obvious that he (along with the musicians and the soloists) had given his heart and soul to bringing the work to life: Sir Mark looked drained, exhausted but also extremely happy when he bowed for the many well-deserved curtain calls.

Bulgarian soprano, Krassimira Stoyanova, sang the title role of Maria, Countess of Rohan, with great quality and dramatic expression. I had only heard her on CD before but was greatly impressed with her tone, warmth and range and therefore eager to see her live in a full operatic work. She did not disappoint. She gave a star performance, portraying the countess in a sympathetic and poignant manner; delivering the difficult passages flawlessly, with great warmth and assured, clear high notes, which soared above the orchestra. She possesses a solid, surprisingly low range and a beautifully expressive middle range, which effectively contributed to her portrait of Maria, who through no real fault of her own brings about the suicide of her former lover and her husband's contempt: in the end he refuses to give allow her relief from death, condemning her to a life of mournful suffering and shame. Ms Stoyanova made the countess and her pain believable, singing the role with perfectly judged dramatic intensity.

As for the male leads, all were new to me. Spanish tenor, José Bros, sang Riccardo, Count of Chalais, Maria's former lover who is still in love with her and British baritone, Christopher Purves sang Maria's husband, the Duke of Chevreuse.

José Bros was a rather pleasant revelation. His voice is fluid, with expressive, easy high notes and clear enunciation though his tone can be a little metallic in the highest range of the voice. He sang most of Chalais's difficult part effortlessly and was particularly moving in the beautiful aria Alma soave e cara, which Chalais sings in the beginning of Act II, demonstrating a delicate and sensitive quality in the more lyrical, soft part of the aria. He is also dramatically very expressive and his duet with Stoyanova's Maria, Ecco l'ora, at the end of Act II, possessed a genuine ring of despair. Mr Bros gave the character of Chalais dignity, singing it with charm and honesty.

Having missed out on hearing Christopher Purves perform I had read some reviews about him: all were unanimous in stating that he has a big voice; colourful, powerful, with great flexibility and dramatic sensibility. In fact, he is also a very talented actor, a quality demonstrated to perfection in his final scene with Maria, where he confronts her with her guilty love of another another man instead of him. The interchange between them is very intense and his transition from pain to fury, as a betrayed husband who dearly loves his wife, had great emotional impact. I have no difficulty believing that Mr. Purves' voice is everything that I read about, despite the fact that on the night, he did not quite deliver his best. Perhaps he was unwell since his voice sounded tight and tense, his throat a little hoarse and he seemed to struggle with some of the more difficult parts of the role, particularly in the final scene with Maria in Act III in which his voice faded slightly on occasions. Much to his credit however, he demonstrated great professionalism and a solid technique, delivering the role powerfully and singing all the notes even though needing to drink from a water bottle during the interchange with Stoyanova.

All of the other minor roles were efficiently and adequately sung by experienced singers, in particular Brindley Sherratt, whose bass tone is warm and round, and who delivered a good De Fiesque and also Graeme Broadbent who was a noble Visconte di Suze. The Geoffrey Mitchell Choir, whose director Renato Balsadonna is also the chorus master of the Royal Opera House Chorus gave an excellent performance, contributing most positively to a splendid performance of this memorable dramatic opera.

Overall, this concert performance Maria di Rohan by the OAE in partnership with Opera Rara was a very distinguished event: it made for powerful and most enjoyable night at the opera.
Margarida Mota-Bull