Other Links
Editorial Board
Google Site Search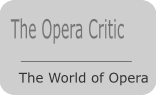 SEEN AND HEARD UK CONCERT REVIEW

Josquin des Prez, Boulez and Mozart:  Elizabeth Watts (soprano) Anna Stephany (mezzo soprano) Ed Lyon (tenor) Jonathan Lemalu (bass-baritone) BBC Symphony Orchestra, David Robertson (conductor) BBC Symphony Chorus Stephen Jackson (chorus-master) Barbican Hall London 27.11. 2009 (GD)

Josquin des Prez:  Nymphes des bois
Pierre Boulez: Rituel in memorium Bruno Maderna
Mozart: Requiem in D minor K 626


If ever there was an example of truly innovative concert programming this was it!  Here we had three superbly chosen masterpieces spanning the 15th century to our own time. The general theme of the concert was lamentation and in the first two pieces, there was also the tradition of composers' writing elegies for deceased composers/ colleagues.  The opening motet by Josquin (for unaccompanied choir)  is a lament for his fellow French-Belgian Johannes Ockeghem, thought to be Josquin's mentor. The motet for five vocal parts lasts just over six minutes but the superbly crafted economy of the piece incorporates a range of choral/ecclesiastical genres including the chanting of the introit for the Mass for the dead, and the tenebrous style associated  with the older norms of Ockeghem's era. Although the (quite large)  BBC choir managed the piece well, I think a degree more clarity would have been achieved with a smaller ensemble, especially in the more elaborate clusters of interweaving polyphony.

In a fascinating way, the Boulez work registered more in common with the Josquin piece than with, particularly, familiar nineteenth century repertoire. Of course Boulez's composition is epic ( a duration of 25 minutes) compared with earlier work, but I did find a similarity mostly in the superbly encoded/structured counterpoint/canonic interplay  of the two pieces.

Boulez wrote Rituel in 1974 in memory of his colleague the composer-conductor Bruno Maderna who died the previous year. The piece is unlike any other major work by Boulez, almost as if the composer was engaged in an exercise of self-reversal.  Rituel is scored for eight instrumental groups, all accompanied by percussion instruments including gongs, drums, maracas, cymbals etc. While many of Boulez's compositions are explosively discontinuous, eg, 'Eclat/Multiples', Rituel is an intense study in a complex range of ostinato (mostly percussion) continuities and repetitions: indeed it is these interlocking/disparate structures of repetition which give the work not only its funeral character ( a very secular marche funebre),  but also imbue it with a more primitive tone associated with ritual and myth. I am almost tempted to speculate that the work evokes an 'unheimlich" resonance in the Freudian sense, with the familar (repeated, even machine-like, percussive rhythms) becoming strange, or bewitching. Although the work is contoured/structured at various metric levels, some sequences overlapping with each other in canonic/stretto form intone a certain harmonic density. Also, and in similar fashion,  the constant registers of percussive repetition function to produce at times a kind of sonorous frieze, adding to the 'unheimlich' tone already mentioned.

Robertson has a proven track record with the piece, having made an excellent recording of it with Lyon forces. He positioned the instrumental groups meticulously, with the main ensembles on each side of the stage, some off-stage groups positioned in the upper tier levels, and with the main brass/woodwind choir centrally positioned on stage. Robertson didn't 'conduct' Rituel in the standard sense. He acted more as an initiator/indicator of the various levels of entry, and patterns of rhythmic/tempo contrast. There is no space or time here for any kind of conductorial emotional indulgence or histrionics. And in that sense, Robertson performed an absolutely apt and accurate function. My only criticism, more a criticism of the recessed Barbican acoustic, was that the brass (especially the horns) at full blast tended to distort.

In an age of textual correctness there is still speculation around the adequacy of Franz Xaver Süssmayr's completion of Mozart's last work; the 'Requiem'. Many attempts have been made to complete the work but most have these have been  little more than the application of well meaning scholarly conjecture. We know that Mozart, and his wife Constanze after Mozart's death, had a  preference for the completion to made by Joseph Eybler, a Viennese composer who Mozart is known to have respected and it was only after Eybler turned the task down that the completion went to Süssmayr. Given the circumstances, Süssmayr made an excellent job. The important thing to remember is that Süssmayr knew the Mozarts well, was part of their inner circle, and as an assistant and pupil of Mozart, was familiar with his compositional methods and style. We will never know exactly how much of the completion was Süssmayr, from Mozart's sketches, and how much was definitive Mozart. It seems that the Benedictus and the Agnus Dei were composed by Süssmayr r: the former is certainly in Mozart's operatic style, and is a very skilfull realisation, but there is a certain four-squareness here, which Mozart would never had allowed, even though the Agnus Dei seems very close to what Mozart might have imagined. It is possible (likely) that some of Mozart's relayed musical ideas were only imparted verbally to Süssmayr.

As to tonight's performance, overall it was a fine accomplishment, with brisk tempi, precise rhythms, and an excellent ear for orchestral balance and detail.  But on another level it was something of a mixed bag: as implied by the period influences in tempi, rhythm etc, but with a large modern orchestra and a massive choir; well over 150 singers.

Of special distinction, the Recordare must be mentioned for the beautifully sensitive phrasing that Robertson obtained from the strings (thankfully antiphonally placed) together with  a rousing, and furiously inflected Dies irae and Confutatis. This had a beautifully sustained pp lead in to the Lacrymosa. But in the Rex tremendae and the contrupuntal choral/orchestral writing in the Offertorium, I felt a certain lack of clarity in the orchestral counterpoint, especially from woodwind (with basset horns) and the trombones/trumpets. This was certainly mostly to do with the huge choir (not helped by the Barbican acoustic) obliterating strands of orchestral detail. The BBC choir, in its own terms, sang quite well, but a smaller choir (say 30 voices), and a sized down orchestra  would have produced far more convincing, and dramatic,  clarity.  Mozart's superb realization of the solo trombone in the Tuba mirum was well played tonight, despite one or two trombone fluffs. All four soloists were quite adequate: Elizabeth Watt's soprano lacked the required operatic range, and Jonathan Lemalu's bass-baritone was, I felt, more suited  to a Baron Ochs buffo grotesque. Anna Stephany's mezzo, and Ed Lyon's tenor were in general much better. But, after recently hearing the classic Salzburg recording with Bruno Walter and the likes of Siepi and della Casa, I am convinced Mozart intended his soloists to be of the highest distinction. Nothing else will do in such a masterpiece; even an incomplete one. 
Geoff Diggines