Other Links
Editorial Board
Google Site Search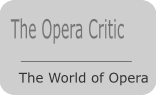 SEEN AND HEARD INTERNATIONAL OPERA REVIEW

Donizetti, Don Pasquale: Soloists, Orquesta Sinfónica de Navarra. Orfeón Pamplonés. Conductor: Álvaro Albiach. Auditorio El Baluarte de Pamplona. 26.11.2009. (JMI)

Co -production El Baluarte, Teatro Real and Málaga's Teatro Cervantes.
Direction: Tomás Muñoz.
Sets and Lighting: Tomás Muñoz.
Costumes: Ariane Unfried.
Cast:

Don Pasquale: Miguel Ángel Zapater.
Norina: Sonya Yoncheva.
Ernesto: José Luis Sola.
Malatesta: Davide Fersini.
Notario: Abelardo Cárdenas.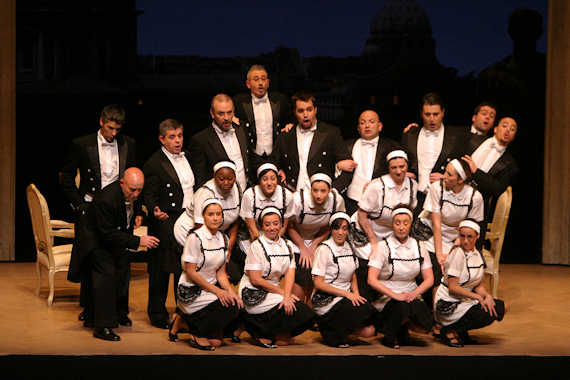 The economic crisis seems to be hitting opera organizations in Pamplona, because the number of operas to be performed this season have declined significantly. Let us hope that this situation is temporary and they can soon return to the variety provided recent years. Having said this, although quantity has been reduced, the quality on offer - at least judging from this Don Pasquale – is at a high level, and more importantly, the public enjoyed it a lot, rewarding all the artists with enthusiastic applause.

This production is almost the same as the one that I reviewed last March, when it had its premiere at Madrid's Teatro Real. There is little more I can add to what I wrote then: Tomás Muñoz's ideas still work well and the whole thing is an example of what young and imaginative people who are true opera lovers, can do even with a low budget.

The musical direction was again entrusted to the Catalan conductor Alvaro Albiach. At the Teatro Real he had a young and rather average orchestra, together with a very weak chorus; here he had a better orchestra and a chorus that was wholly reliable. Not fully understanding the difference in acoustics between the Teatro Real and Pamplona's El Baluarte, was something of an error on his part however, especially for such an open stage production as this one. The orchestral volume was quite excessive at times, which did not help the singers much at all.

As in Madrid, Don Pasquale was the Asturian bass Miguel Ángel Zapater, whose performance was a very pleasant surprise at the Teatro Real since I think this was his first ever attempt at a buffo character. His performance this time was not quite at the same level; his voice sounded a little dryer and like the rest of the cast he was hampered by the volume from the pit. In general though, Zapater was still a fine Don Pasquale, despite some minor problems in the tongue twister duet with Malatesta.

The Bulgarian soprano Sonya Yoncheva repeated her outstanding performance in Madrid as Norina. Recently her presence has been more frequent in opera theatres near me and I am sure that this will continue increasing, considering her acting, stage presence and vocal qualities. A very good Norina.

In Madrid the weakest point in the cast came from the part of Ernesto, but was not repeated in Pamplona. On the contrary, this time since José Luis Sola offered an outstanding Ernesto. This tenor improves more and more every time I see him: his vocal projection has improved hugely and these days his quality is such that he really should be seriously considered by any of the bigger opera houses.

José Julián Frontal was announced as Malatesta, but he had to cancel due to health problems and he was replaced at the last minute by Davide Fersini, who was flown in from Zurich to save the day. Fersini was Malatesta at the mentioned premiere at Teatro Real and he did much more than simply save the performance. He was an excellent actor and a remarkable singer. An excellent replacement.

The house was almost sold out and the audience enjoyed clearly the performance, dedicating a triumphant reception to all the artists. Primus inter pares, José Luis Sola.
José M. Irurzun

Picture © Auditorio El Baluarte de Pamplona