Other Links
Editorial Board
Editor - Bill Kenny

Deputy Editor - Bob Briggs

Founder - Len Mullenger
Google Site Search
SEEN AND HEARD INTERNATIONAL OPERA REVIEW

Bellini, Norma: Soloists,Orquesta Sinfónica de Navarra. Coro de Ópera de Bilbao.Conductor: Yves Abel.Palacio Euskalduna de Bilbao. 26. 9. 2009 (JMI)

Coproduction from Bologna's Teatro Comunale, Trieste's Teatro Verdi and Bari's Teatro Petruzzelli.
Director: Federico Tiezzi (Original) Francesco Torrigiani (Revival)
Sets: Pier Paolo Bisleri.
Costumes: Giovanna Buzzi.
Lighting: Gianni Pollini.

Cast:

Norma: Fiorenza Cedolins.
Adalgisa: Mariola Cantarero.
Pollione: Francesco Hong.
Oroveso: Marco Spotti.
Flavio: Manuel De Diego.
Clotilde: Giovanna Lanza.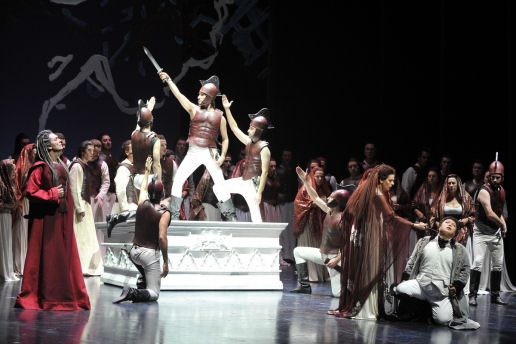 ABAO (Asociación Bilbaina de Amigos de la Ópera) remains faithful to its traditions by opening its58th opera season with a very popular title. Vincenzo Bellini's Norma was last performed in Bilbao in January 2003 with two exceptional protagonists, June Anderson and Sonia Ganassi. The novelty for this season is to offer the original version of this opera using two sopranos instead of a soprano and mezzo although ABAO seems to suggest that this decision was actually a question of making a virtue out of necessity. This seems to be confirmed by the fact that the second cast offers the more traditional version with soprano and mezzo in the roles of Norma and Aldagisa. The important thing to note though is that these characters' duets were of truly outstanding quality with sopranos singing both roles.

The production was premiered in May 2008 in Bologna as a vehicle for the debut of Daniela Dessì in the role of the Druid Priestess. Later on, just a few months ago, it could be seen in Trieste with June Anderson as Norma. Federico Tiezzi makes use of some original paintings by Mario Schifano for his setting - always including the motif of the tree - which were be rescued from the fire that destroyed Bari's Petruzelli theatre in 1991. The production is aesthetically appealing and full of good taste, although the pure stage work is sometimes rather poor. The elements that characterize this production are the oak tree – on different paintings - and the Moon. The action offers a complex mixture of times, from some neoclassical sets to some more modern costumes, with Pollione dressed as a kind of Napoleonic officer and with the children playing with a plastic ball and a train, while the Romans and Druids are often either immobile or behave as if photographed in slow motion while dressed in timeless but slightly strange outfits. Outside of the rather odd historical analysis that the production offers, good taste is always shown on stage and in the good lighting work. But Federico Tiezzi stage direction is really not very good. His work with the chorus and extras goes little further than traffic control and the gestures that he imposes on the singers are extraordinarily old-fashioned. In Bilbao, people would say that it's "Older than our river".

Musical direction was in the hands of the Canadian Yves Abel, a very fluid conductor who appears quite regularly in Bilbao Opera seasons. His reading was more efficient than bright, with some irregular tempi, in which there were almost out of control moments, such as the chorus's "Guerra, Guerra", sung while hanging on with some difficulty to Mr. Abel's beat. Otherwise, his work was quite efficient and he took particular care of both sopranos in duets. The orchestra the chorus produced very good results even so.

The protagonist Norma was soprano Fiorenza Cedolins, returning to Bilbao once again. I have good memories of the last time I saw her singing the role in Genoa some 5 years ago when she was probably the best Norma anywhere. Today, she is not quite at the same level, although her performance as the Druid Priestess is still truly outstanding and most convincing. She was not too comfortable in the coloratura pages ('Ah, bello a me ritorna') and her top range become rather too metallic. Nevertheless, she was always up to the demands of the role and offered also cut an attractive figure on stage. All in all, she remains one of the very best Normas around today.

Singing Adalgisa in this soprano version, we had Mariola Cantarero, making her debut in Bilbao. Her voice is not especially beautiful, but she is a very convincing singer, perfectly suited to the demands of the belcanto style. She too was at her best in both duets with Norma, with an excellent contrast between the two voices. A very good debut.

Korean tenor Francesco Hong was Pollione producing some very powerful high notes, while the rest of his voice was not of the same standard, particularly his weaker lower range. He is not yet a paragon of expressiveness, and he offered more squillo than nuance. Marco Spotti was rather disappointing as Oroveso with a voice not extensive enough for the character. Among the supporting roles the young mezzo soprano Giovanna Lanza sang an excellent Clotilde.

The Palacio Euskalduna was sold out, as is usual in Bilbao. The public gave a warm rbut not completely enthusiastic reception to the artists, with the biggest ovations going to both sopranos. The Central box (some 30 people) was filled by the great and good from the Basque Country, together with ABAO's board and special guests. For unknown reasons, Act II began with an empty box, and it was only in the middle of Norma's recitative that the well known politicians walked into their seats, raising loud protests from some nearby spectators. Quite right too: nobody should be let into their seats once the opera has begun regardless of the latecomers personality. If Mr Abel and Ms. Cedolins had decided to stop, which they didn't but would have been understandable considering that they did not know what was going on, this performance could been headline news in today's Spanish newspapers.

A supplement to this review, featuring the second cast, will appear next week.

José M Irurzun

Picture © E. Moreno Esquibel

Back to Top Cumulative Index Page