Other Links
Editorial Board
Editor - Bill Kenny
Founder - Len Mullenger
Google Site Search
SEEN AND HEARD INTERNATIONAL OPERA REVIEW
Mozart, Die Entführung aus dem Serail: Soloists,Orchestra of Teatro Colón. Conductor:Jonas Alber, Teatro Coliseo, Buenos Aires. 30.9.2009. (JSJ)


Director/sets/lighting/costumes: Willy Landin

Director (Assistant): Alejandro Marconi

Sets (Assistants): Pilar Camps, Carmen Auzmendi

Lighting (Assistant): Horacio Pantano

Costumes (Assistant): César Taibo

Chorus: Marcelo Ayub

Cast:

Constanza: Katarzyna Dondalska

Blonde: Natasha Tupin

Belmonte: Todd Wilander

Osmin: Kevin Burdette

Pedrillo: Carlos Natale

Selim: Raúl Neumann

Janissaries: Gabriela Ceaglio, Mariela Barzola, Hernán Sánchez Arteaga, Román Modzelewski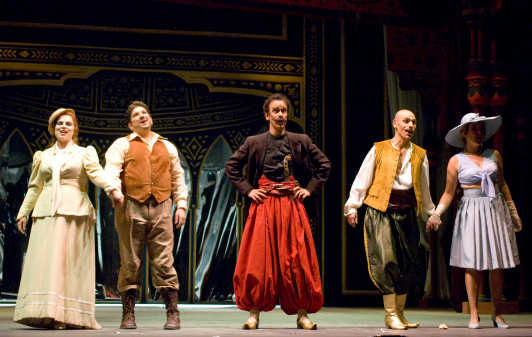 L-R Katarzyna Dondalska (Constanza), Todd Wilander (Belmonte), Kevin Burdette (Osmin), Carlos Natale (Pedrillo) and Natasha Tupin (Blonde)
With the postponement of Die Entführung from the originally scheduled last week of July, as part of swine flu containment measures at the time, came a change of the named cast and conductor, of which perhaps the most noteworthy was the loss of the opportunity to see Argentina's own Verónica Cangemi in the role of Constanza.
But that is in no way to denigrate the new cast in general or Cangemi's replacement in particular, the Polish coloratura soprano Katarzyna Dondalska. With the hand program revealing little beyond early her virtuosity as a violinist, she proved a surprise and a pleasure to hear, her voice fluid but small. However, her acting was somewhat wooden.
Alongside her were two Americans – Californian Todd Wilander as Belmonte and Kevin Burdette as Osmin. Wilander appeared to be off form, sounding strained at times. On the other hand Burdette, tall and – unusually for the role – lean, was in good form, providing a spirited, if not quite "rough" enough, performance of the uncouth Osmin.
Of the smaller roles, played by local artists, Natasha Tupin was a pert Blonde and Carlos Natale was excellent as Pedrillo. Raúl Neumann also was good as Selim, although the normally honourable Pasha had been transformed into a lecherous old man who, his advances rejected by Constanza, settled instead for an orgy.
The production gave the appearance of lavishness, befitting the opulence of the Pasha's palace, but the dress was incongruous – Osmin with a jacket with his Turkish pants and Blonde's shorts and skirt at odds with Constanza's attire.
German maestro Jonas Alber provided a lively reading of the score – the whole resulting in an engaging and enjoyable production of a work last put on by the Colón 11 years ago.