Other Links
Editorial Board
Editor - Bill Kenny

Founder - Len Mullenger
Google Site Search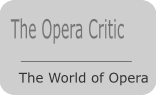 SEEN AND HEARD UK CONCERT REVIEW


Handel, Messiah: Lisa Milne (soprano); Patricia Bardon (mezzo); Thomas Walker (tenor); David Soar (bass baritone); Chorus and Orchestra of Welsh National Opera (Leader: David Adams), conducted by Harry Bicket. St. David's Hall, Cardiff, 11.12.2009 (GPu)


What an endlessly astonishing work Handel's Messiah is! Every hearing reveals new details and new dimensions, convinces one more and more firmly of the work's human (and theological) depths. Of late, I have become increasingly aware of how fine a piece of work Charles Jennens' libretto is, and what musical opportunities (all of them seized with genius!) it offered to Handel. Jennens' mosaic of Biblical texts achieves a remarkable coherence and sets up webs of suggestive interconnection which Handel is very ready and able to develop. To take just one small example, who else would have exploited as well as Handel does the transition from the tenor recitative of "He was cut off out of the land of the living; for the transgression of they people he was stricken" (from Isaiah 53:28) to the tenor's aria "But thou didst not leave his soul in hell; nor didst thou suffer thy Holy One to see corruption" (Psalm 16:10)? The recitative recounting Christ's death is accompanied by only a few chords and descends from E to B at its close before the air, the declaration that death has not triumphed, takes us from B minor to A (a key which Christian Schubart, writing in 1806, declared to be particularly well fitted for the expression of "trust in God"). Everywhere the interplay of word and music is fascinating, intellectually and emotionally profound.

Even leaving aside the complexity of the issues raised by Handel's several versions of the work, no performance of the Messiah can do more than aspire to express at least some of this great work's riches, cannot pretend to be definitive. This Cardiff performance, expertly led by Harry Bicket, was historically-informed and 'baroque-sized' in terms of the forces it used; it was almost everywhere responsive to the suggestiveness of text and music alike and was never less than thoroughly competent in terms of both instrumental and vocal performance. The Chorus, as they have been in so many WNO Opera productions in recent years, were outstanding; the blend of voices and their expressive clarity of diction were a credit to the work of Chorus Master Stephen Harris. I shall long remember, for example, the hushed reverence with which "Since by man came death…" opened. The work of the Orchestra was also of a high standard, and Bicket's judgement of tempo and dynamics alike, grounded in his immense experience in the music of this period, was a major reason for the overall success of the performance.

Of the soloists, Lisa Milne sang with controlled passion and an exciting radiance of voice; so, for example, there was a marvellous sense of anticipation in "Rejoice greatly, O daughter of Zion", and she invested "I know that my redeemer liveth" with a joyous confidence (the aria's impact, its serene strength, was much enhanced by the beautiful clarity of orchestral sound at this point). Thomas Walker's lyrical tenor was powerfully moving in the arioso "Behold, and see if there be any sorrow like unto his sorrow" and fiercely angry in "Thou shalt break them with a rod of iron" (where, again, the work of the orchestra was splendidly persuasive). David Soar sang with characteristic precision and clarity, and brought a thunderous power to "Why do the nations so furiously rage together" as well as a calm authority to recitatives such as "Thus saith the Lord". My one reservation related to mezzo Patricia Bardon, possessor of a fine voice, but one which was of an altogether heavier cast than those of her fellow soloists, and rather less endowed with a range of colours, so that her contribution felt less well integrated into the interpretation as a whole. She was at her best in her dignified reading of "He was despised", a reading that avoided excessive sentimentality and achieved a fittingly sombre and meditative quality.

This was a committed performance, a performance of disciplined passion that thoroughly deserved the very enthusiastic reception it received from a large audience.
Glyn Pursglove