Other Links
Editorial Board
Editor - Bill Kenny

Deputy Editor - Bob Briggs
Founder - Len Mullenger
Google Site Search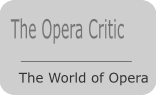 SEEN AND HEARD INTERNATIONAL OPERA REVIEW

G. Verdi, Macbeth: Bayerisches Staatsorchester. Chor der Bayerischen Staatsoper. Conductor: Nicola Luisotti. Munich's Nationaltheater. 21.07.2009. (JMI)
Production: Bayerisches Staatsoper Munich.
Direction: Martin Kusej.
Sets: Martin Zehetgruber.
Costumes: Werner Frtiz.
Lighting: Reinhard Traub.
Cast:
Macbeth: Zeljco Lucic.
Lady Macbeth: Nadja Michael.
Banco: Roberto Scandiuzzi.
Macduff: Dimitri Pittas.
Malcolm: Fabrizio Mercurio.
Doctor. Christian Van Horn.
Servant: Lana Kos.
This year the Munich Opera Festival organisers decided to dedicate its last few days to Verdi. No fewer than five Verdi titles will be offered between 21 and 28 July. It is rather surprising.
This Bayerische Staatsoper production, premiered on last October, has stage direction by Austrian Martin Kusej, who was soundly booed at the production's first night. This is a kind of modern production, offering many ideas, too many; giving the impression that it has emerged after a brain storming session and that Kusej has not been able to choose and has on the contrary put all of them on stage at once. Naturally, not all the ideas are just good or just bad, although there are more of the latter. There are a few symbols or permanent ideas. There's a small tent, always present on stage, where the crimes (Banco, Duncan...) take place and a huge chandelier in Macbeth's chamber, where Lady Macbeth climbs and plays. There is plenty of blood, too much for my taste. The witches are children, while the witches' choir sing from the pit. A large field of skulls covers the stage, where a group of extras play, sometimes scratching as if bitten by mosquitoes or having sex half naked. Sometimes a group of topless girls appear, who take their plastic coats from their nose - excellent place to hide them. Finally, all of them offer a public urination session - water included - that lasts about three minutes. Some of the liquid is collected in pots and drunk by the poor King of Scotland.
Cleary Martin Kusej has opted to play the provocative card, although there was more laughing than rejection from the audience, as if they were already used to these kinds of excess. In spite of my negative valuation of the production, there were a few interesting ideas. Particularly well handled were Macbeth's hallucinations.
Nicola Luisotti is to me one of the very best conductors in this repertoire. I understand that to conduct a Verdi opera confronted by this sort of production is not easy. In any case, Luisotti's reading was rather below par and fell short of what I was expecting from this exceptional maestro. There was, in general, excessive volume. There were also magical musical moments, particularly "Patria Oppressa" which was a model of conducting.
Serbian baritone Zeljco Lucic proved again as Macbeth that he is one the very few true Verdi baritones around. First of all, he truly sings the part, without pushing the voice. You might miss something of power, but he was most convincing. He was at his very best in the aria "Pietà, rispetto, amore".
German soprano Nadja Michael is a perfect example of what opera theatres look for these days: a great actress, with an attractive figure and a solid voice. Her stage performance is outstanding, living the character of Lady Macbeth with huge intensity. As a singer I did not find her very interesting. She has enough voice, not very beautiful, but she sings uniformly loudly. She shouts considerably, and has serious pitch problems at many moments. In the somnambulism scene she finished with what was more a scream than a high D.
Roberto Scandiuzzi was Banco and he showed that time takes its toll on everybody. His voice has lost mellowness, although not volume, unfortunately. The top is tighter than before and it shows signs of tiredness. He still has his customary stage presence, but that is not enough to make us forget who he was.
American tenor Dimitri Pittas was an interesting Macduff, especially in his aria. In general his voice is too light for the role.
Fabrizio Mercurio, who was Macduff at the premiere, was a good Malcolm. Christian Van Horn offered a good sound and a beautiful voice as the Doctor.
Full house and no "suche karte". There was almost no applause during the performance, except for Lucic, after the above-mentioned aria. At the final bows, there were loud cheers for Nadja Michael and Zeljco Lucic, in that order. The rest of the cast, including Luisotti, did not raise the same enthusiasm.
Jose Maria Irurzun