Other Links
Editorial Board
Editor - Bill Kenny

Deputy Editor - Bob Briggs

Founder - Len Mullenger
Google Site Search
SEEN AND HEARD INTERNATIONAL OPERA REVIEW

Berg, Lulu:

Soloists,Orquesta Sinfónica de Madrid.Conductor: Eliahu Inbal.Teatro Real de Madrid. 28 & 30. 9.2009. (JMI)

New Production Teatro Real in coproduction with Royal Opera House, Covent Garden.

Director: Christof Loy

.


Sets and Costumes: Herbert Murauer.

Lighting: Reinhard Traub.

Cast

s

:



Lulu: Agneta Eichenholz/Susanne Elmark.

Countess Geschwitz: Jennifer Larmore.

Dr. Schön/Jack the Ripper: Gerd Grochowski.

Alwa: Paul Groves.

Schigolch: Franz Grundheber.

An Animal Tamer/Athlete

:

Paul Gay.

A Painter/A Negro: Will Hartmann/Rolf Romei.

Prince/Marquis: Gerhard Siegel.

A dresser/A Groom: Heather Sipp.

Theatre Manager: Sten Byriel.

A 15 year old girl: Ruth González.

Her Mother: Itxaro Mentxaka.

A Journalist: David Rubiera.

A Servant: Josep Ribot.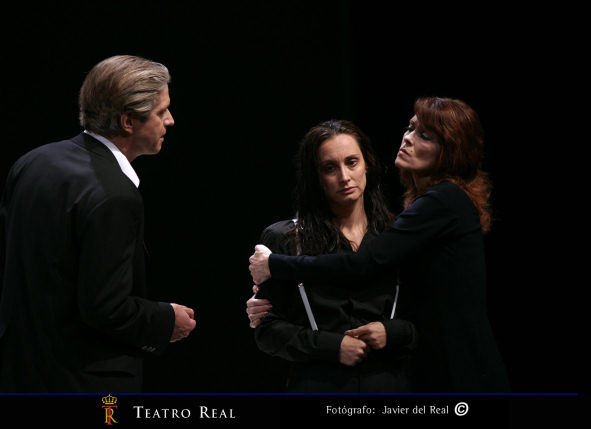 This was the opening of the new opera season at Teatro Real in Madrid which this year features a program dedicated to women in opera. Alban Berg's opera Lulu (completed by Friedrich Cerha) was a fine choice to initiate the season.

Lulu is not an easy opera for the average audience even though it remains one of the most fundamental works of the 20th century. Offering the opera for the first time means taking a considerable risk, unless huge care is given to all aspects of the performance: an outstanding conductor, a first class director and a team of expert singing - actors have to be present to gain audience approval. Teatro Real does all that, at least on paper, with Eliahu Inbal conducting, the well known director Christof Loy in charge of the production and good vocal casting. However, things did not go as planned, and the Madrid public literally turned its back on the production. Defections were numerous at the intermissions and the theatre, packed at the beginning of both performances, had only about 60 % of the audience left for the last act of the premiere and for the second performance the figure was even lower.

The fundamental reason for this fiasco was Christof Loy's production, which at first sight seemed one of its great attractions. It was premiered at London's Covent Garden last June and was not well received by many people including Seen and Heard's reviewer Mark Berry (see review here.) Lulu needs a bright and mostly realistic stage setting in my opinion, especially for an audience seeing it for the first time as was the case here. In Spain the opera has only been performed once before – 21 years ago at the Teatro de la Zarzuela – so this was very new ground indeed or the Madrid audience. Most productions premiered in recent years have stuck to the line of realism and brilliance and with good sense.

Christof Loy does just the opposite, offering an over-minimalist production, generally dark in colour and better suited for a concert or semi - staged performance. An empty stage with only a single set in the form of a glass bulkhead makes the production focus exclusively on the characters : not a great idea for such a long opera in any case, but even less so when it is so little known. La Clemenza di Tito offered last season as a semi-staged performance had more life in it than this. On top of this, the Loy's idea of the Lulu character is also somewhat strange: this Lulu is so distant, so cold here that no one in the audience can get under her skin. T Lulu isn't flesh and blood but a genuine "ice maiden", who never unfreezes, unlike Turandot. I am not saying the Christof Loy's vision of Lulu is either negligible or completely wrong-headed, but it certainly did not help the audience at all. It is true that the third act had some more life in it, but it was not enough and arrived much too late for the Teatro Real's audience.

Understandably, Christof Loy and his team were loudly booed by the spectators remaining although he rejected the reception in a very clear way, deciding to leave the stage, while the other members remained. Accepting an audience's verdict is part of an artist's responsibility however, whether he feels the reaction unjust or not. And as turned out, the booing in Madrid was a kind of rehearsal for the reception the following day for Loy's Tristan at Covent Garden (review). In Spain though there is a saying: Learning is what makes a wise men. Just so.

The Israeli conductor Eliahu Inbal is not exactly a newcomer to his profession, but in fact is a consummate maestro. His work at the helm of the Orchestra was very good in getting a remarkable musical performance from a group not too used to this kind of music. I thought it slightly flat in the first act, but from the middle of Act II things went very much better.

The vocal cast offered many names in common with the premiere of this production at Covent Garden, although not a complete set. On the first night Swedish soprano Agneta Eichenholz was a remarkable interpreter of Lulu, fully identified with Christof Loy's debatable vision, much to her credit. Transmitting immense coldness, in vocal terms she was very well suited to the demands of the score. The following evening we had a new Lulu in the person of the German soprano Susanne Elmark, making her debut both at Teatro Real and in the role. We were lucky, in a sense, that she must not have rehearsed much with Christof Loy because she offered a much more moving interpretation of Lulu. She was an excellent interpreter, although her some of her top notes were not especially bright.

The American mezzo soprano Jennifer Larmore did give life to Countess Geschwitz with some genuine passion. She was probably the only passionate singer on stage in fact and was a wholly convincing interpreter of the role, particularly in Act III. Her voice has changed quite a bit in recent years and there is not much of it now reminding one of the Rossini mezzo she was in the 1990s.

Gerd Grochowski was Doctor Schön and Jack the Ripper and he was also convincing, particularly on the second evening, where his voice sounded even better. I rather missed Covent Garden's Michael Volle however. Paul Groves was a good Alwa without much brilliance to his singing. He did not seem to be in his best vocal shape to my mind. The strange character of Schigolch was the veteran baritone Franz Grundheber, who was truly outstanding and still has a ringing voice.

Tenor Will Hartmann fulfilled his task very well as the Painter and Lulu's customer in third act. In the second performance he was ill and was replaced by Swiss tenor Rolf Romei, who was also very good. The British mezzo Heather Shipp also made a very good impression in her various role and Gerhard Siegel was convincing as the Prince and Marquis.

The reception by the public who stayed the course was warm for both Lulus, particularly Susanne Elmark, and for Jennifer Larmore and Eliahu Inbal.

José M Irurzun

Picture © Javier del Real


Back to Top Cumulative Index Page