Other Links
Editorial Board
Editor - Bill Kenny

Deputy Editor - Bob Briggs
Founder - Len Mullenger
Google Site Search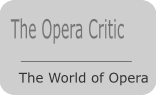 SEEN AND HEARD UK OPERA FESTIVAL REVIEW

Longborough Festival Opera 2009 - Britten: A Midsummer Night's Dream: Longborough Festival Opera/ Conductor Jonathan Lyness 1.7. 2009 (RJ)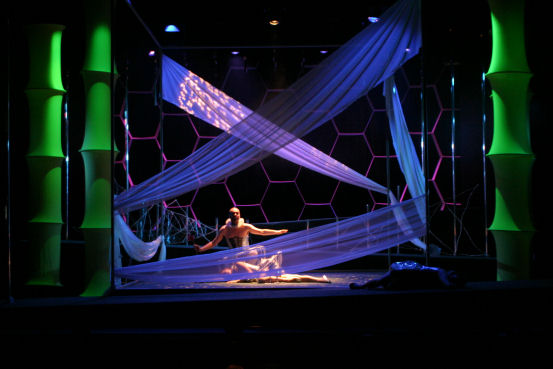 Richard Scott as Oberon


Conductor Jonathan Lyness and Designer/Director Richard Studer have collaborated on a number of successful opera productions over the years for both the Opera Project and Longborough, so I had high hopes for their treatment of this opera which first saw the light of day nearly 50 years ago.

Benjamin Britten and Peter Pears made considerable cuts to Shakespeare's text, but nevertheless they capture the essence of Shakespeare's play The music adds an extra magical touch, particularly with the harp, celesta, harpsichord and percussion passages associated with the fairies.

The production got off to an imaginative start thanks to the spectacular acrobatics of Puck. Greville Matthews is an accomplished gymnast and his performances on aerial straps at the beginning of each act created a sense of make-believe. His clear speaking voice was another asset.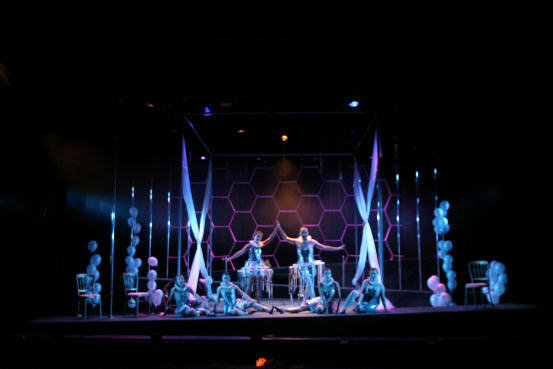 Oberon, Tytania (Helen Massey) and the Fairies


His simple costume contrasted with the stunning silvery costumes of the fairies, presided over by Tytania and Oberon. Helen Massey was excellent as Tytania, the fairy queen tricked by Oberon into falling in love with an ass. I was less convinced by counter-tenor Richard Scott's Oberon, whose costume was decidedly camp and whose voice did not always carry.

The fairy quartet of Laurie Ashworth, Clare Presland, Abbi Temple and Merrin Lazyan sang beautifully, though their diction was not always clear. In addition they performed some intricate weaving with lengths of cloth, eventually cocooning the slumbering lovers in the material.

The Rude Mechanicals in their Morris costumes were well differentiated with the magnificent Mark Saberton as the over-enthusiastic Bottom, Julian Close as the earnest playwright Quince, Nicholas Smith as the youthful Flute miffed at being expected to play a woman's part, and the large Sion Goronwy as Snug, later to scare everyone in his lion's garb.

Of the four lovers tenor Michael Bracegirdle was convincing as Lysander who falls in love with the wrong woman thanks to Puck's mistake, and Clare Surman was a suitably enraged Helena who thinks everyone is making fun of her.

Yet the performance did not really take off until the third act and the appearance of Charles Johnson as Theseus and Gaynor Keeble as Hippolyta, who made a right regal couple. The performance Pyramus and Thisbe turned into a hilarious pastiche of Italian opera at its worst, and everything ended happily with a triple wedding.

The set with its honeycomb backdrop was somewhat quirky but supported the action well with some magical lighting effects by Wayne Dowdeswell. Jonathan Lyness and the orchestra produced wonderful sounds from the orchestra pit. But while musically and visually this production had its merits, much of Shakespeare's wonderful language got lost in the process.

There are further performances of The Dream on July 4th and 5th. Next year Wagner returns to Longborough with Die Walküre.

Roger Jones


The Longborough Festival web site is here
Pictures © Michael Dyer