Other Links
Editorial Board
Editor - Bill Kenny
Founder - Len Mullenger
Google Site Search
This is what I want to do in life!! Music is my way of living: The young and very gifted violinist Simone Lamsma talks to Bas van Westerop (BvW)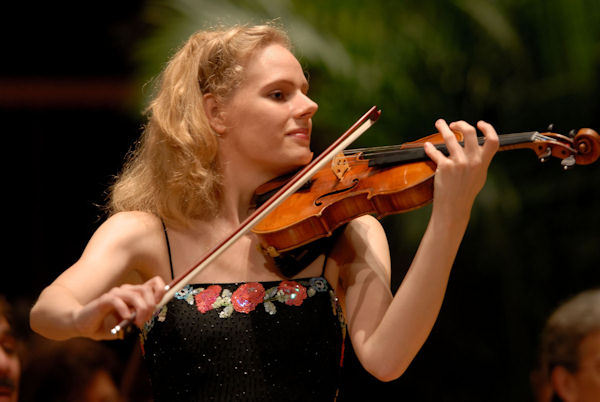 Simone Lamsma - Picture © Denis Ryan Kelly.Jr


When I meet Simone Lamsma she has just finished a rehearsal with the Rotterdam Philharmonic Orchestra and Yannick Nézet-Séguin playing Ravel's Tzigane and the Méditation from Thais by Jules Massenet. A lot of members of the orchestra are clearly excited about her playing and I even hear favourable comparisons with Heifetz. The week before this one she played a very impressive Shostakovitch First Violin Concerto with the Radio Philharmonic and Jaap van Zweden, to great critical acclaim.

First we start to talk about her (very early) wish to play the violin. At the age of two (!) Simone made it clear to her parents that she wanted to play the violin (seeing somebody play on TV) and actually started to play at the age of five. She left her home (and her parents) when she was just eleven years old to study at the Yehudi Menuhin School in Surrey, UK.

Whose wish it was to go away from home?

Well, I didn't want to leave home but… I also wanted to go to the Yehudi Menuhin School as my wish to make music and to be around other young people who shared my passion was stronger. Of course I didn't know what life was going to be like for me until I was actually there and the first couple of weeks were very tough: I was very homesick. I did however immediately love being in such stimulating surroundings and after a few weeks everything was fine. All the people there took good care of me.

It was a big step for me and of course for my parents to take, but it turned out to be the best decision and I am so glad to have had this opportunity. The main reason for me to move to the UK was the difficulty for me of combining Secondary School and my music lessons in The Netherlands. I was very happy with my teacher in Holland (Davina van Wely, who was also Jaap van Zweden's teacher. BvW) but she lived in the West and I'm from Friesland (North). The travelling, and also to my weekly piano lessons and orchestral rehearsals - I was playing in a youth orchestra at that time - and theory classes, was simply too much.

For Dutch people it seemed that you had disappeared!

Yes, I was back here once in a while - in fact, every 6 weeks or so I came home to see my family - but when I went to the Royal Academy of Music in London I also started to perform more regularly again in Holland. I did the National Oscar Back competition back in 2003 (winning it, BvW) which I felt was an important competition to do as a Dutch musician, but even so: when you are studying in London you do of course spend most of your time there and at that time that's mainly where I built my musical and social life. It has however always been important to me to perform in the Netherlands regularly, also during my studies abroad.

There are quite a few excellent young Dutch violinists studying in London right now. Is there any special reason for that?

For me personally, it was a natural transition to move to the Royal Academy of Music in London from the Yehudi Menuhin School as I wanted to continue with my violin professor at the time. I loved living in London as it is such an international centre of music and the city is always alive, and this could be one of the reasons that people like to study there. There are of course also several wonderful violin professors that teach there. Besides the musical aspect, I have found that studying in a foreign country has made me grow so much in my personal development and therefore also as a musician, and this is I think the most valuable experience that I have taken away with me from my time in London.

Living for a long time in Great Britain already, how do you look at Holland right now?

I look at it the same way as I always have: it is my home and I love to be here and to perform here! We have several wonderful orchestras and beautiful concert halls and playing in my home country always feels special. I am therefore very pleased that over the past few years and in future seasons I am performing in Holland quite a lot.

How do you deal with very busy weeks like just now?

It is very busy but also very enjoyable. It's important to plan your schedule carefully, and not to take on more than you can handle. So yes, these weeks are really very busy for me with many concerts and many interviews in between rehearsals and concerts, but it's still manageable, and that way I can still enjoy it all. My main focus is always on the music and on the particular concerts I am doing in that week. Last week I played the Shostakovich, which I absolutely love, and this week I'm doing very different repertoire, Meditation by Massenet and Tzigane by Ravel. I enjoy having this diversity in repertoire in my concert schedule.

When did Jaap van Zweden come into your life?

We worked together for the first time at the end of 2007, I did the Szymanowski First Concerto with him and the Radio Philharmonic Orchestra. From that moment we began working more and more together. It's wonderful. He leaves me complete freedom in my interpretation and I can play as I feel. He is such a fabulous conductor and I am thrilled and honoured that he respects me as a musician and wants to work with me.

This year you joined a big international management organisation, IMG Artists in London. Can you tell something about this?

Yes, I am very happy to have joined IMG! As a soloist it is very important to have a good management that works for you worldwide, and has a lot of contacts with conductors, orchestras, concert halls etc. IMG approached me to ask if I wanted to join their artist list, and even though I don't know how this came about exactly, I think a management has to find you, and not the other way around. Hopefully my playing was my best promotion.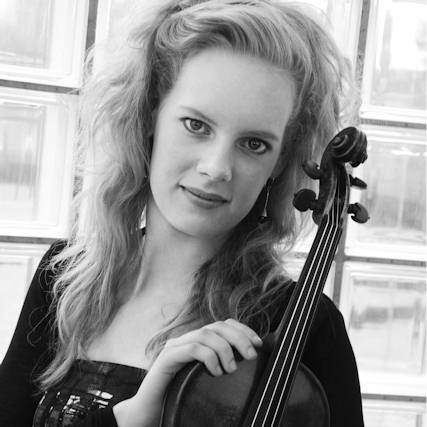 Picture © Theo Rolsma

Do you feel more like a musician or a violinist?

I'm a musician first and then a violinist. But the violin is really my instrument, my voice. It comes so close to the human voice, I think that's what attracted me to it in the first place. From a very young age I was very serious about music. This is what I wanted to do in life. I don't have any other big hobbies: music is a way of living, you know. It is always with me even if I am not playing the violin. I am very grateful that I can do this because I love it!

What about the future?

I don't think too far ahead. Right now I'm travelling as a soloist and I'm building my career. Yes, life as a soloist does automatically mean making some sacrifices as well, but to me, these don't feel like sacrifices. This is what I want to do and I am happy doing it! It is not an easy profession to be a soloist, but it is so rewarding. I like every opportunity to play with a good orchestra, meet new people, and to work with many different conductors. I'm primarily a soloist although I do regularly give recitals and try to fit in chamber music as well. In my opinion some of the most beautiful repertoire is in the chamber music field, especially Schubert's chamber works.

Do you play a lot of Bach?

Yes and I've played it all my life! It is something that grows with you but the more you play it, the more you grow!

You made two recordings so far. The first with chamber music by Edward Elgar and the second one with three Violin Concertos by Spohr.

Yes, both were projects by Naxos. The Elgar recital disc was part of a prize I won, and the second was a project to record a Spohr disc, which I was invited by Naxos to do.

At the moment I don't have a new recording scheduled but I've really enjoyed the recording experience and have learned a lot from it. I therefore hope to record again in the near future.

Are there any pieces you would like to play but nobody asks about?

I studied the Walton Concerto but I have never seen it programmed anywhere! And I am going to play the Britten in February in Belgium and in Dallas and also here in Holland with the Radio Philharmonic: I've performed it several times already and it is such a powerful work. But thankfully that concerto is starting to become more and more part of the standard concerto repertoire.

At the end of our conversation Simone Lamsma apologizes for her short answers. "I'm really not so good with words," she says, "I prefer to speak through my violin!"

© Bas van Westerop 2009

More information about Simone Lamsma can be found on her web site http://www.simonelamsma.com
A Dutch version of this interview will appear in opusklassiek.nl