Other Links
Editorial Board
Editor - Bill Kenny

Founder - Len Mullenger
Google Site Search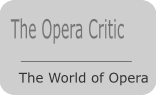 SEEN AND HEARD UK CONCERT REVIEW


Mendelssohn, Vaughan Williams, J S Bach and Honegger: Lisa Milne (soprano), Ruxandra Donose (mezzo-soprano), Andrew Staples (tenor), Christopher Maltman (baritone), New London Children's Choir (Musical Director: Ronald Corp), London Philharmonic Choir (Artistic Director: Neville Creed), London Philharmonic Orchestra, Vladimir Jurowski, Royal Festival Hall, London, 5.12.2009 (BBr)
 
Mendelssohn: Vom Himmel hoch (1831)
Vaughan Williams: The First Nowell - music for a nativity play (1958) completed by Roy Douglas
J S Bach: Cantata No.63, Christen, atzet diesen Tag, BWV 63 (1714)
Arthur Honegger: A Christmas Cantata (1952/1953)
Arthur Honegger's Christmas Cantata is the jewel in this composer's catalogue. Written at the very end of his life, it is a profound work, setting words from the Bible and various carols. Starting quietly and building in intensity until Honegger unleashes huge cries de monde – this is tortured stuff but passionate and deeply felt. The work ends with a glorious chorus concluding with a large Amen and the organ returns with the music of the opening. Tonight we heard a performance of such intensity that one could well believe that all involved were so deeply caught up in the performance that they were left as breathless as the audience. It brought a superb ending to a concert of, otherwise, variable success.

Vaughan Williams's incomplete (at his death) The First Nowell is a suite of Christmas Carols which doesn't really work. What we have is almost thirty minutes of Carols, almost each of them existing in a vacuum with the pretty orchestrations becoming somewhat annoying as the work progresses. The main problem, however, is that because almost each Carol is a separate item there is a feel of a set of excerpts from a larger piece (which, with it being created as incidental music for a Nativity Play it is). When VW manages to join two, or more, Carols together, or in the instrumental Introduction and Epilogue, there is the real feeling of progression. It's good to hear the piece but there is little to hold one's interest or to make one wish to hear the piece again. This performance was solid, but the music never came alive.

The Mendelssohn, a homage to Bach, and Bach's own Cantata received adequate performances but, again, the music failed to elevate. Mendelssohn's Vom Himmel hoch was leaden footed from the start, and Bach's Christen, atzet diesen Tag, although graced with a chamber organ, small string body, and four trumpets and three oboes, felt overlong and somewhat dull. I certainly lost interest about half way through. The four trumpets in the Bach were modern instruments so they easily drowned the rest of the ensemble when they were playing. Both performances displayed a total lack of lightness in the execution.

Lisa Milne and Christopher Maltman carried the majority of the solo work but the best solo singing came from Ruxandra Donose and Andrew Staples, both of whom displayed a lovely sense of line, using vibrato as it should be used, as an expressive devise. Choir and Children's Choir both gave excellent performances and the LPO played well, but I think that it was the direction which was lack lustre tonight, and which left me with a feeling of dissatisfaction.
Bob Briggs