Other Links
Editorial Board
Editor - Bill Kenny

Deputy Editor - Bob Briggs

Founder - Len Mullenger
Google Site Search
SEEN AND HEARD INTERNATIONAL OPERA REVIEW
Gluck, Orfeo ed Euridice:
Soloists,
Orchestra and Ballet of Teatro Colón. Conductor:Arnold Östman, Teatro Coliseo, Buenos Aires. 25.8.2009
(JSJ)
Director/sets/lighting: Roberto Oswald
Sets (Assistant): Christian Prego
Lighting (Assistant): Horacio Pantano
Costumes: Aníbal Lápiz
Chorus: Salvatore Caputo
Choreography: Lidia Segni

Cast:

Orfeo: Franco Fagioli
Euridice: Virginia Tola
Amore: Paula Almerares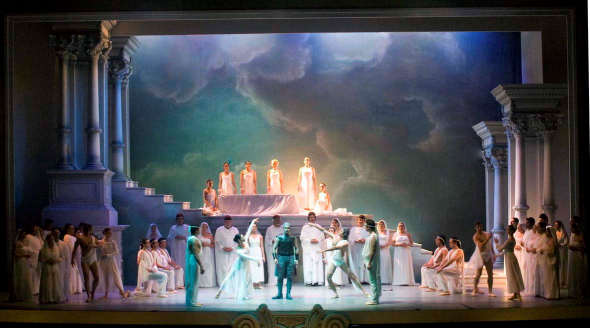 The Teatro Colón's Orfeo y Euridice


After the somewhat tepid reception to the Teatro Colón's Jeanne D'Arc au Bucher in May, the response to its next and latest production of Gluck's Orfeo y Euridice was a good deal warmer (the production of Die Entfuhrung Aus Dem Serail scheduled for July having been postponed to September). For one thing the theatre on opening night was close to, if not full, and also the evening proceeded more smoothly. Notably Colón director Pedro Pablo García Caffi was visibly present and there were fewer personnel voicing their dissent – but this does not mean the situation of the Teatro Colón is any clearer. Still no date has been announced for the reopening and the rumour doing the rounds is that even if the Colón is reopened in the first half of the year, as is anticipated for Argentina's bicentenary in May 2010, the first operatic production is unlikely until much later in the year.

But back to Orfeo, last put on in 1977, this new production was by the well known Argentine Roberto Oswald and was very much an international production with Swedish conductor Arnold Östman, a noted exponent of Gluck, in the pit, and on stage three Argentines who are making their careers internationally – Franco Fagioli (Orfeo), who recently sung Telemaco in Buenos Aires Lírica's Il ritorno d'Ulisse in patria, Virginia Tola (Euridice), and Paula Almerares (Amore), who had just completed an acclaimed Lucia at the Teatro Argentino.




Amore: Paula Almerares (Amore) left, with Virginia Tola (Euridice) and Franco Fagioli (Orfeo) front.


The version was the Vienna 1762/Paris 1774 version for counter tenor and the production could broadly be described as traditional – the simple but effective setting crypt-like with a Greek feel, with a stairway from the world "above" with Euridice's tomb half way down, and the lighting effectively employed to change the mood, while the dress was dominated by whites, contrasted by Orfeo in grey and Amore in light blue.

With the work very much dominated by Orfeo a singer of power and stature is needed and Fagioli provided both. His voice, closer to alto than soprano, is rich and full and he conveyed the full range of expressions from despair to love. Tolo too has a strong voice and with its dark timbre melded well with Fagioli. Only Almerares, although excellent technically, did not always come across at her best, singing from an elevated back-stage position on the stairway.

The chorus and dance, such important elements of the baroque, were also technically superb – the dance of the Furies being particularly effective – as was the orchestra. Maestro Östman kept a good pace but my one niggle is that I would have preferred "Che farò senza Euridice?" a shade slower to more effectively convey the depth of Orfeo's grief as too fast it can have the opposite effect.

If this standard can be maintained then we will have a lot to look forward to in the "new" Teatro Colón.

Jonathan Spencer Jones

Pictures © Teatro Colón, Buenos Aires



Back to Top Cumulative Index Page