Other Links
Editorial Board
Editor - Bill Kenny
Founder - Len Mullenger
Google Site Search
SEEN AND HEAR INTERNATIONAL OPERA REVIEW
Mozart, Don Giovanni:
(Premiere)
Soloists, Orquesta Sinfónica del Principado de Asturias. Coro de la Ópera de Oviedo.Conductor: Pablo González. Teatro Campoamor de Oviedo. 22.11.2009 (JMI)
Co
-
production Opera de Oviedo and Theater Magdeburg.
Direction: Alfred Kirchner.
Sets: Alfred Kirchner and Ulrich Schulz.
Costumes: María Elena Amos.
Lighting: Alfred Kirchner.

Cast:

Don Giovanni: Bo Skovhus.
Leporello: Simón Orfila.
Donna Anna: Cinzia Forte.
Donna Elvira: Lioba Braun.
Don Ottavio: Antonio Lozano.
Zerlina: Ainhoa Garmendia.
Commendatore: Felipe Bou.
Masetto: Joan Martín-Royo.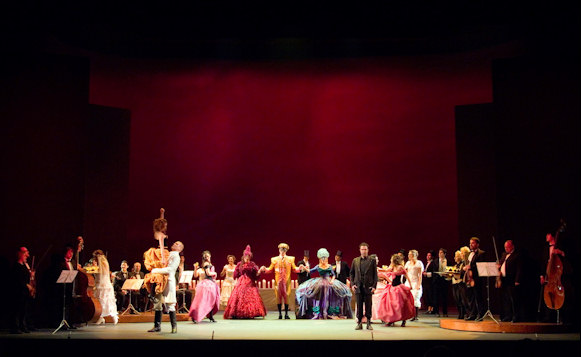 The Oviedo opera season continued with this Mozart masterpiece, a performance which I think has lifted the artistic level of the season so far, even though there were some vocal problems. The production was a collaboration between Oviedo and Magdeburg, where it was premiered last September. The stage direction is by Alfred Kirchner, already known in Oviedo for his interpretation of Wagner's Tristan two years ago.

Kirchner's new work is something of a minimalist production, so fashionable during recent years, with sets consisting of four mobile modules, which facilitate the different scene changes. Costumes are essentially in line with the period of the libretto and are suitable and pleasing to look at, with the exception of the trio of masks and, especially, Don Ottavio, who wears a kind of bullfighter costume. The atmosphere is generally quite dark although the sets are technically very well lit.

The direction is remarkable, with the different characters well delineated and some amusing touches, such as Zerlina's "Vedrai carino". The scene in the cemetery with the Commendatore as an equestrian statue is well performed and there is very powerful direction of the last scene of Act I. In short, this is a modern production which is classically set: quite possibly the lower costs of such a production are an additional merit.

The Asturian conductor Pablo González, who will be the next musical director of Orquesta Sinfónica de Barcelona, was making his debut during in this Oviedo season. He is certainly one of the most promising conductors in Spain, although his career was interrupted by health problems a few years ago. His reading of Don Giovanni was full of energy, maintaining the dramatic tension at all times, and yet able to be very flexible in the more comic moments of the opera. Don Giovanni is one of the most difficult operas to conduct and Mr González was particularly successful in this task. The orchestra gave a good performance, significantly better than on previous occasions in this theatre.

Sadly, the high standards of production and musicality in this performance of Don Giovanni, were not altogether reflected in the vocal parts. Danish baritone Bo Skovhus looked right as Don Giovanni, and he was, and is, a very good actor, but in purely vocal terms he was far from being an appealing Don. His voice is now rather colourless, his projection not too good, and there is some weakness apparent in the lower register – to the point where he was actually inaudible at times. He was in difficulties with "Fin ch'han dal vino" and the Serenade was fairly uninteresting. On top of this, his Italian diction is poor.
Simon Orfila was an excellent Leporello, both as singer and actor. He is an experienced interpreter of this role, although his voice is not
outstandingly
attractive
to my mind.


Cinzia Forte was a Donna Anna who sang accurately, although her voice is more suited to Zerlina than to this role. Anna requires a voice with more weight than she is able to offer
but
s
he was
still
good in both her arias,
despite
having some problems at the end of "Non mi dir". The question
here though
is not
really about
whether or not she is a good singer, but whether she is vocally suited to this role. Last July at Teatro Real
for instance
she was –and with good reason – Susanna
rather than
the Countess.
Mezzo soprano Lioba Braun as Donna Elvira was simply a casting error
since h
er voice
too
is not what the character requires. Donna Elvira
needs
a soprano or a
t least a
mezzo with ease and flexibility at the top
of the voice. L
ioba Braun does not have this. She is a mezzo soprano, whose high register is
really not
easy but
instead is
rather shril
l: this
was evident in her interpretation of "Mi tradí". Her Italian pronunciation also leaves much to be desired.
The pleasant surprise of the
evening
came from the Murcia-born tenor Antonio Lozano as Don Ottavio. His presence on stage was due to the cancellation of Celso Albelo, and I very much doubt that the tenor from the Canary Islands would have done it any better. Antonio Lozano is not the usual tenorino in this character, but is a light-lyric tenor with a broad middle range and a quite homogenous tessitura. He was truly excellent at "Dalla sua pace", full of nuance and good taste, something quite unexpected in a young and unknown singer. His voice was also
generally nicely
bright, although not quite to the same level, in "Il mio Tesoro".
He was a
pleasant surprise
though
,
something
I hope will be continued in other houses.
Soprano Ainhoa Garmendia made an excellent Zerlina, very fresh and well sung. In this type of Mozart character (Susanna, Zerlina, Servillia) this singer is at her very best. Joan Martin-Royo was a good Masetto on stage with a pleasant although small voice.
It was announced that Felipe Bou did not feel well, and his first notes made me fear the worst, but he had recovered by the end of the opera and
finished as
a better Com
m
endatore than I had expected.
This was the first
night for
th
is
opera and there was a full house. There was applause after each of the arias and the audience clearly enjoyed the
whole
performance. At the final bows the winners were Simon Orfila and Antonio Lozano. Ainhoa Garmendia was also cheered.
Maestor
Pablo González received a
particularly
warm reception
and
t
he creative team was applauded without a single boo from the audience.
Jos
é M Irurzun
Picture
© Fundación Opéra de Oviedo