Other Links
Editorial Board
Editor - Bill Kenny
Founder - Len Mullenger
Google Site Search
SEEN AND HEARD UK OPERA REVIEW
George and Ira Gershwin,
Porgy and Bess
: (UK Premiere) Cape Town Opera at the Wales Millennium Centre Cardiff 21.10.2009 (BK)
Conductor, David Charles Abell
Director, Christine Crouse
Designer, Michael Mitchell
Lighting designer, Declan Randall
Choreographer, Sibonakaliso Ndaba
Chorus Master, Albert Horne

Cast:

Porgy, Xotela Sixaba
Bess, Lisa Daltirus
Crown, Ntobeko Rwanqa
Serena, Arline Jaftha
Clara, Pretty Yende
Maria, Miranda Tini
Jake, Aubrey Lodewyk
Sportin' Life, Victor Ryan Robertson
Mingo, Mthunzi Mbombela

Chorus, Voice of the Nation Ensemble
Orchestra of Cape Town Opera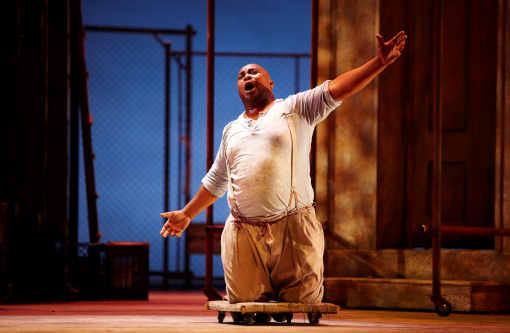 Xotela Sixaba as Porgy


Cape Town Opera's production of Porgy and Bess is set reasonably enough in a Catfish Row that owes everything in scenic terms and atmosphere to Soweto in the 1970s. According to director Christine Crouse's notes, this is a place and a time in which, "music-making on the streets and in bars were part of a seemingly contented everyday life. Gambling was a favourite pastime and the richer swanky township bosses engaged in all sorts of extra 'business'," and "there also ruled an extreme sense of living in a community". She adds that with this production "we strive to reflect a true sense of our people in South Africa".

Because this idea is embraced by everyone involved in the production, it provides a particularly acceptable framework for an opera which can easily seem disturbing today because of its apparent stereotyping of a black community and its relationship with the wider, predominantly white, society. Its discomfort is reinforced by the frequent incursions of white men into the township, almost invariably in the role of the unjust and bullying authorities. There are no apparent racial tensions shown here; rather we see a simple acceptance of a system which at the time seemed to offer no hope for change or means of rectification. This is though, the era of Steve Biko, the anti-apartheid activist who died in police custody in 1977 following the Soweto Uprising the previous year after all: and Nelson Mandela was to be in prison until 1990, two facts reflected in the design of the front curtain for the production.

Having said that, Porgy and Bess is a story not only about politics and justice but also about some kind of personal salvation. Porgy's love for Bess is a real triumph of hope over experience and within the context of an opera in which the people turn frequently to Jesus as their only source of external help, it becomes impossible not to see the crippled Porgy as the embodiment of suffering; a helpless Christ-like figure himself in fact, who never gives up on the wayward Bess even after she deserts him for Sportin' Life. 'Oh Lord, I'm on my way,' he sings as the opera ends, ' I'm on my way to a heavenly land.'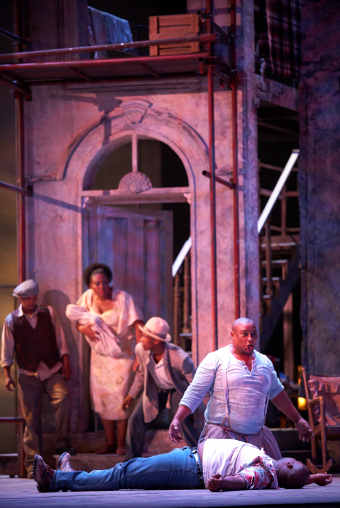 The simple sets used by this production are effective and make very good sense. There is no distorting interpretation of the text to puzzle the audience or distract from what happens on - stage. The chorus is magnificent and the direction is exceptional in its handling of large groups of often very active people. The only occasional problem the production poses is choosing which part of the stage to look at, since so much is going on in this verismo reflection of everyday township life.

Using a version of the score based on Gershwin's original manuscript, the orchestra was directed very sympathetically by David Charles Abell, who took great care to sustain the action's pace while remaining aware of the needs of the singers.

Of the principal characters, Lisa Daltirus as Bess gave a totally convincing performance, able to persuade that she was not merely a heartless tart with an eye to the main chance, but actually a vulnerable woman in an impossible situation, escaping from the murderer Crown and a lifetime of drug use. Her voice is rich and accurate, and was especially beautiful in her love duet with Porgy. Ms Daltirus undoubtedly has a great career ahead of her.

Porgy was played and sung by Xolela Sixaba with huge sympathy and conviction, propelling himself fluidly around the large stage on his cart and finally managing to avenge himself on Crown while backed up by completely believable support from the community. His characterisation was also backed up by a voice which is tremendously strong and powerful in the lower register, but has some tuning difficulties higher up. If these can be sorted out, which seems more than likely, he looks set to become a bass- baritone of world class standing.

Pretty Yende as Clara sang 'Summertime' beautifully, and Miranda Tini as Maria the bar owner had a tremendous stage presence and an equally powerful voice. Her acting is excellent too and lent conviction to the role. Perhaps the most interesting voice of the evening though was that of Aubrey Lodewyk who played Jake. His is a beautiful baritone, accurate and engrossing and it is to be hoped we will hear more of him in the UK.

But the evening's star was undoubtedly Victor Ryan Robertson, whose Sportin' Life has such charm and wit that it comes as no surprise when Bess eventually runs off with him. This Sportin' Life is actually the Anansi figure supreme – the West African and Caribbean spider-god imported to America by some of its slaves and echoed in Uncle Remus's Br'er Rabbit stories; he's the trickster who takes nothing seriously, is miles cleverer that anyone else around him and is ultimately bound to triumph against all the odds.

No quibbles then for this unmissable production, even from the notoriously difficult first night. It leaves Cardiff after Saturday for the Royal Festival Hall for semi-staged performances on the 26th and 27th of October and continues at Edinburgh's Festival Theatre on the 30th and 31st with two evening performances and a Saturday matinee.

Bill Kenny
Picture © Kiran Ridley

Tickets:
Wales Millennium Centre: Cardiff Bay, Cardiff 21-24 October, Box Office T. 08700 40 2000. Web Site: www.wmc.org.uk

London Southbank Centre's Royal Festival Hall :London 26 & 27 October 7.00pm (2 semi-staged concert performances, part of the International Voices series) Tickets £9 to £42 Box Office T. 0871 663 2500. Web site: www.southbankcentre.co.uk

Edinburgh Festival Theatre: Nicolson St, Edinburgh 30-31 October. Two evening performances at 7.30pm plus 2pm matinee Sat 31 Oct. Tickets £17.00 - £39.50 Box Office T. 0131 529 6000 Web Site:www.eft.co.uk