Other Links
Editorial Board
Editor - Bill Kenny

Founder - Len Mullenger
Google Site Search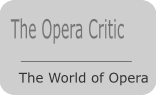 SEEN AND HEARD INTERNATIONAL OPERA REVIEW

Verdi, I Due Foscari: Soloists, Chorus, Orchestra of Teatro Colón. Conductor: Carlos Vieu, Teatro Coliseo, Buenos Aires. 5.12.2009 (JSJ)

Director/sets/lighting/costumes: Louis Désire
Chorus: Marcelo Ayub

Cast:
Francesco Foscari: Luis Gaeta
Jacopo Foscari: Gustavo López Manzitti
Lucrezia Contarini: Amparo Navarro
Jacopo Loredano: Homero Pérez Miranda
Barbarigo: Fernando Chalabe
Pisana: Haydèe Dabusti
Fante: Duilio Smiriglia
Servo: Mario De Salvo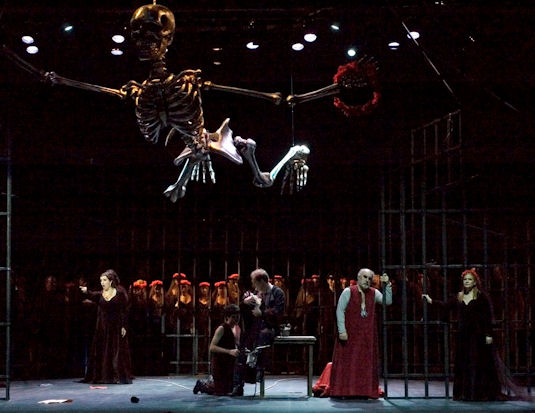 L-R: Amparo Navarro (Lucrezia), Gustavo López Manzitti (Jacopo), Luis Gaeta (Francisco) and Haydèe Dabusti (Pisana).


I Due Foscari, one of Verdi's early works which was relatively frequently performed in the years after its premiere but then fell out of popularity, made an interesting choice by the Teatro Colón to complete its 2009 season.

Last seen in Buenos Aires in 1979, for most it was a new and perhaps unexpectedly intense work. It is somewhat unusual in lacking dramatic progression, relating the increasing emotions as the time nears for Jacopo Foscari to go into exile for a murder for which he is wrongfully accused. His wife Lucrezia begs his father, the Doge Francesco, to intervene but the old man puts duty first, even as his power is slipping away, usurped by their enemy Loredano, leader of the Council of Ten. But it is certainly not lacking musically, with many passages of a power and musicality that are more familiar in Verdi's more mature works.

The nature of the work as closer to a set of tableaus was accentuated in this production, with the first two acts running together without an obvious separation and, incorrectly, the use of a single setting of Jacopo's jail with its giant hanging skeleton.

Gustavo López Manzitti was a fine Jacopo, tragic but resigned to his fate, while Spanish soprano Amparo Navarro was a noble and dramatic Lucrezia. Luis Gaeta, apparently still throwing off the throat infection that kept him away from the opening night, was a restrained but reflective Doge, and Homero Pérez Miranda was a dark Loredano. Fernando Chalabe (Barbarigo), Haydèe Dabusti (Pisana), Duilio Smiriglia (Fante) and Mario De Salvo (Servo) all performed well, and the chorus under Marcelo Ayub was in good form, even though much of their contribution was from "behind bars" on the exterior of the prison set.
Not so satisfactory however, was the almost continual presence of Jacopo's children, one a baby in someone's arms and the other a clingy adolescent with an unchanging mournful expression. Overdone althogether, their addition to the sense of tragedy was muted.

Carlos Vieu is establishing a sound reputation for his interpretations of Verdi. Just this year his engagements have included La Traviata and Il Trovatore and now I Due Foscari. Appearing at ease with a restrained style his reading was lively and strong, bringing this opera year to a memorable and fitting conclusion.

Jonathan Spencer Jones

Picture courtesy of the Teatro Coliseo, Buenos Aires