Other Links
Editorial Board
Google Site Search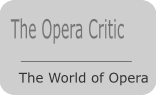 SEEN AND HEARD UK OPERA REVIEW

Donizetti, The Elixir of Love: Soloists, Orchestra of Scottish Opera. Conductor: Francesco Corti. Edinburgh Festival Theatre, 29.11.2009 (SRT)
Adina – Elena Xanthoudakis
Nemorino – Edgaras Montvidas
Belcore – Marcin Bronikowski
Dulcamara – Francesco Facini
Gianetta – Sarah Regwick
Orchestra of Scottish Opera
Chorus of The Elixir of Love
Francesco Corti (conductor)
Production:
Giles Havergal (director)
Russell Craig (designer
Gerry Jenkinson (lighting designer)
Terry John Bates (choreographer)
This marvellous evening marks the end of what has been a great year for Scottish Opera. With a very successful Five:15 and their first production of Manon among their triumphs, it was lovely to be reminded of what the company does best with this sparkling revival.
This production has long been one of my favourites: it tells the story simply and plainly without any intrusive concepts. The beautifully observed costumes and sets put us firmly in Donizetti's period while the massive picture frame which contains the set serves to comment on Nemorino's exclusion at certain points in the action. The bright, primary colour sets and props all add to the entertainment and the subtle use of lighting to indicate day and night is just gorgeous. All of this would count for little were it not inhabited by such an intelligent, musical cast. Elena Xanthoudakis made a fantastic company debut as Adina, demonstrating absolute security and confidence with every aspect of the tessitura and showcasing flawless bel canto style at every turn. Her tale of Tristan and Isolde and her duets with Nemorino and Dulcamara carried conviction and deep emotion together with a tremendous vocal presence. She is definitely one I'll be looking out for in the future. Edgaras Montvidas' Nemorino looked as well as sounded the part, acting the country bumpkin in the opening act as he consistently wrung his hat in his hands, while maturing with love in his exchanges in Act 2. His tone has become much clearer and brighter of late, with a true spark of ensemble in his duets, and Una furtiva lagrima was full and heroic while managing melting sweetness at the same time. Marcin Bronikowski's Belcore was brusk yet not unalluring, making it obvious why Adina should be attracted to him. If Francesco Facini's Dulcamara lacked the nth degree of buffo swagger then his was still a thoroughly convincing performance. Sarah Regwick's Gianetta stood out distinctively against the backdrop of the chorus.
In the pit Music Director Francesco Corti gave us full, relaxed Italianate style, bringing out the comedy in the hell-for-leather faster sections while broadening out for the more contemplative moments, including the most beautiful account of the overture that I can remember hearing. The orchestra responded with fantastic playing, rather more secure than I remember from the previous evening's Italian Girl in Algiers, the winds in particular covering themselves in glory in their many moments in the spotlight. Excellent singing and acting from the chorus, and praise too to General Director Alex Reedijk who seems to have taken inspiration from Barack Obama's presidential campaign by encouraging a lot of people to give a small amount towards funding the production, an innovative idea that garnered £30,000 towards the revival.
A great end to a great year for Scottish Opera, then, and for me it was the warmest, most appealing evening I've had in an opera house all year. Well done to all.
Simon Thompson