Other Links
Editorial Board
Editor - Bill Kenny

Founder - Len Mullenger
Google Site Search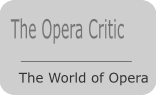 SEEN AND HEARD UK STUDY DAY AND CONCERT REPORT


George Crumb Total Immersion Day: Soloists, BBC Symphony Orchestra, Guildhall New Music Ensemble, Barbican Centre, London, 5.12.2009 (GDn)


'Total immersion' is the ideal approach when it comes to the music of George Crumb. His works have a remarkable ability to stand up on their own terms without any theoretical justification; all you really need to do is listen. And there is sufficient diversity in his output for a day's worth of listening to continually fascinate.

Crumb himself was present, and his down-to-earth demeanour and modesty often seemed at odds with the scale of his musical achievements. But this paradox goes some way towards explaining the innovation and communicative potential of his music. His work is characterised by an extraordinary clarity of conception and execution, and in these abilities he is clearly an exceptional musician. But this is the only aspect of his personality that sets him apart, and his normality in every other respect – his lifestyle, his opinions, even his West Virginia accent – allows him to employ these musical gifts in ways that communicate a deep humanity without any pretentions or exclusivity. He has no axes to grind, no theoretical ideology to demonstrate, no arcane theology to practise though his work...all of which is great news for his audience, but can create difficulties when trying to write about his work. Calum MacDonald, who rose magnificently to the challenge in his programme notes, describes Crumb as a 'non-denominational eco-pantheist', a description that acknowledges both underlying connections with the natural world in his music and the total absence of any dogma in the way it is expressed.

There is also an incredible lack of angst or inner turmoil in Crumb's music. He seems, for example, to be immune to the anxiety of influence. Extended performance techniques (especially on the piano) are the basis of his art, but there are very few of them that had not already been used by Cowell or Cage. Yet the new contexts into which he places them give a sense of innovation that neither of those predecessors quite managed. Similarly, quotations often appear in his music, with Bach, Chopin and Mahler making appearances in the works performed on Saturday, but the justification for each is contained within the fabric of the individual work, without evoking any anxiety of postmodern belatedness or inferiority complex on the composer's part. When Crumb was interviewed at one of the events, it was clear that he was happy to introduce radical elements into his work simply because they seemed appropriate, and that in the course of the many interviews he had given since the 1970s he had refined his encapsulated answers to questions he was repeatedly asked by others, but that he had never thought to ask himself - Why use circular and spiral staves? Why mask the performers? Why process the orchestral players around the stage?

The day began with a film 'George Crumb: Voice of the Whale' made by Robert Mugge in 1976. The film itself was an innovative piece of work from the days when documentary film making was still considered an art form in itself. Mugge specialises in documentaries about jazzmen, probably the ideal background, given that like them, Crumb talks most meaningfully about how his music sounds, rather than the reasons behind it.

The lunchtime concert included two works for piano, 'A Little Suite for Christmas AD1979' and 'Makrocosmos, vol.1', both convincingly performed by Joanna MacGregor and 'Ancient Voices of Children' with the Guildhall New Music Ensemble. These players were perhaps subject to greater scrutiny than the BBC SO in the evening as they were performing the composer's best known works. They didn't disappoint. I was probably not alone in having only previously heard these works from recordings, and it struck me how much I had been missing in not seeing the stage movements. The pianist's activities inside the piano case, the percussion played by the singer, the vocalisations from the performers; all are part of a performance ritual that is inseparable from the sounds. Crumb himself would probably be unable to offer a satisfactory explanation of why this should be the case, but that only increases the Gesamtkunstwerk integrity of the result. A second chamber music concert would have been nice, especially considering that chamber works are the basis of his reputation, and there was a shared feeling among much of the audience that we had been deprived of the magisterial 'Black Angels'.

Instead we were offered a second film 'Bad dog', the one disappointment of the day. The director, David Starobin, introduced the screening. He began be explaining that he was not a film maker, a fact that later became painfully obvious. Instead he is a musician, a guitarist who has collaborated much with Crumb and whose Bridge record label is currently issuing a complete Crumb edition. The film forms part of that, and gives complete performances of a number of recent works - "Sit Down, Sister" (2003), Eine Kleine Mitternachtmusik (2001); Mundus Canis (1998) - with excellent performances and sound, but woefully amateur camerawork, lighting and editing.

A foyer event preceded the final concert 'Lux in Tenebras', a work 'inspired by the music of George Crumb' written by Stephen Montague to facilitate the BBC SO's tie-in education project. Masked dancers performed in the centre of the foyer space surrounded by four groups of masked players, each with a separate conductor. Stephen Montague is starting to make a speciality out of this sort of collaborative tie-in work, and while the piece was little more than a means to an educational end, it benefited from his previous experiences of wrestling with this leaden acoustic to achieve something both musically coherent and audible.

The BBC Symphony Orchestra's composer days (or weekends as they used to be) have suffered occasionally from the fact that some of the featured composers wrote very little music for orchestra. The John Cage weekend a few years ago comes to mind, in which Cage's music was almost completely confined to chamber concerts, while the orchestra resorted to programming works by significant predecessors. Crumb is also a composer with only a small number of orchestral works to his name, but fortunately, they are amongst his most significant musical achievements and popular successes, making the final orchestral concert of the day a fitting culmination. 'Echoes of Time and the River' won the Pulitzer Prize in 1968 and has enjoyed continuous popularity (at least in America) ever since. Processions of players across the stage form both the performing rationale and the musical structure of the work. Apparently the work is often played by American university orchestras, whose players are well versed in marching from playing in bands. The BBC SO took a little longer to get the hang of it (they were candid enough to confess) but benefited throughout the rehearsal process from the presence and advice of the composer.

'A Haunted Landscape' inhabits a curiously Romantic/Expressionist soundworld, somewhere between Debussy and Mahler. Any description of the orchestration of a George Crumb's work inevitably concludes with words to the effect of 'with added percussion'. What was surprising about this work was the composer's ability to augment the Debussy/early Schoenberg type orchestral textures with a vast range of unusual percussion additions without the result descending to mere novelty.

Of all the influences that unashamedly shine through Crumb's music, Charles Ives is perhaps the most continuously evident. This was demonstrated by the fact that both 'A Haunted Landscape' and 'Star-Child', the final work of the programme, are modelled closely on the structural principles of Ives' 'The Unanswered Question'. In the former work, predominantly string-based textures play out over an oblivious and continuous double bass pedal. 'Star-child' goes further, using both the idea of an unsynchronised string section as a background to a woodwind based ensemble and adding offstage trumpets. But this is another example of Crumb making something new out of familiar Modernist resources. And he has plenty of other ideas to add into the mix: a choir of children, a speaking choir of men (who also ring handbells), a soprano soloist, a trombone soloist, and an orchestra that, even by Crumb's standards, includes added percussion. The work was performed to an impressively high standard, and special mention should go to the trombone soloist, Helen Vollam and the offstage trumpeters, whose parts rarely descend from the stratosphere of the instrument's range. Martyn Brabbins directed (as principle conductor of the four on the stage) with clarity and enthusiasm. It is another work that moves freely between different styles, moods and ensembles, and Brabbins' ability to maintain the ensemble and interpretive focus without confining the music's widely meandering stylistic path was a great asset. It was a triumphant end to a memorable day, and Crumb fans in the UK will no doubt be grateful to the BBC for putting their unique resources behind a project that other organisations could scarcely contemplate. But what a shame they couldn't justify stretching it to a full weekend.

Gavin Dixon

'Echoes of Time and the River' will be broadcast on BBC Radio 3 in 'Performance on3' on Friday 8th December at 7 pm. 'A Haunted Landscape' will be broadcast in 'Hear and Now' on Saturday 26th December at 10.30pm.