Other Links
Editorial Board
Google Site Search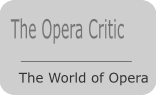 SEEN AND HEARD UK CONCERT REVIEW

Desmarest, Campra, Rameau, Lully: Soloists, Les Arts Florissants/William Christie, Barbican Hall, London, 26.11.2009 (J-PJ)
Desmaret: Usquequo Domine
Campra: Exaudiat te Domine
Rameau: Deus noster refuguim
Lully: Te Deum

Soprano – Amel Brahim-Djelloul
Soprano – Emmanuelle Negri
Tenor – Toby Spence
Tenor – Cyril Auvity
Baritone – Marc Mauillon
Baritone – Alain Buet


Consistently fresh and inventive, it's hard to believe that Les Arts Florissants is already 30 years old. The Normandy-based vocal and instrumental ensemble is celebrating three decades at the forefront of authentic early, baroque and classical music-making. Their first London anniversary concert last month showcased Monterverdi's Sixth Book of Madrigals, directed by singer Paul Agnew. For this concert, Les Arts Florissants returned to established terra firma – sacred works of the French Baroque.

Henry Desmarest is a neglected but intriguing figure. A close contemporary of Campra, his career at the court of Louis XIV hit the buffers when he ran off with a nobleman's daughter. But the music he wrote in exile at the ducal court of Lorraine in Lunéville is striking for its dark intensity and reflective beauty. The grand motet Usquequo Domine is a case in point. The multi-layered entry of the chorus following a brief opening baritone solo was strikingly effective in the experienced hands of Les Arts' excellent choir.

André Campra is a more familiar composer. His brilliantly scored Exaudiat te Domine is a real tour de force for orchestra, chorus and male soloists. The most startling of the latter was tenor Cyril Auvity. With a particularly high register, his voice was perfectly pitched throughout, displaying an intense, yearning quality. Toby Spence displayed litheness and flexibility, though he was prone to occasional tightness during the 'Impleat Dominus'. Alain Buet offered solid baritone support.

The second half of the concert featured the two giants of French baroque – Rameau and Lully. Rameau's grand motet Deus noster refugium was written around 1714, well before his operatic début. But it is full of dramatic moments, including a rousing description of an earthquake and the collapse of mountains into the sea. Christie and Les Arts relished the opportunity to demonstrate the 'operatic' side to their craft. But the motet is also punctuated by gentler, reflective moments, most notably in 'Fluminis impetus' where soprano Amel Brahim-Djelloul and lead violinist Florence Malgoire joined together in a rapturous duet.

Lully's Te Deum must surely rank as one of the most resounding statements of the Grand Siècle. Scored for trumpets and timpani plus full orchestra (authentically playing standing up in this performance), it was written for the baptism of the composer's son, with Louis XIV standing as godfather. It is also the work that led to Lully's death nine years later, after he accidently jabbed his foot with a conducting staff during a performance and then developed blood poisoning. Disappointingly, the brilliant opening prelude was rather messy. The strings and woodwind sounded out of joint, blurring the lively rhythms that characterise the movement. But things picked up after that. Rousing choruses and short but intense solo passages were superbly delivered, with the yearning 'Fiat misericordia' one of the most memorable moments in a very memorable concert.
John-Pierre Joyce