Other Links
Editorial Board
Editor - Bill Kenny

Founder - Len Mullenger
Google Site Search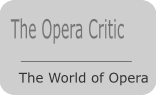 SEEN AND HEARD UK CONCERT REVIEW

New Lamps for Old - Pott, Leighton, Tallis, Jackson, Ayres, Palestrina, O'Neill, Lauridsen, Hugill, Guerro, Victoria: Chapelle du Roi, Alistair Dixon (conductor), St Johns Smith Square, London 19.12.2009 (CR)


It was only recently at a choir concert that I made the observation that contemporary choral composers could write new works, with a relatively free harmonic language, often based in tonality but with added tension created through elaborate dissonances, and still maintain a strong and perceptible link with traditional choral repertoire. This neo-renaissance repertoire builds on a long standing tradition of excellent writing, where new developments in compositional language was commonplace, and the new works are only a small step away in terms of audience understanding.

This evening's concert was built entirely around that concept; New Lamps for Old took traditional texts and compared standard repertoire versions with new settings, creating a varied and enjoyable programme. The new and old works complemented each other well, allowing both to be seen from a different perspective; on one hand, the new works showed the extent of the genius and daring of composers such as Palestrina, Guerrero and Victoria (one can only imagine the effect of their dissonances at the time they were composed) and the skill of contemporary composers such as Gabriel Jackson and Francis Pott, whose works stood side by side those of the great masters and held their own.

Six texts were presented in this concert; Lullay my lyking, Coventry Carol, Hodie Nobis, O Magnum Mysterium, Videte Miraculum and Alma Redemptoris, performed by the impressive Chapelle du Roi, an ensemble of nine singers under the direction of Alistair Dixon. This choir was formed in 1994 and specializes in renaissance repertoire, but seemed no less comfortable performing some challenging contemporary works. Their voices are pure and well-blended, and the size of the ensemble means that individual voices can be distinctly heard, even within the middle parts, without disturbing the overall balance.

There were many highlights in this concert, during which I was able to delight in the choir's transparent sound and faultless intonation. The choir supported the soprano solo sensitively during Kenneth Leighton's setting of the Coventry Carol, and Francis Pott's setting of Lullay my Lyking was well constructed, using the pattern of the traditional version with soprano solo alternating with more polyphonic passages. He made use of a range of textures and some wonderfully evocative harmonies.

Hodie Nobis came in three forms. The traditional was represented by Thomas Tallis in a setting for four male voices. Gabriel Jackson's setting was for me one of the most enjoyable works of the evening, with sopranos sharing melodic material at the opening over an underlying drone. The decorative rhythms were highly effective and layers were added with the introduction of more parts. This music was alternated with a slow cantus firmus, with some beautiful harmonies. Something about the drones and the rhythms reminded me of Scottish folk music, with the harmonies seeming to come out of the overtones of the drone. This was a magical work which was performed utterly convincingly, and the final Gloria provided a splendid climax to a very well written piece of music. The third setting came from Paul Ayres, and was composed for this concert. He took a very different approach, and the variety was both interesting and enjoyable. He made use of some wonderful harmonies, and the central section used different solo lines, entering one by one with a dance-like motif which provided an interesting change of texture and mood. The chant-style Gloria seemed more subdued in comparison, and had an eerie effect. This was another well structured piece which could make its way into the repertoire.

Three settings of O Magnum Mysterium came after the interval, beginning with Palestrina's rich six part setting, which was once again performed with a perfect balance between the parts. This is Palestrina at his best, and the performance was excellent. Nicholas O'Neill's setting, for four male voices, was modeled on the Victoria setting, with a monophonic opening and some wonderful shifts in modality. The effect of his writing was to create a somewhat mysterious, mystical atmosphere, and I enjoyed this setting very much. Morten Lauridsen's now famous setting followed, and was the only American work on the programme. The stylistic contrast came as something of a jolt, with his writing creating a distinctly different type of sound. This was a good performance, although I preferred another recent performance of the work by the St Albans based Mosaic, for its phrasing, drama and dynamic contrasts.

Videte Miraculum was heard in versions by Tallis, using a spacious six part texture and in a world premiere version by Robert Hugill. This had a lovely opening and a simple, well considered structure, with the harmonies based in tonality but moving gradually to build up tension through dissonance. Hugill made use of parallel and contrary motion to excellent effect, and motivic sections returned to give a sense of overall coherence. He also used a wide range of textures, including unisons, octaves and polyphony in different numbers of parts. This was another well written work which deserves further performances.

The concert ended with two splendid versions of Alma Redemptoris, by Francisco Guerrero and Thomas Luis de la Victoria. Guerrero's hymn-like opening boasted rich, full harmonies and some beautiful flowing lines. The Victoria provided a wonderful finale, with two antiphonal choirs creating a truly breathtaking sound (I preferred the balance of sound in this layout).

On a particularly cold night, when staying in the warm at home was quite a tantalizing option, I was very pleased to have made the effort to attend this concert. The Chapelle du Roi are an excellent vocal ensemble who provided a varied and fascinating programme at the highest of standards. I had just a few niggles overall; I would have liked a wider dynamic range, particularly in the forte end of the range, and perhaps some more expressive phrasing at times (I felt occasionally that phrase ends were a little abrupt before breaths). The solo plainchant also felt a little contrived and lacked the sense of natural flow that I had expected. However, these are minor things which did nothing to spoil my enjoyment of the evening. It is wonderful to hear new repertoire performed so well and Dixon and his colleagues deserve to be congratulated for their part in the St Johns Smith Square Christmas Festival.
Carla Rees