Other Links
Editorial Board
Editor - Bill Kenny

Deputy Editor - Bob Briggs
Founder - Len Mullenger
Google Site Search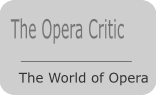 SEEN AND HEARD INTERNATIONAL OPERA FESTIVAL REVIEW


Glimmerglass Opera Festival 2009 (2) - Rossini, La Cenerentola: (New production) Soloists, orchestra, and chorus of Glimmerglass Opera, Conductor Joseph Colaneri, Michael MacLeod, General and Artistic Director, Cooperstown, New York 19.7.2009 (LS)


Production:

Director: Kevin Newbury
Scenery: Cameron Anderson
Costumes: Jessica Jahn
Lighting:D. M. Wood
Sound Design: Joel Morain
Projected Titles: Kelley Rourke
Hair & Makeup Design: Anne Ford-Coates
Chorus Master: Bonnie Koestner
Principal Coach/Accompanist: Jonathan Kelly
Stage Manager: Jessica L. Sneed

Cast:

Clorinda: Jamilyn Manning-White
Tisbe: Karin Mushegain
Angelina (Cenerentola):Julie Boulianne
Alidoro: Joshua Jeremiah
Don Magnifico: Eduardo Chama
Don Ramiro: John Tessier
Dandini: Keith Phares
Continuo: Jonathan Kelly (harpsichord)



Caption: Ramiro (John Tessier) and Angelina / Cenerentola (Julie Boulianne)

Rossini's Cenerentola was first performed in Rome January 25, 1817, less than two months after his Otello opened in Naples. The two operas couldn't have been more different. The third act of Otello contained some of Rossini's most dramatic music to date, culminating in Otello's stabbing Desdemona. Cenerentola, on the other hand, showed Rossini at his farcical best, precisely the type of opera that Beethoven told him to keep composing.

The first night's performance was not well received, but as Rossini predicted, it became one of his most popular operas. Ironically, the contemporary critic Stendahl complained that that some of the music afflicted him with nausea as he sat in "solitary gloom" amid an audience "seething with excitement". It is precisely the exciting and difficult to sing music that ensured Cenerentola's ultimate success.

Readers of my reviews will know that I am not given to hyperbole. But Glimmerglass's production of Cenerentola was so unusual, and spectacular, that I want to preface the remainder of this review with the admonition ---don't pass this one up. See it if at all possible.

The libretto was supposedly prepared by Jacopo Ferretti in one night. The story is similar to the well known fairy tale, but the midnight catastrophe at the grand ball is omitted, matching the slipper is replaced by a matching bracelet, and the magician/prophet/tutor Alidoro takes the place of the fairy godmother. But all the other elements—nagging sisters Clorinda and Tisbe, brutal stepfather Don Magnifico, adoring Prince Ramiro, and a happy ending remain.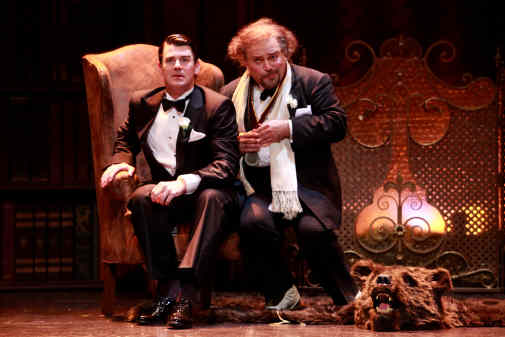 Caption: Dandini (Keith Phares) and Magnifico (Eduardo Chama)
So how did Director Kevin Newbury choose to stage the tale? Here is the answer in his own words:

"Cenerentola is an altruistic character. She offers her own bread to a homeless man, she falls in love with the valet instead of the prince and, at the end of the opera, she absolves the people who have done her the most harm. So we are looking for a context in which her generosity and forgiveness would have some real resonance. We…set the opera in 1933…to emphasize the dichotomy between the haves and the have-nots….That period is so interesting. FDR has just been elected. It's in the last days of Prohibition, and the foreclosure rates are an all time high. There is also a unique kind of humor associated with the Depression—think of Laurel and Hardy and the Marx Brothers.

In this context, Ramiro is the last hope for Magnifico's daughters. They have lost everything….Ramiro, a successful businessman, represents not only wealth and romance, but also knowledge and worldliness. Instead of a generic ballroom, the scenes at his 'palace' take place in his magnificent library….I get very bored with generic 19th century opera princes and princesses. Our Cenerentola becomes a modern 20th century woman, drawn to this world of knowledge and travel, even if she falls in love with the valet."

The delightful overture which seems so natural for La Cenerentola was actually written for his La Gazetta four month's before.

The long first act begins in Magnifico's decrepit mansion scullery with Cenerentola singing a poignant song about a king who would choose a wife based on honesty and love, not material wealth. Donizetti would use a similar entrance aria fifteen years later in L'Elisir d'Amore. Her two stepsisters berate her. Suddenly Alidoro accompanied by a team of tuxedoed servants appears and tells Cenerentola that things will take a dramatic turn for the better in her household. Alidoro informs the stepdaughters that Ramiro will choose a wife from those invited to a grand party. The stepdaughters respond with a series of demands on Cenerentola not unlike Figaro's Largo al factotum in the Barber of Seville.

At this point Magnifico, the stepfather, makes his entrance with one of the most hilarious arias in all opera, recounting his dream of a flying ass (himself). No sooner than he finishes, Ramiro arrives disguised as his valet Dandini. He sees Cenerentola and it's love at first sight, complete with a ravishing duet.

The mood suddenly changes. Cenerentola asks to go to the ball and is brutally rebuffed by Magnifico and his daughters. When Alidoro arrives and seeks the mysterious third daughter, Magnifico says she died, and threatens Cenerentola if she tells the truth. All of this drama leads to the first of several concerted pieces—in this case a quintet.

Magnifico and the daughters depart and Cenerentola is left to her sorrow. But Alidoro again appears and in stentorian tones tells her not to worry. He will take her to the ball. Unfortunately his aria "Vastro teatro", written by Luca Agolini, was cut. I have enjoyed it on recordings, because it reminds me of Daniel's pronouncements and aria in Ciro in Babilonia.

The remainder of Act I takes place in Ramiro's library. The highlights include a buffa scene as Magnifico samples 30 wine casks to become the prince's wine steward. The daughters are still perplexed. What did Alidoro really mean with his prediction? If one daughter marries, what happens to the other? Dandini --still disguised as the prince-- suggests marrying the valet, which the daughters reject in horror. When the prince-- disguised as the valet-- hears this he knows he's made the correct choice.

Alidoro brings in the veiled Cenerentola. She removes her veil and all are astounded. Once again a concerted piece –a quintet—is used to communicate the confusion. Cenerentola remains unrecognized, although Magnifico and the sisters are suspicious. A further concerted piece –this time a sextet—is used to introduce the stretta, featuring the" Rossini crescendo" from the overture. All seven principals participate in the excitement as the curtain falls.

Act II is much shorter. Magnifico in another buffo aria anticipates the power and fortune which will accompany his new position. But, his world soon collapses. Cenerentola tells the still disguised Dandini that she loves the "valet". Ramiro appears, reveals himself, and offers his love, but Cenerentola prefers that he see her as the downtrodden servant, not as the beautiful mystery woman. She gives him a bracelet, tells him to search for the duplicate, and departs.

Ramiro is thrilled and sings a triumphant triple aria complete with high C's and D's. Meanwhile Dandini deflates Magnifico's balloon by telling him that everything was faked. Magnifico's wine stewardship comes to an end and he and his daughters are ejected from the mansion literally into a breadline.

A symphonic storm scene propels Ramiro and Dandini into Magnifico's scullery. Cenerentola's bracelet is matched, and much to the amazement of all, the prince pledges to wed her. The opera moves to a delightful conclusion including another concerted sextet followed by Cenerentola's triumphant rondo finale--recycled from Almaviva's aria in the Barber of Seville-- in which she pardons Magnifico and his daughters and asks only for their love.

Julie Boulianne, Winner of the Prix Lyrique Francais, was the perfect Cenerentola. Small in stature, but large in voice, when required, she brought a unique interpretation to the role. At times she looked and dressed as Little Orphan Annie. At other times, I thought I was watching a female Charlie Chaplin. The contrast between her movements and those of her conniving flapper stepsisters was right on the mark. Her singing, whether an aria or as part of an ensemble, was a joy to hear. Not surprisingly, her rondo finale "Non più mesta" was spectacular.

Eduardo Chama's Don Magnifico was a delightful treat. He reminded me of the legendary Horace Rumpole (though obviously in a quite different role) as he gracefully moved, and sometimes pranced around the stage. He triumphed in his three big buffa arias –"flying ass", "wine steward", and the "petition" and played the multi-faceted comic/ tragic role to perfection. His career includes many Leporellos and Figaros, and he told me he hopes to move into roles like Sancho Panza in Massenet's Don Quichotte.

John Tessier's Don Ramiro was also well acted and sung. I was pleased to see that he went for and hit the two D's in his Act II triple aria in contrast to his range in last year's I Capuleti. John has been a Glimmerglass favorite, debuting in 2000 in Acis and Galatea and continuing with Tebaldo in I Capuleti and Almaviva in the Barber of Seville.

Keith Phares' Dandini was a revelation. With his slick hair and tuxedo he appeared to step out of F. Scott Fitzgerald. His Act II confrontation with Magnifico was one of the many highlights of the opera. And it was interesting to see how he could manipulate just about everyone on the stage including Ramiro. I look forward to seeing him in more productions.

At the cast party General and Artistic Director Michael MacLeod praised Jamilyn Manning-White (Clorinda) and Karin Mushegain (Tisbe) in the words of the libretto as the Eighth and Ninth Wonders of the World. And, indeed these two Young American Artists charmed the audience with their singing and acting, not to mention their pulchritude.

Joshua Jeremiah, another of the Young American Artists acted and sang Alidoro well, though I wish I could have heard his one aria.

A male chorus plays an important role in this opera and the Glimmerglass chorus not only sang with beauty and gusto, but also contributed an important comic element, for example carrying all sorts of gifts during Magnifico's "petition" aria.

The choreography was particularly fascinating and well executed. The individuals and ensembles moved in perfect timing with the music, yet there was no sense of helter skelter which one often finds in Rossini comedies. The groping in the dark scene following the storm in Act II was very effective, but I was not quite as happy with the treatment of the Act I finale.

The lighting also contributed greatly to the program's success, particularly the use of shadows and the dramatic storm scene. The costumes were perfect for a late 1920s, early 1930s musical drama, and who will be able to forget the contrasts between the lavish library and the run down scullery, as well as the smaller touches. For example, I thought we were watching Chicago until Dandini pulled out a large map of Manhattan to aid Ramiro's search for the matching bracelet.

Joseph Colaneri kept the orchestra moving at a lively tempo and it responded with spirited, accurate, and beautiful playing.

Although I am usually not a fan of modern adaptations, Glimmerglass demonstrated last year in Giulio Cesare in Egitto and this year in La Cenerentola that they can be wonderfully effective. I look forward to future productions.
Lew Schneider
All photos copyright Richard Termine. Used with permission.