Other Links
Editorial Board
Editor - Bill Kenny

Deputy Editor - Bob Briggs

Founder - Len Mullenger
Google Site Search
SEEN AND HEARD UK OPERA REVIEW
Puccini, Madam Butterfly
: (Revival Premiere) Soloists, Chorus and Orchestra of Welsh National Opera, Carlo Rizzi, conductor, Wales Millennium Centre, Cardiff, 17. 9.2009 (GPu)
Conductor: Carlo Rizzi
Original Director: Joachim Herz
Revival Director: Caroline Chaney
Set Designer: Reinhart Zimmermann
Costume Designer: Eleonore Kleiber
Original Lighting Director: John Waterhouse
Lighting realised by: Benjamin Naylor

Cast:
Cio-Cio-San: Amanda Roocroft
Lieutenant B. F. Pinkerton: Russell Thomas
Sharpless: Neal Davies
Suzuki: Claire Bradshaw
Goro: Philip Lloyd Holtam
Cio-Cio San's Cousin: Megan Llewellyn Dorke
Cio-Cio-San's Mother: Emma Mary Llewellyn
Yakuside: Julian Boyce
The Imperial Commissioner: Martin Lloyd
The Official Registrar: Jack O'Kelly
The Bonze: Michael Druiett
Prince Yamadori: Alastair Moore
Kate Pinkerton: Alison Dunne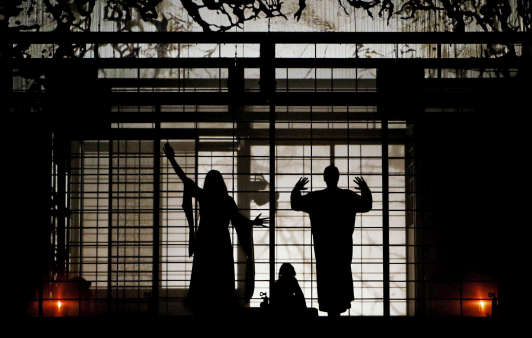 Cio-Cio-San -Amanda Roocroft, Suzuki - Claire Bradshaw and Trouble - Sebastian Jones


Jochen Herz's WNO production of Madam Butterfly was first performed as long ago as November 1978 – in the New Theatre in Cardiff, long before the days of the Millennium Centre. It was "refurbished" (to borrow the word which WNO uses for the process) in 1998 and was last revived in 2007. It is an eclectic affair, textually speaking, insofar as Herz has prepared a version which incorporates material from Puccini's earliest version of the opera, as well as more familiar material from later versions. The effect, essentially, is to make Madam Butterfly a more polemical work than the one we generally see and hear, giving additional emphasis to Pinkerton's largely unthinking boorishness and his contempt for most things (and people) Japanese. Musically there are losses – we don't get to hear Pinkerton's 'Addio fiorito asil', for example.

I have seen this production several times over the years, and have to say that it very largely continues to work well, to operate as a successful piece of theatrical machinery. At its heart is the set, a structure of transparent sliding shutters, what the Japanese call shoji doors, made of translucent paper mounted on a wooden lattice. The house which Pinkerton has acquired for Butterfly, which he has 'bought' but the purchase of which he can cancel at one month's notice, serves as a multivalent metaphor for so much in the opera – for impermanence and a seeming strength which is yet profoundly fragile, for distinctions between Japanese and American attitudes to possession and permanence, for a kind of fluidity of borders, with inside and outside never demarcated absolutely, to show us how physically flimsy, and yet effective a 'prison' can be, and for much else. Framed by cherry blossom trees the stage scene that faces the audience is beautiful and evocative – not without some accurately Japanese elements but also redolent of a particular orientalising fantasy. It allows for some powerful lighting effects, and in its paradoxical flimsiness and power to endure it says much about the narrative. On the downside, one does get a little bit weary of, and distracted by, the endless sliding of doors, sometimes in sequences which seem like some elaborate chess-like game; nor, surely, is much gained, save in terms of some needlessly heavy-handed symbolism, by the addition of (unused) locks to the shutters in Act II, when only a very unreceptive member of the audience could fail, in any case, to realise that Cio-Cio San has become a prisoner (even if some of her chains are self-imposed).

The scenes with Cio-Cio San's relatives work well in displaying the crassness and insensitivity of many of Pinkerton's attitudes, and also in suggesting some of the ways in which Butterfly is almost as much a victim of her own society as of Pinkerton's selfishly 'imperial' attentions. This, in short, is an intelligent production which has an inner consistency, even if it doesn't (because of Herz's editorial interventions) fully engage with some of the contradictions implicit in Puccini's final revision of the work.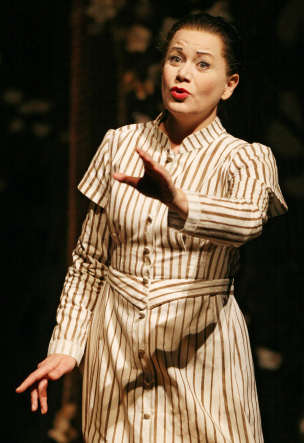 Cio-Cio-San -Amanda Roocroft


In an interesting essay in The Metropolitan Opera Encyclopaedia (ed. David Hamilton, 1987) Renata Scotto writes "If someone plays Butterfly as a fragile child bride, I disagree. She is a strong, independent woman who tries to take charge of her life … the opera is not about an actress who delicately flutters her fan, moves well in a kimono and looks authentically oriental". Certainly, excessive attention to the creation of an all-embracing Japaneserie can rob the work of its universality, of its power as a myth of faith and faithlessness, of love uncomprehended and thus betrayed. Amanda Roocroft doesn't overdo the Japanese mannerisms, and soon makes Butterfly's age largely irrelevant to the audience's reactions (if we were encouraged to take seriously her age of fifteen at her marriage, then Pinkerton's appropriation of his Japanese bride would be even more unpalatable). I have sometimes found Roocroft's interpretation of Italian tragic heroines a little inhibited, as if some deep-seated Englishness made her somehow embarrassed about making quite such a fuss. Absolutely no complaints of this kind on this occasion. The idiom of Italian operatic tragedy is one of (controlled) excess and Roocroft embraced the idiom with full commitment, giving herself absolutely to the passion of Puccini's music, without ever losing musical control. This was a deeply affecting performance, Roocroft investing scene after scene with a greater weight of believable emotion than I remember her doing when I saw her in the revival of this same production two years ago. Her understanding of the character seemed to have matured and deepened, her sympathetic understanding of Cio-Cio San's motivation and pain now fully translated into a musical and theatrical embodiment of considerable intensity. The role is a big sing, long and various, and there were occasional problems at the very top of Roocroft's voice, but these were very minor blemishes on a compelling and moving interpretation of the role.

Russell Thomas is a lyrical tenor of considerable promise. As yet his voice is perhaps more striking for its richness and power, for the beauty of tone at the top of the register, than for its finesse, but there are signs of an increasing subtlety too. He can seem rather ponderously awkward at times on stage, but there is no doubting either the intelligence with which he can characterise a role or the vocal beauty of which he is capable – the Act I duet between Thomas and Roocroft was exquisite. His Pinkerton was not a mere cynic; his treatment of Cio-Cio San and his failure to understand Japanese society is more a failure of imagination, a naivety and limitation of understanding, than a reasoned act of exploitation. In some ways the most disturbing moment in the whole evening comes in Act Two Scene II when, Pinkerton effectively tries to run away from the situation he has created, crying "addio, mi passerà"; the continued failure to see beyond himself, the failure to develop sufficient emotional imagination to fully realise that Cio-Cio San won't get over it, is the final measure of his inadequacy, and Thomas conveyed the moment very powerfully.

Elsewhere, no one did anything to let the side down. Claire Bradshaw reprised her convincing depiction of Suzuki and Philip Lloyd Holtam was a suitably unpleasant Goro; Michael Druiett's brief appearance as the Bonze was an exercise in authority, both vocally and in terms of stature. Neal Davies explored something of Sharpless's moral ambiguity, complicit to a degree, but troubled by what Pinkerton is doing; the Sharpless of Illica and Giacosa's libretto always strikes me as an essentially honourable man trapped in a dishonourable job (a version of Sir Henry Wotton's famous punning definition of an ambassador as "an honest man, sent to lie abroad for the good of his country".) Davies brought out something of this, but there is more to be found in Sharpless than most productions seem to reveal.

Carlo Rizzi's conducting was of the high standard one has come to expect from him in Italian opera. Some of the orchestral work was of the highest quality, and he supported the singers with wonderful tact and adroitness. I couldn't help but wonder whether the increased power of Roocroft's interpretation of Cio-Cio San didn't owe something to Rizzi's presence as conductor. So consistent are their standards that it almost goes without saying – but shouldn't be left unsaid – that the WNO Chorus were, yet again, excellent.

I confess that I didn't approach this revival with especial enthusiasm, feeling that the production had perhaps past its sell-by date and not having been overly-impressed by Amanda Roocroft in the title-role last time round. I am happy to confess the error of my ways – the production still has a good deal of life in it and Roocroft's was a Butterfly to remember.

Glyn Pursglove

Pictures © Neil Bennett


Back to Top Cumulative Index Page