Other Links
Editorial Board
Editor - Bill Kenny

Founder - Len Mullenger
Google Site Search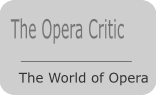 SEEN AND HEARD INTERNATIONAL OPERA REVIEW


Puccini, Madama Butterfly: Soloists, Orquestra de la Comunitat Valenciana. Coro de la Generalitat Valenciana.Conductor: Lorin Maazel. Palau de les Arts de Valencia. 9.12.2009 (JMI)

Production from Warsaw's Teatr Wielki.

Director: Mariusz Trelinski.
Sets: Boris Kudlicka.
Costumes: Magdalena Tesfawska and Pawel Grabarczyk.
Lighting: Tomasz Mierzwa.

Cast:

Cio Cio San: Oksana Dyka.
Pinkerton: Misha Didyk.
Sharpless: Gevorg Hakobyan.
Suzuki: Marianna Pizzolato.
Goro: Emilio Sánchez.
Yamadori: Paul Armin Edelmann.
Bonzo: Abramo Rosalen.
Commissioner: Lluis Martínez.
Kate Pinkerton: Dolores Lahuerta.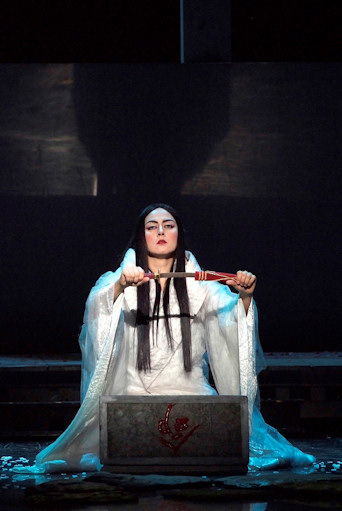 Oksana Dyka as Cio Cio San


After opening its opera season with Berlioz's Les Troyens, Valencia returned to box-office security by programming Madama Butterfly, last performed here in April 2008. Some would say it is far from interesting to repeat these operas within such a short period of time, but the public does not seem to agree with that view and the eight performances are already sold out.

On the previous occasion the production was by Keita Asari, from La Scala. This time, we were presented with one of Mariusz Trelinski's productions. I say one of his productions because, to my knowledge, there are two - the one seen in Valencia and the production being performed at the same time at the Mariinski Theatre. The productions are very similar, although chronologically the Valencia Butterfly had its premiere in Warsaw in 1999, while the Mariinski one was premiered in 2005. Mariusz Trelinski is one of the stage directors preferred by Placido Domingo and Valery Gergiev and both have presented several of his productions in the theatres they manage.

I found Trelinski's production quite appealing aesthetically, but rather uneven and only able to carry the emotion of Puccini's work here and there. There are excellent moments, especially Butterfly's entry with her entourage, all on board boats, or the end of Act II, with the silhouette of the hull of Pinkerton's warship and a small boat going towards it, while we listen to "il Coro a bocca chiusa". There are almost too many scene changes, with sliding curtains that open new sets at the back of the stage (e.g. the Yamadori scene, the Commissioner, or an absurd Zio Bonzo hanging from the ceiling in a dragon's mouth). The sets are attractive, but the costumes are not truly appealing to my mind.

What is outstanding in this production is the wonderful lighting by Tomasz Mierzwa, some of the best I've seen in a long time. (Apparently, he is not responsible for lighting the Mariinski production). But Trelinski's stage direction is not that interesting, since the drama is lost in aestheticism and none of the characters is particularly well defined. In summary, this is a brilliant production, but rather short of emotion - something less than ideal for Puccini.

Lorin Maazel was back in the pit, as he was in 2008, and again he offered an extremely engaging reading. Lorin Maazel seems to have decided to slow down tempi in the last few years and this was the case again in this instance. The use of slow tempi can lead to boredom if the conductor is not exceptional, but fortunately Mr Maazel is exactly that: and he allows us to sink into the drama on stage in pure delight. Nobody knows this orchestra better than he does and it is no wonder he gets the best from them. Truly memorable.

The protagonist Cio Cio San was Ukrainian soprano Oksana Dyka, who was scheduled to play the role in 2008, although I am not aware that she did sing any of the performances then, in fact The overall impression she made was quite positive. She has an important voice, not exceptionally beautiful, but very homogeneous, perfectly projected and very easy in the top notes, while remaining consistent in the lower register. Her interpretation was more powerful than moving, and I doubt that Puccini is the best field for her. One of her stage disadvantages is that she is a tall woman and, although very appealing, this does not help her to display the vulnerability of Puccini heroines. I think she is perfectly suited to Verdi soprano roles, and this is good news. I must say that this was one of the very rare occasions when I have heard the high D as Butterfly makes her first entrance perfectly. I am convinced that she has a very bright future ahead and that we will hear much more of her.

Another singer from the Ukraine, tenor Misha Didyk was Pinkerton but he was on a different level to his compatriot. He has a good stage appearance and a pleasant voice, but his way of singing is not very well suited to the Italian opera - at least in my opinion.

The Armenian baritone Gevorg Hakobyan had an attractive voice, but he was not especially convincing as Consul Sharpless. The Italian mezzo Marianna Pizzolato sang Suzuki, a very different role to those she usually plays. Unfortunately, I don't believe this is a good role for her. Emilio Sánchez improved on his performance of last year as Goro and the rest of the secondary roles were well cast.

There was a full house and a very satisfied audience. At the final bows there was a standing ovation for Oksana Dyka, which continued for Lorin Maazel and his magnificent orchestra. There was also applause for the creative team. The rest of the cast received warm applause, despite some very isolated booing for Misha Didyk.

José M Irurzun

Picture courtesy of the Palau de Les Arts Reina Sofia, Valencia