Other Links
Editorial Board
Editor - Bill Kenny
Founder - Len Mullenger
Google Site Search
SEEN AND HEARD INTERNATIONAL OPERA REVIEW
Britten, Billy Budd:
Soloists,Bilbao Orkestra Sinfonikoa. Coro de Ópera de Bilbao.Conductor: Juanjo Mena.Palacio Euskalduna de Bilbao. 24.10.2009. (JMI)
Production from Teatro Regio di Torino.
Director: Davide Livermore.
Sets: Tiziano Santi.
Costumes: Davide Livermore.
Lighting: Andrea Anfossi.

Cast:

Billy Budd: Nathan Gunn
Captain Vere: Timothy Robinson.
John Claggart: Sir John Tomlinson.
Mr. Redburn: Christopher Robertson.
Mr. Flint: Johannes Weisser.
Lieutenant Ratcliff: Fernando Latorre.
Red Whiskers: Hans Jürgen Schöpflin.
Donald: Nikolay Borchev.
Dansker: Markus Hollop.
The Novice: Michael Spyres.
Squeak: Cosmin Ifrim.
Novice's Friend: Andrew Ashwin.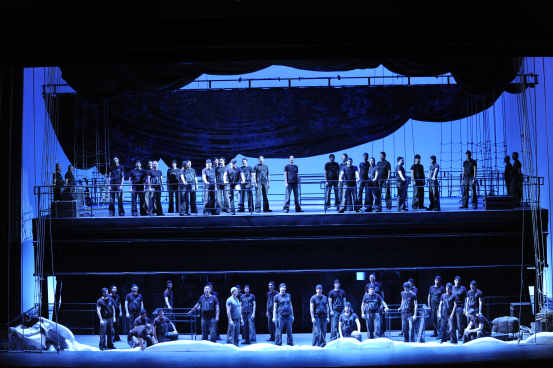 Picture © E.Moreno Esquibel
ABAO included Benjamin Britten in its programme again following the success of Peter Grimes in March 2004. On this occasion the risk taken was greater, since whilst with Peter Grimes the whole company of the Théàtre de la Monnaie came to Bilbao, this time ABAO took full responsibility for the production, from stage to pit, including the large cast of singers. The risk paid off with a hugely successful performance. It is curious that two 20th century operas like Billy Budd and Lulu, have been received so differently by the public within a month in two in Madrid and Bilbao. In Madrid, Lulu was received coldly, while Billy Budd saw the other side of the coin, even though there were some empty seats after the intermission.

Personally, I consider Benjamin Britten to be one of the most important musicians in the history of opera. A few days ago a friend commented that he had come to the conclusion that he thought Billy Budd even better than Peter Grimes. I do not dare commit myself in this way, since it always seems that I think Britten's best opera to be the one I saw last, something that doesn't happen much with other great opera composers.

This production by Italian director Davide Livermore was premiered at the Teatro Regio in November 2004 on the occasion of Billy Budd's first ever performance in Turin. Livermore makes good sense of the plot of the opera, showing on the one hand all the atmosphere of the "Indomitable", and on the other, creating a closed - and almost claustrophobic – environment, pulling the audience deeply into the drama.

The sets were very well suited to the Euskalduna Palace, with perfect use of the three big stage platforms to create different views of the ship, sometimes at different levels. All this was helped by a very remarkable lighting scheme. Costumes were more modern than what might be expected on a British warship of 1797, but they were still quite effective. The stage direction was good with the different characters well defined, but was rather static in its direction of the important chorus. The most debatable interpretation, in my opinion, was John Claggart, the Master of Arms, who was presented from the very beginning as pure evil: I prefer a Claggart who is more complex. Overall however, this is an attractive and realistic production which was greatly enjoyed by an audience unfamiliar with the work.

ABAO was quite right in entrusting the musical direction to Juanjo Mena, until recently Director of Bilbao's own orchestra. Maestro Mena is one of the top conductors in Spain, although his repertoire in opera is not yet large. In my opinion, nobody in Spain is better at conducting Britten than he is and I also have very good memories of his opera debut with Salome in Bilbao. He is now a completely mature conductor, who gave a magnificent reading of Billy Budd. His delicate attention to details and nuances was excellent and this was probably one of the top musical performances we hearfd in Bilbao in many years. His old orchestra gave an outstanding performance of the score and there is no question we are missing much in Bilbao with Juanjo Mena's departure to Italy and Norway: all the more reason to enjoy each opportunity to hear him when he returns. The Chorus was good all through the opera, but was somewhat better in Act I, while experiencing some problems in the shipboard battle scene in Act II.
Billy Budd was played by the American baritone Nathan Gunn, who is certainly one of the role's top interpreters today. It is not difficult to understand why he has been engaged to play Billy in many of the world's greatest opera houses since his spectacular figure makes him particularly credible in a character like this; noble, defenceless and violent at the same time. His rendering of the Monologue that precedes his execution was highly moving and perfectly sung. His voice is not large, but it suits this role to perfection.

John Claggart was interpreted by the veteran English bass Sir John Tomlinson who has been linked for many years of course, with Bayreuth's Wotan. Today he continues to display a powerful and well pitched voice in his middle register, and he remains an outstanding interpreter on stage. Obviously, at 63 the voice is not what it once was and the top register has become somewhat whitish and tight. Having said this, the exigencies of Claggart's music did not create any particular problems for him.
Captain Vere is one of the toughest roles in this opera, which provides an enormous challenge for even a very good artist because of the character's internal conflicts. British tenor Timothy Robinson was probably the weakest point in a wholly excellent cast because, despite him being a very good interpreter, his voice did not have the power to match his colleagues on stage and he had some difficulty with high notes.

The secondary characters are usually very well cast in Bilbao, but on this occasion ABAO presented a group of singers, whose quality would be difficult for any other theatre to match. Christopher Robertson (who will be playing Nabucco in Palermo in a few months) was a sonorous and well sung Mr Redburn, as was Mr Flint, played by Norwegian baritone Johannes Weisser (Guglielmo in Salzburg this summer).

I must also mention the excellent Novice of tenor Michael Spyres (Belfiore in Il Viaggio a Reims at La Scala and a very much appreciated Raoul de Nangys at the Annandale Festival in the US), and the impressive young baritone Nikolay Borchev (he will be Rossini's Figaro, Papageno, Prosdocimo and Guglielmo at the Munich Opera this same season). Hans Jürgen Schöpflin (Aschenbach at Liceu last year) was a very good Red Whiskers. There were also more than decent contributions from Markus Hollop (Dansker), although perhaps not quite reaching the standard of his colleagues, from Fernando Latorre (Ratcliffe), Cosmin Ifrim (Squeak) and the young Andrew Ashwin as the Novice's Friend.

As usual, there was a full house at the Euskalduna. The public gave ovations and cheers to the three principale and to Maestro Juanjo Mena. The creative team was also very well received but in the popular decibel contest, the undoubted winner was Sir John Tomlinson.
José M. Irurzun