Other Links
Editorial Board
Editor - Bill Kenny

Deputy Editor - Bob Briggs
Founder - Len Mullenger
Google Site Search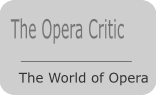 SEEN AND HEARD INTERNATIONAL OPERA FESTIVAL REVIEW


Bayreuth Festival 2009 (2) – Wagner, Siegfried and Götterdämmerung: Director – Tankred Dorst assisted by Ursula Ehler, sets – Frank Philipp Schlößmann, costumes – Bernd Ernst Skodzig, soloists, chorus and orchestra of the Bayreuth Festival. Conductor: Christian Thielemann. Bayreuth Festspielhaus, 10 and 12.8.09. (JPr)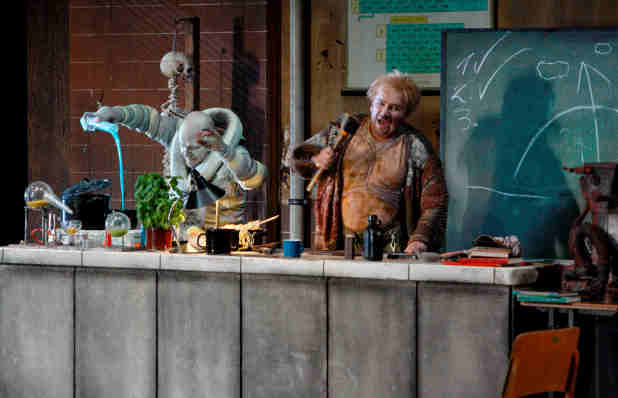 Siegfried Act I - Mime and Siegfried


After Rheingold and Walküre (see review) nothing quite steeled me for the big disappointment that Act I of Siegfried was to be. It continues to be exciting orchestrally and with Thielemann conducting, nothing less is expected; it is urgent, febrile and, as the evening progresses, increasingly passionate. It remains so much more than the sum of its parts - there is no glossing over even the smallest musical detail and the players play the score almost too perfectly … were that to be possible.

However, the singing never reaches anywhere near the same level. When the opera opens Mime sounds like Siegfried should and this is not surprising since it is a former Bayreuth Siegfried, Wolfgang Schmidt, singing the role. Throughout he sings Mime with unusual lyricism and always draws attention to himself on stage through some committed acting. Sadly, Christian Franz - when he first comes through the window wearing a bear's skin - as Siegfried reins in his shouting sounds like a Mime usually does. Albert Dohmen was the curmudgeonly Wanderer: there was still a certain roughness to his voice in my opinion and some cloudy diction (I heard 'Haupt' every so often and not much else).

Clearly, in this production we are in an abandoned old school room with a blackboard and slide projector, full of text and exercise books. At the front desk is some chemistry paraphernalia where Mime does the cooking for Siegfried. Siegfried's cot is still there and so is his teddy bear. Tankred Dorst seems to have forgotten that Siegfried is probably about 18 years old - and so has Christian Franz because together they present him as a rather boorish, mentally challenged, adult who has failed to relinquish his teenage years.

Little out of the ordinary happens on stage in this Act until the 'forging song' when Siegfried throws a fit. He tries – and fails – to fling the teddy out of a window and then smashes up his far-from-happy home with an upright from his cot literally causing sparks to fly. According to Dorst this is so that his new life, as symbolised by the sword, can be magically fashioned. I first saw this use of alchemy and transformation in Phyllida Lloyd's abandoned Ring cycle at English National Opera when it was done rather better. As then, the sword is left to smelt itself but Siegfried finishes it off by tapping on the handle before slicing off the top of a large globe at 'So schneidet Siegfrieds Schwert!' Christian Franz threw himself into all this with commendable enthusiasm but at the expense of any of the vocal refinement that is possible even in this difficult role.

What could be expected for Act II? There was a simple setting of an unfinished motorway flyover in a cut-down forest; but this time there was the clear and simple storytelling that this opera needs. Perhaps there is the equivalent of the football half-time pep talk in opera, because suddenly Franz's voice found much of the elegance and flexibility it had lacked earlier. His acting too gained another dimension with some added humour - while fashioning his instrument to answer the Woodbird - and some subtle pathos as he grieved over the death of his mother and for Fafner whom he would have to kill. This gave the Act a significant anti-violence message to add to an ecological one.

The fight with Ain Anger's suitably menacing but affecting Fafner was well staged. A smoky cleft opened in the ground to reveal the giant in his normal form. By the time a winged figure appeared on top of the concrete construction to represent the Woodbird (sung offstage with a rather shrill voice by Christiane Kohl) I was transfixed. Albert Dohmen's voice for The Wanderer now found much more focus, Andrew Shore continued to impress as Alberich and Wolfgang Schmidt tamed his Heldentenor urges to give vent to all of Mime's duplicity.

The final Act contained nothing that those wishing for 'traditional' re-enactments of these operas could object too. Dorst's over-arching concept of the 'gods amongst us' had been virtually ignored so far, apart from some inquisitive children in Act I looking in at Mime's window, some 'Men at Work' and a few more children among the tree stumps – including that boy in the striped T- shirt – in Act II.

This Wanderer confronts Erda behind a scrim in blue haze : and Erda is well sung again by the rounded contralto tones of Christa Mayer. The Wanderer then confronts Siegfried on the upper level opening of Die Walküre's Act III stone quarry before sloping away defeated; with the curtain coming down again to allow us to concentrate on the atmosphere that Christian Thielemann will create for the final scene. The Act had begun with a stirring 'Wotans Ritt' and with Thielemann there are never any disjointed moments. There are however some moments of stasis such as when The Wanderer's spear is broken on Siegfried's sword; but there is never the feeling that the music has actually stopped: a hidden, compulsive momentum is always present.

Christian Franz phrases 'Selige Öde' as well as could be hoped for and now acts the part of the embarrassed inadequate suitor very well, even to the extent of awakening the sleeping woman with a chaste kiss on the hand. On the cusp of winning her over, he starts to offer her presents; including what looked to me like a dead bird but hopefully not the Woodbird that took him to her rock! Linda Watson's lacks a certain culminating warmth as the warrior maid Brünnhilde, awakening to human love, but aided by Franz's now almost Italianate fervour, together they bring this Act to a triumphant – and surprisingly optimistic – conclusion against a dark starry sky for a backdrop.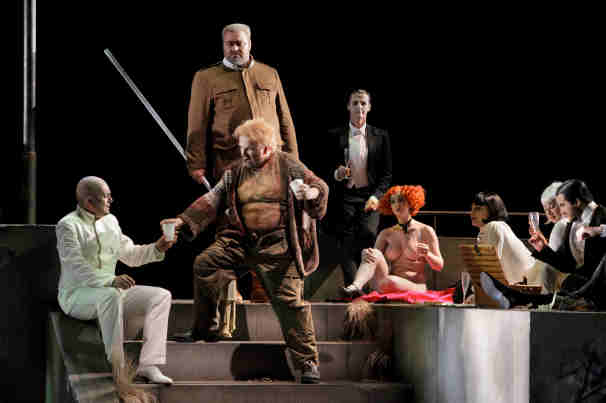 Götterdämmerung - Act III


And so we reach Götterdämmerung for which the Prologue and Act I had three simple designs. The first was the starlit sky from the end of Siegfried that had the three Norns standing in front of it on a pile of skulls - or sculls as the error in the English translation in the programme had them. The Norns reminiscences and prophesies seem to be connected with constellations that light up in the firmament that the Norns are reaching towards. Down comes the annoying curtain once more and we are then to be back in the by now over-familiar stone quarry. Then the curtain drops yet again and opens to reveal the stark marble-effect outlines of a superior hotel representing the Gibichungs' Hall peopled by a few elegantly dressed guests with (strangely) a row of shoes laid out neatly front stage right. Gunther wears a cardboard golden crown but that is a weird as it gets. The swearing of blood-brotherhood is intriguingly done with Siegfried biting his own wrist and Gunther having a vein cut for him by Hagen because he is too afriad to do the deed himself. Hagen is the huge physical presence and deep resonant bass of Hans-Peter König who sits on some stairs to sing his 'Watch'. Down comes the curtain again – how many times must it be now in this Ring? - and we are back at the quarry through which workman wanders aimlessly during Brünnhilde and Waltraute's confrontation. Disappointingly, Brünnhilde puts up only the mildest of struggles as Siegfried/Gunther relieves her of the ring.

Christa Mayer, who was very good as Erda, does not have the top notes to make a Waltraute who can command her scene. Ralf Lukas was a rather declamatory Gunther and I enjoyed Edith Haller's participation in the Act I curtain calls because apparently it was deemed necessary for her to wear a black cloak to receive applause as the Third Norn, and then to remove it to come back out again because she was also singing Gutrune. This kind of thing happened a couple of times and I found it very amusing: but perhaps that is just me?

Christian Franz's singing began with more nuance compared to how he sang in Siegfried but by Act II some ill-discipline showed through again: he began singing slightly flat and ended by skipping through his high notes while leaving with Gutrune to prepare for his wedding. Franz's> acting abilities began to impress me more and more however. Dorst makes the older Siegfried a sort of clown in tail coat and baggy trousers, a mixture of a simpleton like Norman Wisdom (or for a younger generation, Lee Evans) and Groucho Marx, with a similar costume and centre parting in his hair. This is not my own idea of Siegfried but is carried off well enough. There has also been another assured vignette from Andrew Shore as Alberich fawning over his son, the rather large Hagen. He summons the vassals impressively and along with a few others appears to be in army uniform from the early twentieth century while the rest of his audience are a collection of the hotel's decadent guests who seem to have been partying and have now refilled there Trinkhorns. They roll out a red carpet for the arrival of Gunther and Brünnhilde. Nothing much unusual happens here although there was a figure in a rooster costume at the start of the Act and there are revellers dressed as skeletons or as a golden ram to be spotted in the crowd.

Both Gunther and Gutrune continue to be a little disappointing vocally though both act well. By this time, Linda Watson is singing Brünnhilde with a less effortful and more open tone and this boded well for the Immolation Scene to follow. Dramatically, she is not at the same level as the others on stage with her and walks about very carefully – if at all – employing too much operatic semaphore. Christian Thielemann seemed to be pushing on with Götterdämmerung very quickly and though generated considerable orchestral excitement, one feared for the ensemble between pit, chorus and soloists at one fleeting moment. At the end of Act II all the wedding guests had to get through a door stage left and then race right across the stage, with barely time to do so before the music ran out and the curtain closed. Thielemann clearly is one of the foremost current interpreters of Wagner and does not take a single bar the composer wrote for granted. My only minor concern was that unlike Barenboim he may not be a singers' conductor and might be unwilling at times to breathe with his singers because this might conflict with the organic wholeness of his account of the score.

So are we any clearer about what Tankred Dorst is trying to tell us about the Ring apart from giving us the story clearly? With images of Wotan, Froh, Donner and Fricka displayed early in Act II above the stage, perhaps Brünnhilde and Siegfried are now walking amongst us in our time and space … but so what? Perhaps the collections of empty shoes are in some way an image of the much darker times to come later in the twentieth century? Or maybe not.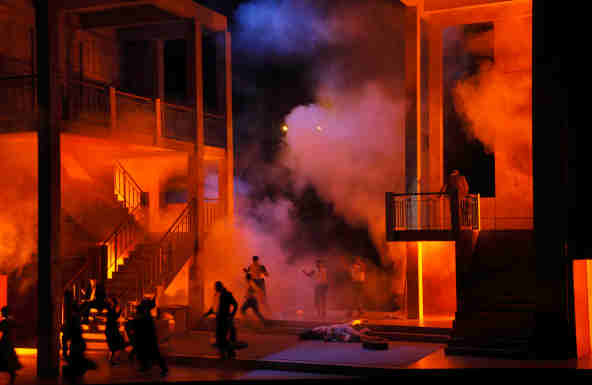 Götterdämmerung - Finale


For the opening of Act III, we are back to the embankment of the Rhine with its empty plinths and graffiti. The Rhine daughters are messing around at the opening to a culvert reminding us of the river bottom from Rheingold. They are a high-spirited trio, shown now to have grown quite voluptuous and appearing to nearly naked. Just think if they just took the ring from Siegfriedand kept their mouths shut about the curse, then the opera could finish there and then … but Wagner has it otherwise. The courting couple intrude once more as if from another time and that ubiquitous T-shirted boy returns to hopscotch on a front stage murder victim chalk mark. Siegfried is despatched with the regulation spear-under-left-armpit and 'dies' with great emotional impact before … guess what? … the curtain comes down for the radiant Funeral Music. One again however, this scene has been presented faithfully to Wagner's intentions in the most part, though the presence of some rather disinterested partygoers including a red-haired woman who seemed to have forgotten to put on a dress was an unusual distraction. Christian Franz's performance seemed to veer towards musical theatre towards the end and his boldly acted 'anti-hero' occasional covered-up for the fact that he sometimes did not give the notes he should sing their true value. Undoubtedly as often happens in this opera the award to the best all-round performance goes to the singer of Hagen, Hans-Peter König. .

For the final scene we are back at the hotel and Siegfried's body is brought centre-stage, Gunther is quickly despatched by Hagen and Gutrune collapses on his lifeless body. Now Linda Watson as 'the lady in red' sings a dramatically impassioned and forthright 'Starke Scheite' with vibrancy and heroic tone. However Wagner's richly-textured music that ends this opera deserves better than a little dry ice, a red glow and a few distressed hotel guests fleeing a localised inferno. The images of the gods ignite and burn and the happy couple we have seen from time to time, wander on again towards the end as does that boy we have seen in every opera : he retrieves the golden crown and is left at the end seemingly rubbing his eyes perhaps not quite believing in what he thinks he has seen. What we all do see though is that large eye representing Wotan's watching and maybe telling us 'Kinder, macht Neues!' For that we will have to wait for a new Ring cycle in 2013 and in 2009 Tankred Dorst's vision left me full of ambivalence.

Katharina Wagner and Eva Wagner-Pasquier the Bayreuth Festival's the co-directors will undoubtedly make a greater impact as the next decade unfolds than in the next few immediate years. From what they have announced so far however, they seem to be focusing on a new generation of directors and conductors backed up hopefully by talented new Wagner singers. In 2010 Hans Neuenfels will direct Lohengrin conducted by the City of Birmingham Symphony Orchestra's Andris Nelsons. In 2011, the conductor Thomas Hengelbrock, who is an early music authority promises a new edition of Tannhäuser based on his study of Wagner's rehearsal and piano scores from Dresden and Paris. Kirill Petrenko will conduct the new Ring for the composer's bicentenary in 2013 and Katharina Wagner herself will stage Tristan und Isolde in 2015 conducted by Thielemann. Intriguingly, there is also talk of performing Wagner's early works though sadly – for me at least – not within the Festspielhaus but on another stage somewhere else in Bayreuth.

Jim Pritchard

All pictures © Bayreuther Festspiele Gmbh / Enrico Nawrath.