Other Links
Editorial Board
Editor - Bill Kenny

Deputy Editor - Bob Briggs
Founder - Len Mullenger
Google Site Search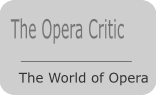 SEEN AND HEARD INTERNATIONAL OPERA FESTIVAL REVIEW


Bayreuth Festival 2009 (1) – Wagner, Das Rheingold and Die Walküre; director – Tankred Dorst assisted by Ursula Ehler, sets – Frank Philipp Schlößmann, costumes – Bernd Ernst Skodzig, soloists, chorus and orchestra of the Bayreuth Festival. Conductor: Christian Thielemann. Bayreuth Festspielhaus, 7 and 8.8.2909 (JPr)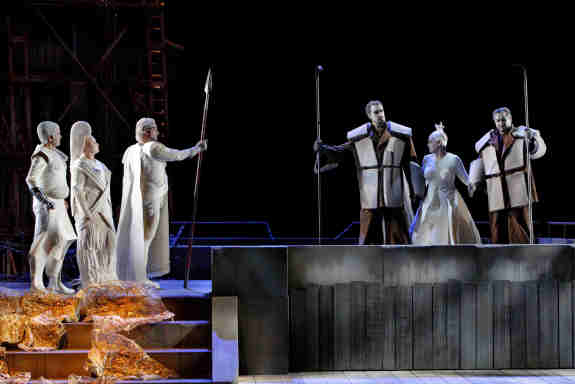 Das Rheingold : The Gods and Giants


This is a good time to give what can be described as a half-time report on the current revival of Tankred Dorst's 2006 Ring. 2009 of course marks a turning point in the history of the Festival because after more than half a century, Wolfgang Wagner - the composer's grandson – is no longer in authoritarian charge and there is a new joint festival directorship of the half-sisters, Katharina Wagner and Eva Wagner-Pasquier. They are on fixed seven years contracts but if truth be told it will be a decade or more before further debate on the directorship will take place again. The current incumbents will properly claim that much of the schedule for forthcoming years was already planned a long time ago by Wolfgang and his late wife, Gudrun, and so is not their responsibility.

Eva was formerly a casting director for some of the world's leading opera houses and should help attract back to Bayreuth some of the best Wagner singers who have tended to spend their summers elsewhere. She will undoubtedly be assisted by Christian Thielemann who has plans to be at Bayreuth through all the years of the new regime as seemingly its – yet to be formally acknowledged – music director. Katharina has already directed the controversial 2007 Die Meistersinger at the Festival which was revived again this year but is clearly the driving force behind the Bayreuth website revamp and other initiatives such as this year's children's version of Der fliegende Holländer, the continuing series of live web streaming and big-screen relays and the new programme books. Katharina has also pledged to allow academics access to the Wagner's family archive to uncover any hidden Hitler-related secrets.

My previous Rings at Bayreuth have been Harry Kupfer's 1988 staging - with its strong female characters still in need of emancipation - and I remember it as having a heightened sense of fear and terror. After that I saw Alfred Kirchner and the designer Rosalie's 1994 version which was triumph of visual style over the inherent drama and a later there was Jürgen Flimm's high-tech concept that mirrored world events, showing us how our gods are seldom heroic and often flawed.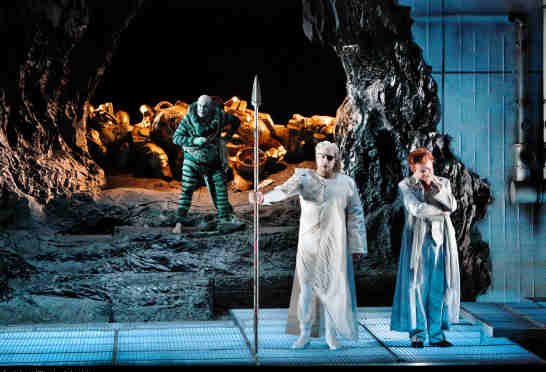 Das Rheingold: Nibelheim with Wotan, Loge and Alberich

The German playwright Tankred Dorst came to direct this Ring at the age of 80 never having staged an opera before. It is clear that he is steeped in the mythology of Wagner's tetralogy but his single concept is that the composer's versions of the Norse gods and heroes exist in a parallel world unseen by the modern world – if perhaps occasionally they may be able to interact with it.

Das Rheingold opens where it should be at the neatly bouldered bottom of the Rhine above which naked swimming figures are shown to tantalise Alberich who in Tankred Dorst's description is a 'hobgoblin'. He is, in fact, rather toad-like and drags behind him a piece of material which he flourishes as a tail. The Rhinegold seems to be a large confection of spun sugar from which Alberich snaps a piece off. We are cleary in the twenty-first century but then get the first of a number of occasions when the curtain drops in this Ring and rises again to show what is either the river's embankment or a derelict city square: both are appropriate to the empty plinths that we also see and all is scrawled with graffiti. This is the first opportunity to judge the costumes which reflect other Rings from a bygone age: the characters often appear here as statues that have come to life. Wotan has a codpiece, Fricka an elaborately winged helmet and Freia seems to be wearing one of Madonna's old pointed bras under her costumes. When Loge refers to Valhalla a gigantic eye is seen in the background - an image that will crop up again later in this cycle.

Nibelheim is an underground power station – an often used idea. Earlier we had seen a tourist wander across Wotan's 'mountaintop', here we have an engineer stroll across the stage oblivious to the machinations between Wotan, Loge and Alberich and these are the first indications of Dorst's idea that 'the gods walk among us'. After Fafner wields his staff to savage effect in despatching Fasolt then skateboarding children including a young boy in a striped t-shirt – who will appear over and again – re-enact the murder and theft of the ring as though it has become part of their folklore.

Long before that, Wotan has apparently opened a door to another dimension to reveal a grotto containing the Nibelungs and Alberich's gold, the Wurm is a gigantic cobra and, as always, the frog is too easily captured. Erda appears in ultramarine light and encased in planetary spheres like a deity in bubblewrap. Donner conjures up a dry-ice storm (there is a lot of dry-ice used in this Ring) and Froh summons up an old-fashioned rainbow lighting effect. The gods are last seen climbing up towards the large eye.

Christian Thielemann elicits characterful orchestral playing of refined intellectual detail from the opening E flat major drone to the gods entering Valhalla. Never do we anticipate an individual musical episode, Thielemann has us in the grip of the longest arch possible – from the beginning of Das Rheingold and right to the end of Götterdämmerung. His Ring is muscular, urgent and intense and becomes more compelling with each successive opera.

The best singing in Das Rheingold came from Arnold Bezuyen's Lieder singer-like Loge and from Andrew Shore's pantomime-villain Alberich; both artists have a great way with the text that some of their colleagues fail to match. Someone who does not have such good diction is Albert Dohmen's Wotan who reminds me very much of Norman Bailey in his gruff world-weariness. The Rhinedaughters (Christiane Kohl, Ulrike Helzel, Simone Schröder) were a well-balanced trio and the giants (Kwangchul Youn and Ain Anger) were a suitably-matched pair of giants. Edith Haller had more vocal authority as Freia than as Elsa recently in London although Michelle Breedt sounded rather too matronly as Fricka and both Ralf Lukas (Donner) and Clemens Bieber (Froh) did not seem to me to have lyrical enough voices for their roles. Wolfgang Schmidt returned after 49 appearances as Siegfried at Bayreuth since 1994 as Mime and sang and acted the part commendably well.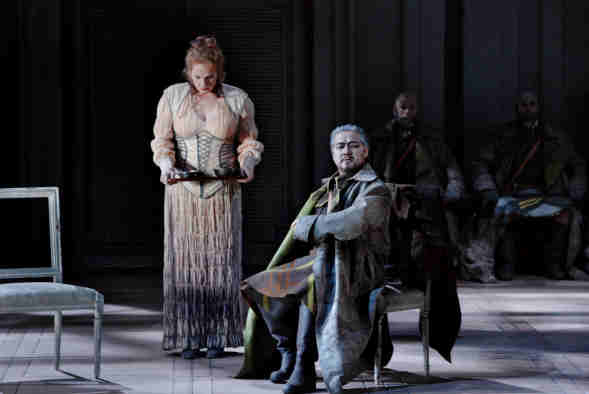 Die Walküre: Sieglinde and Hunding


Die Walküre opens in a derelict U-Bahn station with people sheltering from the rain. Stage-right, a telegraph pole has crashed into the building and this is where the sword, Nothung, will be found. The increasingly recognisable small boy seems curious about Sieglinde who is herself on stage sitting still and looking for all the world as the stump of a tree. Hunding enters with wolf-headed henchmen who simply sit down and watch. There are a couple of chairs on the stage and you just know that one will be thrown over sooner or later … and it is! At the crucial moment, a sword silhouette is projected onto the floor of the stage and when Sieglinde recognises Siegmund - who is casually dressed in t-shirt and jeans - as her saviour, some back doors open and we see a large Spring moon.

Endrik Wottrich's Siegmund is a great disappointment since his voice is now very dark and lacks the vitality and ringing top this role requires. He tried to lighten his tone for the start of his Winterstürme but it did not last long. He acted with a sort of gawky innocence - or possibly indifference, even. Eva-Maria Westbroek was an attention grabbing Sieglinde even if her singing did sound throughout as though she was auditioning for Brünnhilde. Kwangchul Youn is rather too short to be physically menacing as Hunding but is certainly vocally impressive.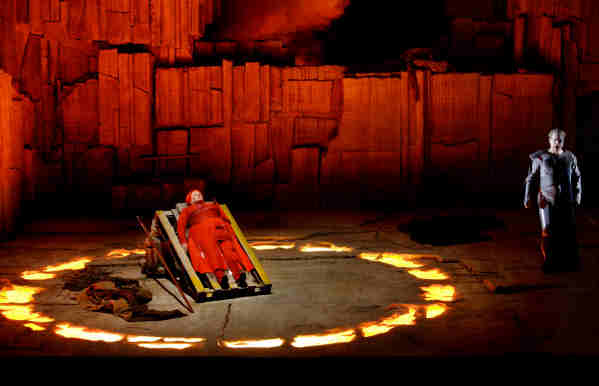 Die Walküre: Brünnhilde and Wotan


With its unvarying stage picture and inelegant and unvarying singing by most of the principals, the low point of this Ring is quickly reached with Act II from which things can only get better (and do to a small degree). We are in a stone quarry which is a repository for unwanted statues of long-forgotten idols and gods. Wotan is first seen standing on what seems to be a large unfinished carving of his own head. And that's about it for ninety minutes, apart from the presence of a courting couple for a while to rear stage right, and then some masons who drag in another piece of statuary sometime later in the 'action'. At the height of Wotan's turmoil, a figure representing the Wanderer enters as if from the future to show how the spear becomes broken and perhaps trying to influence Wotan in the path he should take. There are one or two nice moments though, such as when Brünnhilde prostrates herself and Wotan kisses her with fatherly tenderness and there are also some equally tender moments between Siegmund and Sieglinde. Outside of these, everyone mostly squats or stands singing face forwards to the audience.

Linda Watson began with some well-placed 'Hojotohos' and then sang rather too loudly to be lovely-sounding: she rarely picked up more speed across stage than a casual amble. Albert Dohmen resorted to Sprechstimme at times. Michelle Breedt's Fricka, accompanied on and off stage by two ram-headed figures, had good moments but did not dominate the stage. Endrik Wottrich's sound became increasing ugly and it was no surprise that he failed to take an individual curtain call at the end of this Act : he would have been horribly booed. Sadly he suffered from 'premature sword capitulation' during the climactic fight and he was risibly left trying to fend off Hunding with what was left of his weapon. I was left longing through all this 'stand and deliver' singing for the personenregie of a Kupfer, a Richard Jones or even a Keith Warner to create impact in big moments like the Todesverkundigung.

By Act III we find ourselves at the bottom of a large stone quarry and this will not be the last time in this Ring. There are some old palettes, used tyres and the usual detritus that accumulates in such places. The Valkyries are in red and some have a fixed Perspex shield like a single wing. 'Dead heroes' wander in wearing shrouds and then disappear through a crevice. Wotan enters and is still darkly costumed in this opera like a knight of the Grail and Brünnhilde continues on what can only be described as her stately progress. However … probably left much to their own devices, the final scene between father and daughter contains more drama than the preceding 2½ Acts.

All of this reminds us that most of what we need to experience from Wagner's Ring is there already in the text and the music, which was undoubtedly helped by Christian Thielemann letting out the reins a bit and unleashing some very appropriate musical fireworks to bring this opera to a conclusion. The closing passages lie well for both the singers and Albert Dohmen, after suitably stirring 'Leb' wohls', brought an affecting - and more refined vocal quality – to 'Der Augen leuchtendes Paar'. Linda Watson's Brünnhilde lays down carefully on a sloping palette but is it really good enough these days to have the fire that encircles her represented by recessed ring of orange floor lighting? I not asking for Spielberg here but please do let's have 'real' fire!

At the very close of Act III, through the monumentality of the set in all its dry-ice covered splendour and with the ghostly outline of Wotan high up towards the back there was more than just a hint at Chéreau's famous ending to this same opera in his 1976 Ring. Sadly though, it remains a fact that Dorst's Ring should not really be referred to in the same sentence as Chéreau's!

Jim Pritchard

These Bayreuth reports will continue with the Siemens Festspielnacht transmission of Tristan und Isolde, the conclusion of the Dorst Ring with Siegfried and Götterdämmerung, and an interview with the current Bayreuth Alberich, Andrew Shore.

All pictures © Bayreuther Festspiele Gmbh / Enrico Nawrath.