Other Links
Editorial Board
Google Site Search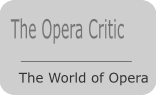 SEEN AND HEARD INTERNATIONAL OPERA REVIEW

Rossini, Barber of Seville: Soloists, Chorus and Orchestra of Los Angeles Opera, Michele Mariotti (conductor) Chandler Pavilion, Los Angeles 29.11.2009 (LV)

Juan Diego Flórez -Lindoro
Joyce DiDonato - Rosina
Nathan Gunn - Figaro
Bruno Praticò - Dr. Bartolo
Andrea Silvestrelli - Don Basilio

Production Team:

Producer - Emilio Sagi
Directoe - Javier Ulacia
Scenery - Llorenç Corbella


The whole town seemed to turn out for the opening of LA Opera's brilliant new production (from Madrid's Teatro Real) of Rossini's 'Barber of Seville'. And when it's LA Opera, the whole town includes opera aficionados from around the globe, celebrities, gorgeous guys and gals, and the usual lot of local dignitaries. Lots of critics, too, many of them in town for the 'Left Coast, West Coast' festival going on across the road at Disney Hall.

Preceded by their recordings which seem to be coming out monthly, Joyce DiDonato and Juan Diego Flórez were as good as their star billing as the determined young lovers. At first, the Peruvian Flórez's sweet, light, elegant and wonderfully flexible tenor, which has led to popularity on a scale reminiscent of the young days of Domingo and Pavarotti, seemed overmatched by the sheer size of Chandler Hall. No matter: Flórez soon adjusted to the challenging acoustics and, except for occasional ensemble moments, came through clearly, trilling and thrilling the fantastic high notes and mastering the difficulties inherent in romantic bel canto writing, as he went. His virtuosic singing combined with an easy almost self-deprecating charm and charismatic stage presence to ignite the requisite musical and sexual chemistry with his Rosina.

Making her Los Angeles Opera debut, golden-toned mezzo Joyce - "I was born in Kansas just like Dorothy" - DiDonato matched Flórez note for note, and made Rosina, who can be too much of a virginal babe, into something delectable, made of flesh and blood. In less than a decade, she has become one of the most sought after singers by the leading opera houses in roles ranging from A (Alcina) to Z (Zlatohrbitek, in Janacek's 'Cunning Little Vixen'). In addition to her astonishing singing, she has a command of languages that even has the French press singing her praises for her idiomatic French.

As Figaro, Nathan Gunn, named among 'People Magazine's' sexiest men alive in 2008, sang magnificently with superb comic touches and tremendous physical presence, was occasionally and unaccountably lost in the directorial shuffle during ensembles.

Bruno Praticò's Dr. Bartolo was a barrel-stomached jokester from the Marx Bros. school of comedy, and Andrea Silvestrelli's Don Basilio was tall, imposing and refreshingly real.

Throughout, Javier Ulacia's daft, deft and daffy direction played perfectly against the tall modular sets (including wallpaper plastered with a famous Rossini portraits) while handling crowd control with efficiency and ease, and imparting a now-and-then Gilbert & Sullivan-ish undercurrent making sure that serious never gained the upper hand.
The costumer's decision in Act II to go 'Pretty in Pink' was a rousing success with the audience, especially when Flórez threw off his Lindoro disguise and revealed himself as the Count, resplendent in a velvety outfit, complementing Gunn's Figaro in fire-engine red pants and DiDonato in a smashing red outfit of her own.

As usual with LA Opera, the orchestra played the heck out of the music. The night was set when the horn solo in the overture rang out strong and brave and true, and this was followed by endless delights from the woodwinds, the kettle drums, and even the "onstage" band. The strings were proud and powerful, but faded away a bit, with the rest of the orchestra, in Act II. On the podium, Michele Mariotti kept the drama going without losing the grace and beauty of the quieter moments.

This is a 'Barber' that's a 21st century equivalent to productions from the classic old days, not one of those avant-garde concoctions with something to prove and no intention of letting Rossini stand in the way. It was put together by people who love the music, love the fun of the theater and believe firmly that the best way to a healthy and prosperous operatic future is to provide superb entertainment in the form of high quality opera.

The 'Barber' runs through December 19; on December 5, 12 and 19 the leads will be sung by Dmitry Korchak and Sarah Coburn.

Laurence Vittes

Picture © Robert Millard