Other Links
Editorial Board
Editor - Bill Kenny

Deputy Editor - Bob Briggs
Founder - Len Mullenger
Google Site Search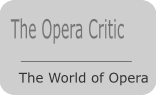 SEEN AND HEARD INTERNATIONAL OPERA REVIEW

R. Strauss: Ariadne auf Naxos Bayerisches Staatsorchester. Conductor: Bertrand De Billy. Munich's Prinzeregenten Theater. 20.07.2009.(JMI)


Production Bayerische Staatsoper.
Director: Robert Carsen.
Sets: Peter Pabst.
Costumes: Falk Bauer.
Lighting: Manfred Voss,
Cast:
Ariadne: Adrienne Pieczonka.
Bacchus: Burkhard Fritz.
Zerbinetta: Diana Damrau.
Komponist: Daniela Sindram.
Musiklehrer: Martin Gantner.
Tanzmeister: Guy de Mey.
Harlekin: Nikolay Borchev.
Scaramuccio: Ulrich Ress.
Truffaldin: Steven Humes.
Brighella: Kevin Conners.
Najade: Aga Mikolaj.
Dryade: Nicole Piccolomini.
Echo: Sine Bundgaatd.
With every day that passes I am more convinced that opera performances and their final results are a real mystery.
I have just attended a performance of Ariadne auf Naxos which I found fantastic. The mystery is not so much about being excited, but the fact that the same production and cast last year seemed pretty ordinary (
see review
.) I must conclude that the biggest difference was to do with myself and the fact that my response to artistic stimuli has been different in each occasion.
Last year I went to the premiere of the then new production by Canadian Robert Carsen. You can read what I wrote then. This time around I enjoyed the production much more. The Zerbinetta scene as a music-hall number was much better achieved than then. There was more proximity between Ariadne and Bacchus at the end of their duet. Finally, the lighting this time evinced the work of a true magician.
In the musical direction we had the only novelty, Bertrand de Billy in the place of Kent Nagano. I found De Billy more interesting, more passionate, intimate and subtle than Nagano. De Billy has become a much sought after conductor and he is no longer the occasional conductor he was in his years at Barcelona Liceu.
The four leading roles repeated from last year. We had again two wonderful singers, but the Composer and Bacchus were better than before.
Canadian Adrienne Pieczonka is an exceptional singer and has made her signature role out of Ariadne. In vocal terms her portrayal strikes me as the best assumption of the character. Her performance was a model from beginning to end.
Diana Damrau can only be compared with herself as Zerbinetta. She is fantastic. Not only did she sing the role as nobody else could do it today, but she was always Zerbinetta, even when she brought the house down - a true phenomenon as singer and actress.
Burkhard Fritz was again Bacchus and he was clearly better than last year. He coped with the extreme demands of the role, outstanding in itself, and there were no pitch problems either.
Daniela Sindram has grown into the role of the Composer and she was fully convincing.
All the secondary roles were very well served with the exception of Guy De Mey as the Dance Master - rather too tight. A very good impression was made by the young Nikolay Borchev as Harlekin. The rest of the Zerbinetta troupe were excellent. The trio of nymphs were very good with a new Dryade in American mezzo soprano Nicole Piccolomini. She's very promising. Martin Gantner was an excellent Music Master.
Full house and many "suche karte" outside. Overwhelming success with sonorous cheers and enthusiastic stamping for Damrau and Pieczonka. Sindram and De Billy were also cheered. Fritz had a warm reception, better than last year.
Jose Maria Irurzun
Ba
ck to Top
Cumulative Index Page