Other Links
Editorial Board
Editor - Bill Kenny

Deputy Editor - Bob Briggs

Founder - Len Mullenger
Google Site Search
SEEN AND HEARD INTERNATIONAL OPERA REVIEW

Strauss, Ariadne auf Naxos: Soloists, Orquesta Oviedo Filarmonía. Conductor: Sachio Fujioka. Teatro Campoamor de Oviedo. 19.9.2009 (JMI)

New production by the Ópera de Oviedo in a co-production with Greek National Opera and Teatro Carlo Felice di Genova.

Director: Philippe Arlaud.
Sets and Lighting: Philippe Arlaud.
Costumes: Andrea Uhlmann.

Cast:

Ariadne/Prima Donna: Emily Magee.
Bacchus/Tenor: Richard Margison.

Zerbinetta: Gillian Keith.
Composer: Katharine Goeldner.
Music Master: Vesselin Stoykov.
Dance Master: Francisco Vas.
Harlekin: Marc Canturri.
Scaramuccio: Juan Noval-Moro.
Truffaldino: Marc Pujol.
Brighella: Juan Antonio Sanabria.
Naiad: Susana Cordón.
Dryad: Mireia Pintó.
Echo: Olatz Saitúa.
An Officer: José Tablada.
A Hairdresser: Marcos García.
A Lackey: Jose Manuel Díaz.
Haushofmeister: Philippe Arlaud.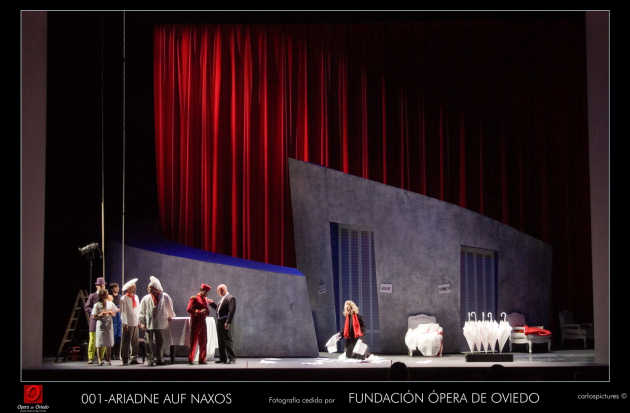 This is the third time that Oviedo Opera has presented an opera by Richard Strauss, following the successes of Salome (2001) and Elektra (2005). Sadly this Ariadne did not reach the same heights.

My friends know that I have a special predilection for Richard Strauss operas and, especially, for Ariadne auf Naxos, which is for me a genuine jewel on musical, dramatic and vocal levels. That being the case, I have nothing but praise for the decision to bring this opera to Oviedo for the first time, as it shows great initiative to offer this masterwork to an audience largely unfamiliar with this repertoire.

Salome or Elektra are two major operas requiring a large orchestra and a good conductor. Oviedo has presented both works in the past with the Orquesta del Principado de Asturias and their musical director Maximiano Valdés, who worked very hard on both scores. Ariadne auf Naxos seems to me to be a much more difficult opera both to conduct and to perform and it was all too clear from the first bars that the Orchestra Oviedo Filarmonía was not up to the enormous demands of the score.

This opera needs only a small orchestra, but one of very high quality, and only rarely would it have been so justifiable to bring in an outside orchestra to take this on. The Japanese conductor Sachio Fujioka gave a flat and rather boring reading of this beautiful score, seeming to spend most of his time with his head in his copy - not really the best way to conduct. He was much better two years ago in The Turn of the Screw than in this Strauss, and the result was that musically the evening was not a particular success.

Oviedo made every effort to present a new production, with a prestigious stage director in the shape of Philippe Arlaud. This production was premiered in Genoa last February and was not particularly praised by critics: in my opinion it was definitely below par and tried to play up the opera's humour without much success.

The Prologue takes place at the front of the stage, which is not too appropriate considering the constant movement throughout the scene. The Opera itself was set on a small stage with a bed and a bale of straw, plus a cyclorama of the sea. Arlaud made use of many extras (firemen, cooks, cleaners, stage staff...) but he failed to arouse much dramatic interest. His original touches are to have the composer dying of a heart attack at the end of the Prologue and to show Bacchus honouring his name by taking a few sips from his hip flask. Philippe Arlaud himself was the Majordomo and he obviously did not think the words of his character to the artists - that opera seria and buffa should be played at the same time - very important. Ariadne left the stage for Zerbinetta's big scene, coming back for the arrival of Bacchus. Zerbinetta sang and played at the very front of the stage, which lost many possibilities, and her troupe was generally rather poor. In short, this was certainly not the standard of work one usually expects from Philippe Arlaud.

The American soprano Emily Magee was a worthy Ariadne. Her voice has widened now and is well up to the demands of the character, despite some weakness at its lower reaches, and a top that can become too tight and lacking richness at times. Zerbinetta should be a character that sparks great enthusiasm from the audience in her big scene, but Canadian Gillian Keith did not achieve this goal completely. She is a light soprano with an appealing appearance, and she moves very well on the stage, but unfortunately the top notes of her great aria were more pinched than sung. She has all the notes, but they are too weak. And when Zerbinetta does not get a single cheer after her big aria, something has gone clearly wrong.

Another Canadian, the tenor Richard Margison sand Bacchus and once again he proved that his prime is over. Bacchus is a very difficult role of course that requires a big voice and a great stamina. Richard Margison definitely has a powerful voice, but he sounded slightly tired here and had some trouble controlling his vibrato.

The Composer was the American Katharine Goeldner, who has always found a great vehicle in this role. She was quite convincing as an actress and a very good singer. But when the composer gets the biggest applause in Ariadne, something really is missing from the performance.

The many secondary roles varied widely in quality. Francisco Vas was an excellent Dancing Master, Mireia Pintó (Dryad) and Olatz Saitúa (Echo) were both very musical, although they had small voices and Marc Canturri was a good Harlekin, although rather coarse in his beautiful aria. Zerbinetta's troupe was not terribly good, the best being Marc Pujol as Truffaldino. Susana Cordón was rather shrill, and in fact rather unpleasing to the ear, as Naiad and the Bulgarian Vesselin Stoykov was not to my liking either as the Music Master.

The Campoamor theatre was full as usual and the artists were well received, but there was no great enthusiasm in the applause.
José M Irurzun


Picture
©
Carlos, Opera Oviedo


Back to Top Cumulative Index Page