Other Links
Editorial Board
Editor - Bill Kenny

Deputy Editor - Bob Briggs
Founder - Len Mullenger
Google Site Search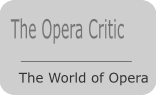 SEEN AND HEARD INTERNATIONAL OPERA REVIEW
Giordano, Andrea Chenier:
at the Finnish National Opera, 5.9.2009(GF)
Production staged by the Teatro Comunale di Bologna
Director, costume and set designer – Giancarlo Del Monaco
Lighting design – Wolfgang von Zoubek
Choreography – Ulrika Hallberg after Astrid Ascarelli
Cast
Andrea Chénier – Mihail Agafonov
Carlo Gérard – Hannu Niemelä
Maddalena de Coigny – Päivi Nisula
Contessa de Coigny – Sari Nordqvist
Bersi – Maria Kettunen
Madelon – Hannele Aulasvuo
Roucher – Olli Tuovinen
Fléville – Nicholas Söderlund
Fouquier Tinville – Petri Pussila
Mathieu – Heikki Aalto
Incredibile – Hannu Jurmu
Abbé – Ari Grönthal
Schmidt – Kai Valtonen
Major-domo – Andrus Mitt
Dumas – Veli-Pekka Väisänen
Gérard's father – Timo Paavola
Finnish National Opera Chorus and Orchestra / Alberto Hold-Garrido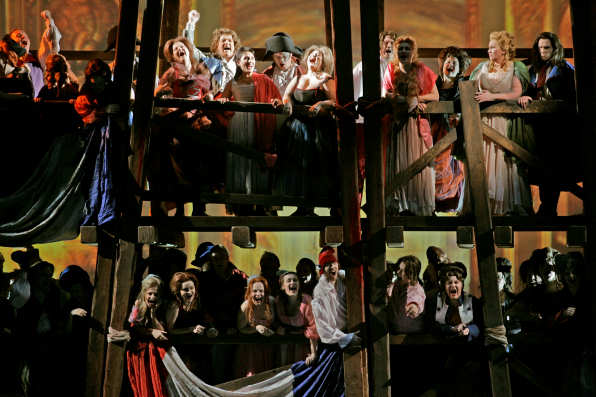 Picture © Stefan Bremer
This staging of Giordano's French Revolution drama originated at Teatro Comunale in Bologna and was then transferred to Helsinki, where it was premiered on 25 November 2005. It is a strictly conventional production with historically correct sets and costumes, and the only deviation from realism comes in the last act, the prison scene, where symbolic bars are being lowered at the front of the stage. At the very end of the opera, when Chenier and Maddalena are prepared to die together, they slowly climb the bars and remain there until the final blackout.

The historical reality is further enhanced by a giant monument being erected with the murdered Marat in his bathtub at the plinth, modelled after David's painting. And Bersi waves the revolution banner as depicted in Delacroix's likewise famous painting. In the trial scene, watched by the crowd from a high grandstand, the Tricolour is spread as a table-cloth over the jury's table, and Chénier defiantly tears it off when he has his speech for defence, Si, fui soldato. It's a colourful production, often evocatively lit.

For me the problem with this opera – and also the other two works by Giordano that I have seen, - Fedora and the short Marcella – is that it takes some time to increase in temperature. I have always found the first act rather dull, remedied only by Chénier's Improvviso. But it gains momentum and with suitable singers in the main roles – and also in the many small but important comprimario roles – it can be almost as thrilling as Tosca. Incidentally, there are parallels between the two works, playing during roughly the same time and each with political undertones. The Maddalena-Gérard relation is not exactly a counterpart to Tosca-Scarpia; Gérard is intrinsically not an evil person and it is Maddalena who offers her love in return for Chénier's release.

There were several good achievements in minor roles. Vocally Maria Kettunen's Bersi and Hannele Aulasvuo's Madelo were both excellent and Hannu Jurmu, whose Sibelius recordings I found rather variable a couple of years ago, sang and acted convincingly as Incredibile. Olli Tuovinen was a strong Roucher and Kai Valtonen was a voluminous Schmidt.

But the main interest in this opera is naturally focused on the three central characters, and here I'm afraid standards were not quite up to expectations. Päivi Nisula, who sang Maddalena also at the premiere four years ago, started out as a mezzo-soprano but then moved over to dramatic soprano and I heard her as a very good Desdemona in Otello some years ago. Today she has retained the dramatic intensity and at full forte she has tremendous volume. Unfortunately her tone now spreads under pressure and becomes squally. She was at her best in the final duet with Chénier. Hannu Niemelä has everything needed for Gérard's role – power, stage presence and expressivity – except a steady voice. He was a good Rigoletto at Dalhalla a few years ago and he compensated his lack of vocal beauty with deep commitment. Nemico della patria was, in spite of the shortcomings, heartrending. The star of the performance was however Mihail Agafonov in the title role. With four arias and two duets with Maddalena this is a real challenge for any tenor and Agafonov never tired. He is not the subtlest of singers and Come un bel di di maggio lacked poetry, but he had the power and the brilliance required. In many ways he reminded me of Franco Bonisolli, who also was a superb Chénier some 25 years ago.

Alberto Hold-Garrido, who also conducted the premiere, is well versed in this repertoire and the playing of the orchestra can't be faulted. Chances to hear and see Andrea Chenier at Nordic latitudes are limited but there are another two performances this month. Otherwise one has to go to Lubeck in November, Paris in December and Madrid in February 2010. For the production at large however and Mihail Agafonov's thrilling Chénier this Helsinki production is worth a visit.

Göran Forsling

Note: From this autumn, Finnish National Opera started a chamber music series on certain Saturdays at 3 p.m. in the opera house foyer. Entrance is free and various constellations of musicians from the opera orchestra are to perform. Judging from the size of the audience at the first concert, which I attended on 5th September, this series fills a need and I dearly hope it will be continued in the future.

The premiere programme was Harmoniemusik from Mozart's Die Zauberflöte. Harmoniemusik was in the 18th century the term for music for wind instruments. Mozart's Serenade for wind instruments in C Minor, K 388 is one of the most famous works in this genre and Joseph Heidenreich's arrangements of various numbers from The Magic Flute links up with the composer's own concept. The complement of instruments was pairs of oboes, clarinets, bassoons and French horns and with a double bass as backbone. The numbers were not played in the chronological order of the opera but were arranged to give as much contrast as possible. Lasting for exactly one hour with a short interval for refreshment in the middle, this was ideally entertaining and the visitors were enthusiastic. Visitors to Helsinki should bear in mind this opportunity to hear first class playing for free. This autumn there will be concerts on 26 September, 3 October, 10 October and 5 December.