Other Links
Editorial Board
Google Site Search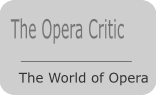 SEEN AND HEARD INTERNATIONAL OPERA REVIEW

Rossini, L'Italiana in Algeri : Soloists, Orquesta Sinfónica de Madrid. Coro de la Comunidad de Madrid. Conductor: Jesús López Cobos. Teatro Real de Madrid. 1 and 3.11.2009 (JMI)

New Production by Teatro Real in co -production with Maggio Musicale Fiorentino, Grand Théâtre de Bordeaux and Houston Grand Opera.

Direction: Joan Font (Les Comediants)
Sets and Costumes: Joan Guillén.
Lighting: Albert Faura.
Casts:
Isabella: Vesselina Kasarova/Silvia Tro Santafé.
Mustafá: Michele Pertusi/Nicola Ulivieri.
Lindoro: Maxim Mironov/David Alegret.
Taddeo: Carlos Chausson.
Haly: Borja Quiza.
Elvira: Davinia Rodríguez/Eugenia Enguita.
Zulma: Angélica Mansilla/Marifé Nogales.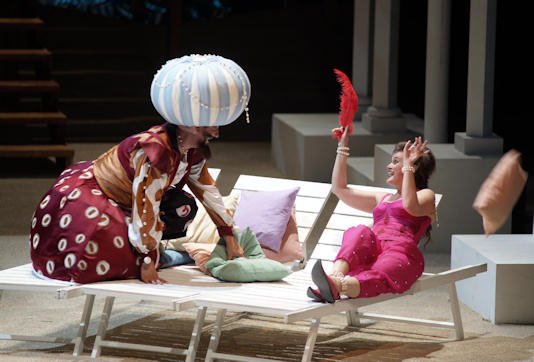 This is the premiere of the new production by Joan Font (Les Comediants) in co -production with three other opera houses in the world. It is worth mentioning the great made by Antonio Moral, the Artistic Director of Teatro Real, in recent years to get partners for new production at his theatre. This time there are four members in the venture, who have commissioned Joan Font and Les Comediants: they have provided a setting which is very reminiscent of much that they offered in La Cenerentola almost two years ago here in Madrid and again at Welsh National Opera in Cardiff. Sets and costumes are very colourful and supoort a very humorous vision of this opera buffa. with lots of slippers, large turbans much lot of colour. Joan Font's is essentially based on comedy, which in principle seems appropriate for an opera buffa. The only problem is that running continuous gags on stage may not go as well as expected and that is what happened here, at least to my mind. The production seems aimed more at an audience of children than for an adult one. This kind of humour is either a riotous romp or is just plain boring after while. This what happened to me, although the audience seem to enjoy it well enough. The camped-up gay eunuchs seemed very old fashioned for example, but I accept that my taste may not be typical.

The music was in the hands of of Teatro Real's expert Music director Jesus López Cobos. His reading was as effective and controlled as might be expected and his tempos were highly appropriate in general. If there's a criticism to be made, it was that some of the lightness of touch that great Rossini playing requires was missing and the orchestra was not quite up to the level demanded by this score. Rossini is one of the top representatives of belcanto of course but he is also one of the most difficult composers to conduct, particularly in this kind of genre. Lopez Cobos was more effective than bright in the pit. The chorus, not the regular one at Teatro Real, was not even good.

Isabella was sung by Bulgarian mezzo Vesselina Kasarova, whose performance was a disappointment for me. The character of La Italiana requires a singer with a great personality on stage and Kasarova was not this. In vocal terms, she was good in the coloratura parts and upper register, but the middle and lower ranges have become somehat artificial, rather hollow and not altogether pleasant. In the second cast we had Valencian Silvia Tro Santafé, who was more homogenous in vocal terms although still rather modest, while her figure is not suited to la "Bella Italiana".

Michele Pertusi did the Mustafa that he been performing for years, short on spontaneity now and never too exciting. He lacked the comic spark of some of his colleagues and his voice does not have the amplitude required for Mustafa. That he is a fine singer is beyond any doubt, but Mustafá needs more than that. In the second cast Nicola Ulivieri was a more convincing interpreter of the role, excellent as an actor and with a more suitable voice. Only his top notes were weaker than Pertusi's.

Maxim Mironov is a good tenorino with a very pleasant voice, who sings with good style, but has a huge handicap in terms of small vocal size. David Alegret was more or less in line with him, but with additional pitch problems in the higher notes and he is not an accomplished actor either. Carlos Chausson was a great Taddeo however proving once more that he is second to none in this repertoire. In the second cast he had to replace Paolo Bordogna and he was even better than the first night. Borja Quiza is a lyric baritone with a pleasant voice; a good singer and excellent actor. He did a good Haly, though presented in a too childish fashion in the production and I confess that I prefer a darker voice for the part.

Davinia Rodriguez from the Canaries was a fair Elvira with a hard edged top and she was not well suited for the ensembles: Eugenia Enguita was a modest replacement in the second cast. Marifé Nogales was good as Zulma in the second cast, better than Angelica Mansilla in the first one.
There was a full house for both both days with the audience somewat colder at the premiere. At the final bows, the triumph went to Carlos Chausson and Nicola Ulivieri was also very well received. Lopez Cobos received a few isolated boos on the first night, while being much applauded after the second. Joan Font and his team were received with mixed applause and boos.

José M Irurzun

Picture © Javier del Real