Other Links
Editorial Board
Google Site Search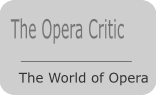 SEEN AND HEARD UK OPERA REVIEW

Gluck, Alceste: (Concert performance) Soloists, Chelsea Opera Group, Nicholas Collon (conductor). Cadogan Hall, London, 28.11.2009 (MB)
Herald – Jonathan Sells
Coryphaeuses – Sophie Junker, Amy Payne, Paul Curievici, Jonathan Sells
Evandre – Paul Curievici
Alceste – Cécile van de Sant
High Priest of Apollo – Matthew Hargreaves
Oracle – Simon Wilding
Admète – Peter Bronder
Hercule – David Stout
Infrenal Deity – Simon Wilding
Apollo – Jonathan Sells
Chelsea Opera Group (guest chorus master: Robin Newton)
Nicholas Collon (conductor)
How welcome to hear Gluck's Alceste at all, let alone in so creditable a rendition, for which many thanks must go to the ever enterprising Chelsea Opera Group. However revered Gluck might be by those of us who hope against hope that opera might be concerned with drama rather than vapid vocal display, the composer arguably receives the rawest deal of all the great musical dramatists in terms of performance. The COG's history is of course littered with important performances, not least Colin Davis's early Mozart and Berlioz, so it is perhaps to be expected that its attention might turn to such a cause. Rather to my surprise, I discovered that the group had mounted Alceste once before, under Lázsló Heltay, in 1983. I assume that was also the 1776 French version; performances of the original, Italian version, in many respects quite a different work, are extremely rare indeed. In any case, a generation is quite long enough to have waited and we can but hope for more Gluck from this stable.

Following the previous night's ENO Messiah, quite the worst production of anything I have seen this year, it proved something of a relief to be able to concentrate on the music in the form of a concert performance. (And no, this does not contradict what I said above concerning opera as drama, though it is a sadness that one should have to say it.) I had heard Nicholas Collon only once before, in quite different repertoire, Berio's Différences, but I hope and expect that there will be many other occasions. This was for the most part a Classical rather than a proto-Romantic Gluck, whatever the foreshadowings of Berlioz in the score. Collon, however, showed that this could be achieved without any of the condescension and unpleasantness of the 'historically-informed' – actually, anything but – brigade. Gluck's vigour and dignity, his Winckelmann-like 'noble simplicity', and above all his concern for dramatic truth, were well served here. One felt very much that this was a French work, a tragédie lyrique in direct descent from Rameau; one could also hear that Idomeneo and, in the Oracle's pronouncement, the Commendatore were only just around the corner. Rhythmic and harmonic impetus was maintained throughout, without any recourse to exhibitionistic shock tactics or otherwise frenetically driving the score. If the tragedy did not overwhelm in the way it might with a conductor such as Riccardo Muti, it is only fair to remind oneself that Muti had the forces of La Scala, whilst the Chelsea Opera Group is an amateur organisation.

Indeed, despite the odd fluff – more than that, sadly, in the case of the horns – the orchestra put many jaded professionals to shame. There were some truly wonderful moments, for instance the beautiful, melting oboe solo in Alceste's 'Grands Dieux, du destin qui m'accable,' and the extraordinary piercing violin figuration during the Act I Scene III priests' chorus. 'Perce d'un rayon éclatant' ('Pierce with a shining ray') – and it did. Orchestra and priests combined here in the Temple of Apollo to elicit a duly terrifying effect. There was a nice swing to the opening scene of the second act, in which premature rejoicing for the sparing of Admète's life was heard once again from both orchestra and chorus. Collon ensured that 'life' here contrasted with the tragedy of impending sacrifice from the first act, heightening the tension between appearance and the reality that tragedy is still very much with us. The ballet music was not perfect, but more important than a few smudges was the character imparted to the dances: they too, indeed they particularly, must be compelled to take on dramatic character. In Gluck, the aspiration must be for nothing to be extraneous – which is perhaps why the closing divertissement, much of it in any case by Gossec, was omitted.

The choral singing, as I have already more than hinted, was generally of a very high standard: full-bodied yet in no sense lacking in clarity, one in the eye for those insisting that the latter require a paucity of forces. There was much to commend in the solo singing too. Cécile can de Sant could hardly be expected to erase memories of Janet Baker and Jessye Norman, or Kirsten Flagstad in the Italian version, but she showed herself fully committed to the draining title role. To begin with, she occasionally sounded a little forced; perhaps it was a matter of adjusting to the acoustic of a small hall such as the Cadogan. It was noticeable that she remained in character throughout, her eyes and stance reflecting her predicament even when she was not singing. When she was, she combined style and dramatic projection to very good effect. She had, moreover, the inestimable advantage of good French. Peter Bronder was less impressive as Admète. Whether again he was simply trying too hard for the acoustic, I do not know, but he often sounded uncomfortably loud, hectoring even. There could be no doubting his dramatic commitment, but shouting something does not in itself render it 'dramatic'. David Stout made a bluff, good-natured Hercule, a role absent in the Italian original. Also notable was Matthew Hargreaves, as a suitably stentorian High Priest of Apollo. There were, indeed, no disappointments in any of the smaller roles. Special mention should be made of Paul Curievici, whose plangent, expressive tenor was put to stylish use as Evandre and a Coryphaeus. A member of the Guildhall's Opera Programme, I do not doubt that we shall hear more from him.
Mark Berry
Chelsea Opera Group will present two further operas in concert this season, both at the Queen Elizabeth Hall: La traviata on 21 February and Guillaume Tell on 23 May.