Other Links
Editorial Board
Editor - Bill Kenny

Deputy Editor - Bob Briggs
Founder - Len Mullenger
Google Site Search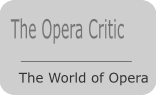 SEEN AND HEARD INTERNATIONAL FESTIVAL OPERA REVIEW

Festival d'Aix en Provence 2009 (4) – Offenbach, Orphée aux enfers (new production): Soloists, Chœur du Festival d'Aix-en-Provence, Camerata Salzburg, Alain Altinoglu (conductor). Théâtre de l'Archevêché, Aix en Provence, 9.7.2009 (MB)


Eurydice – Pauline Courtin
Orphée – Julien Behr
Aristée/Pluton – Mathias Vidal
Jupiter – Vincent Deliau

L'Opinion Publique – Marie Gautrot
John Styx – Jérôme Billy
Mercure – Paul Cremazy
Cupidon – Emmanuelle de Negri
Diane – Soula Parassidis
Vénus – Marie Kalinine
Minerve – Estelle Kaique
Junon – Sabine Revault d'Allonnes
Yves Beaunesne (director)
Damien Caille-Perret (designs)
Patrice Cauchetier (costumes)
Joël Hourbeigt (lighting)
Chorus of the Aix-en-Provence Festival (chorus master: Nicolas Krüger)
Camerata Salzburg
Alain Altinoglu (conductor)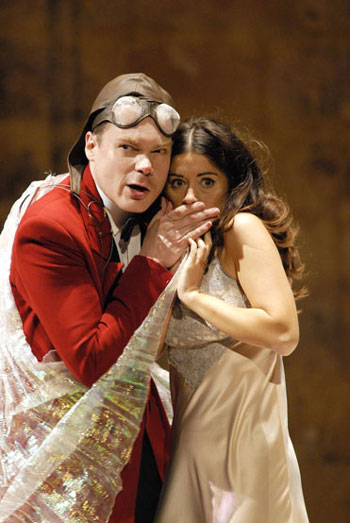 Götterdämmerung
would have been a struggle to put on in the courtyard of Aix's archepiscopal palace. Torchlight procession echoes of the
Eumenides
notwithstanding, it was doubtless wise to reserve Wagner's drama for the splendid new Grand Théâtre de Provence. The Théâtre de l'Archevêché remains, however, the traditional heart of the festival, and it was here, as dusk fell, that I saw and heard my final performance, a satyr play almost, from this year's programme.
Orphée aux enfers
does not have much in common with
Götterdämmerung
, although both came under the umbrella of the festival heading, opera and myth. This was really too general a heading to be of value – the Orpheus myth itself might have been more manageable, whilst still offering a plethora of choices – but no matter. Offenbach's
opéra bouffe
provided an enjoyable contrast.
The production, for the Aix Festival and the Académie européene de musique, subsequently transferring to co-production partners in Toulon and Dijon, had its problems. Yves Beaunesne seemed unable to decide what he was trying to accomplish. According to an interview in the programme booklet, he sees Offenbach as having had two targets in mind for his satire: political and social matters on the one hand and myth on the other. Beaunesne then makes the questionable assertion that, 'in order to find once again the original radicalism' of the work, one should invert the proportions of the original targets, concentrating on political and social satire, since 'mythology no longer belongs to our [frame of] references'. Perhaps not to his, though he might be wiser only to speak for himself in that respect. More importantly, this claim, whether accurate or otherwise, does not seem to be carried through into what we witness on stage. In the first scene, which, like the rest of the production, seems to be set vaguely in the 1920s, mythology seems barely present. Orpheus and Eurydice are just a musician and his wife, though, given the downplaying of the satire on myth, there does not seem to be anything amusing about this. Thereafter, however, we seem to be vaguely in the world of myth, albeit in vaguely 1920s guise. None of this is of supreme importance, but I cannot understand what is gained. Had the proposition been that updating to the present was necessary, it might have been incomprehensible, but an interwar setting does not seem especially more relevant to the early twenty-first century than a production set at the time of composition, or indeed at almost any other time. A case, of course, might have been made, but I am not sure that it was.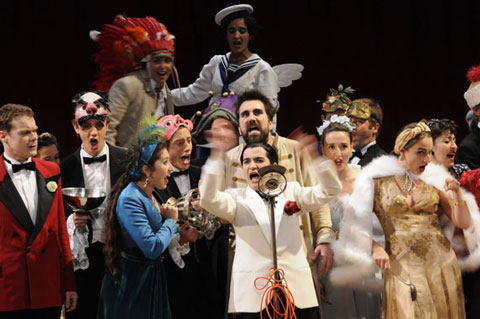 What we had, instead, was some intermittently pretty sets and some splendid costumes (Patrice Cauchetier) and a few puzzling interpolations, such as Pluto, in his initial guise as Aristaeus, arriving upon stage on roller-skates – handled with great aplomb, I might add. Insofar as I could trace an idea, it seemed to be that Eurydice was a social climber, seduced by a picture of a film star (?), who whisked her off; she became bored and ended up being whisked off by someone (Jupiter) more influential. The problem was less the idea than that it was weakly presented. The gods' banquet in the second scene – this was the original, two-act version, with some additions from 1874 – seemed just a bit old-fashioned, redolent yet not emphatically so of the Second Empire, whereas I had imagined we might have had a real taste of Hollywood. Public Opinion, after all, seemed to be a busybody reporter, forever taking photographs. Enjoyable – yes; coherent – no.
Alain Altinoglu, however, provided a fizzing account of the score, for which much praise should also be given to the Camerata Salzburg. Hardly their core repertoire, one would have thought, but Altinoglu's direction provided drive and tenderness, though never deathly sentimentality, and a welcome opportunity to hear the ample soloistic opportunities Offenbach grants various instruments. Chief of these, of course, is Orpheus's violin, in the hands of the excellent leader, Roman Simovic, but there are many more, all of which were well taken here.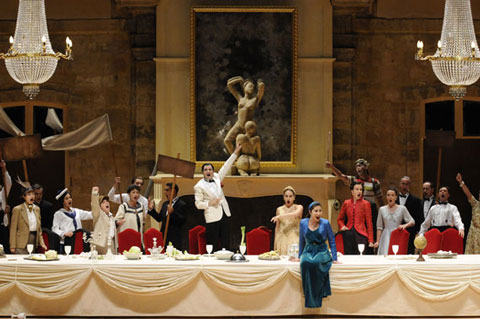 The young cast, drawn from the ranks of the Académie européene de musique, generally made the most of its opportunities too. Chief amongst them must surely be ranked Mathias Vidal's Pluto, sweet of tone in a classically French manner, and a good actor too. Francis Bouyer attracted a somewhat lukewarm reception as Jupiter, but I thought him rather good too, with a fine swagger, both vocal and visual, though he seemed to tire a little during the second act. Julien Behr's Orpheus was sweetly sung and convincingly portrayed. Pauline Courtin generally handled well the demands of her part as Eurydice, albeit not without a certain tendency for her voice to harden during vocal display. I was enchanted by Emmanuelle de Negri's splendidly boyish Cupid, whilst Jérôme Styx did an excellent job as John Styx, though he was not at all assisted by the production, which, under the guise of amusement, really made the character outstay his welcome. The smaller parts were also generally well taken, not least in terms of stage presence. I do not doubt that we shall be hearing from some of these singers again.
Mark Berry