Other Links
Editorial Board
Editor - Bill Kenny

Deputy Editor - Bob Briggs
Founder - Len Mullenger
Google Site Search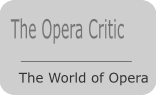 SEEN AND HEARD UK FESTIVAL CONCERT REVIEW

York Early Music Festival 2009 - Haydn: Academy of Ancient Music/Pavlo Beznosiuk York, 18.7.2009 (JL)
Haydn Symphony No.6 in D major 'Le Matin'

Haydn Symphony No.7 in C major 'Le Midi'
Haydn Concerto in C major for violin Hob VIIa:1
Haydn Symphony No.8 in G major 'Le Soir'

One of the world's leading period instrument bands performed this closing concert of the 2009 York Early Music Festival in the Church of St Michael le Belfrey. The venue is an airy 16th century building narrowly wedged between the towering Minster on one side and a row of former medieval buildings on the other, one being a tavern from which emerged Saturday night sounds of revelry that mildly disturbed some of the musical proceedings. 'Twas probably ever thus for the last 500 years or so. The Church has the doubtful distinction of having hosted, in 1570, the christening of Guy Fawkes, the man famously destined to attempt to blow up the country's legislature.

An all-Haydn concert would have been unthinkable in the early years of the York Festival (1970s) because the consensus then was that "early music" ended with Monteverdi. Music from mainstream baroque (Bach and Handel) would not normally be included, let alone that of the classical period (Mozart and Haydn). The reasons for the category shift would merit a separate essay but at least the moving of the goal posts allowed the Haydn bicentenary to be celebrated on this occasion.

The three symphonies (6, 7 and 8) and violin concerto were all written immediately after Haydn (1732-1809) arrived, in his late twenties, at the Palace of the fabulously rich and influential Esterhazy family. The Esterhazys had their own beautiful concert hall in which the resident orchestra would have performed. Pavlo Beznosiuk, who led the Academy of Ancient Music from the violin, introduced the concert by explaining that the number of players had been chosen to replicate those that Haydn had at his disposal. Thus there were only nine string players. Some scholars might contest that and claim there were more, but no matter, the balance was fine, aided by an acoustic better than that in most other churches in which I have heard music played.

Haydn may have written nearly a hundred more symphonies after these but the characteristics of zest, assurance and innovation are already apparent. Much of the music must have been determined by the degree of skill of particular players for there are some astonishing solo passages for violin, flute, cello and bassoon - the oboes do not get much of a look in, being mostly locked together in a pair. A delightful and tricky flute solo for example, launches the first work, Symphony No. 6. This threw the soloist, Georgina Brown, in at the deep end, for as Pavlo Beznosiuk had just explained, she was standing in at very short notice for the AAM's resident principal flautist, Rachel Brown (no relation!). She came through with flying colours, having to negotiate some hair-raising passage work, notably in the 7th Symphony's finale.

Beznosiuk introduced each work in an entertaining, very informal yet erudite way. Early music used to have a rather stuffy reputation so it was good to see someone doing something about that. One thing he pointed to was the aspect of style in these early Haydn works that derived from Italian baroque. This was most noticeable in the violin concerto, the solo part played by Beznosiuk himself with suitable panache. The concerto was clearly a vehicle for Haydn's own resident virtuoso violinist and concert master, Luigi Tommasini. Scored for strings alone it is a great deal thinner in musical content than the symphonies although a long melody for violin in the slow movement accompanied by plucked strings was a delight and an obvious nod to the influence of Vivaldi.

An evening of Haydn is bound to have a feel-good factor about it, but the AAM house style of energetic precision and fastish tempi contributed just as much to a general sense of joie de vivre.

John Leeman