Other Links
Editorial Board
Editor - Bill Kenny

Deputy Editor - Bob Briggs
Founder - Len Mullenger
Google Site Search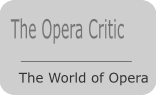 SEEN AND HEARD INTERNATIONAL OPERA FESTIVAL REVIEW
Glimmerglass Opera Festival 2009 (1) - Verdi, La Traviata:(New co-production with Vancouver Opera) Soloists, orchestra, and chorus of Glimmerglass Opera, Conductor Mikhail Agrest, Michael MacLeod, General and Artistic Director, Cooperstown, New York 18.7.2009 (LS)

Production:
Director: Jonathan Miller
Scenery and Costumes: Isabella Bywater
Lighting: Robert Wierzel
Choreographer: Terry John Bates
Projected Titles: Kelley Rourke
Hair and Makeup Design: Ann Ford-Coates
Chorus Master: Bonnie Koestner
Principal Coach/Accompanist: José Meléndez
Stage Manager: E. Reed Fisher
Cast:
Violetta Valèry: Mary Dunleavy
Flora Bervoix: Liza Forrester
Marchese D'Obigny: Damien Pass
Barone Douphol: Michael Krzankowski
Dottor Grenvil: David Kravitz
Gastone: John Rodger
Alfredo Germont: Ryan MacPherson
Annina: Rebecca Jo Loeb
Giuseppe: Steven Brennfleck
Giorgio Germont: Malcolm MacKenzie
Commisario: Kevin Wetzel
Servant: Adam Fry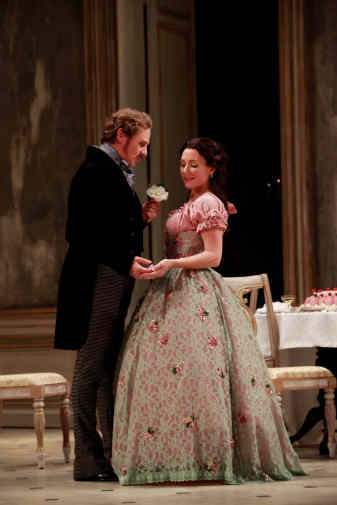 Mary Dunleavy (Violetta) and Ryan MacPherson (Alfredo)


William Berger, author of the delightful Verdi with a Vengeance claims that "La Traviata might well be the world's most popular opera". It has everything: a beautiful, noble, young, doomed heroine; an adoring tenor, a stern but ultimately sympathetic baritone; a simple yet emotionally powerful plot; and some of Verdi's most memorable music

The plot is well known. Violetta, the courtesan, knows she is dying from consumption, yet is determined to live life to the fullest. Alfredo Germont, a young immature bourgeois gentleman, falls in love with her, and to her surprise she reciprocates. Giorgio Germont, Alfredo's father, tells Violetta that she must give up Alfredo in order for Alfredo's sister to wed into society. After much anguish Violetta agrees to leave Alfredo for the Barone Douphol. When Alfredo reads Violetta's farewell letter he swears revenge against the Barone.

Alfredo confronts the Barone and Violetta at a party and in fury throws his money at her saying that he was repaying her for the money she squandered on him. Everyone is aghast at the insult, and Giorgio Germont reproaches him saying that he can't recognize his own son. Violetta faints and Alfredo berates himself. When she recovers she tells Alfredo that he doesn't understand the depth of her love for him, but some day he will know the truth.

In the final act, Violetta is on her deathbed. She learns from Giorgio Germont's letter that Alfredo now knows the sacrifice she made for him, and will return from abroad to see her. Violetta fears he will arrive too late, but suddenly amidst the clamor of Carnival outside the house, Alfredo appears. He begs forgiveness and she says there is nothing to forgive. Giorgio Germont appears and welcomes her as his daughter. In a final spasm of joy Violetta collapses, the doctor pronounces her dead, and the curtain falls.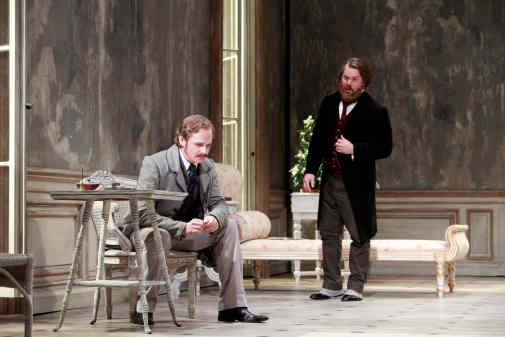 Ryan MacPherson (Alfredo) and Malcolm MacKenzie (Giorgio Germont)


The key to an unforgettable Traviata is Violetta, and Mary Dunleavy was just that –unforgettable. From her opening notes it was clear that she would take control of the production. Berger notes that: "the soprano must have brilliant coloratura, the ability to sing long legato passages in a faint pianissimo, and at two points in the score, to give out a Wagnerian Niagara of sound." Some might question whether Dunleavy's big voice was appropriate for a woman who is dying even as the curtain rises, but I had no problems. Indeed the contrasts between the "big voice" and her beautiful pianissimos were even more striking . Her "Sempre libera" was spectacular, and her outburst "Amami, Alfredo!" was a high point. The death scene was heartbreaking. Having sung Traviata at the Metropolitan Opera, Gran Teatre del Liceu, Covent Garden and New York City Opera (only a partial list !) Dunleavy demonstrated at Glimmerglass her mastery of Violetta.

When paired with a spectacular Violetta, Alfredo faces a major challenge to preserve an appropriate balance between the lovers. Ryan MacPherson displayed a beautiful lyric tenor at times, and brought appropriate emotion to the money scene in Act III, but in my opinion he wasn't always up to the very high standard set by Dunleavy. For example, after he sang a beautiful "De' miei bollenti spirti" he had serious trouble with the cabaletta's "O mio remorso" final note. MacPherson's credits include performances at Portland Opera, New York City Opera, Florentine Opera, and Sarasota Opera.

On the other hand, Malcolm MacKenzie held his own with a powerful rendition of Giorgio Germont. In his Act II confrontation scene with Violetta he combined beautiful singing ("Pura siccome an angelo") with effective acting. Later in the Act he sang the famous "Di Provenza" with an appropriate blend of sadness and concern. He debuted at Glimmerglass in 1994 and has sung at New York City Opera, Los Angeles Opera, San Diego Opera, Opéra National de Paris, and the Metropolitan Opera.

The remaining members of the relatively large cast sang well. I would single out the Young American Artist Michael Krzankowski for his sinister portrait of Barone Duphol.

The chorus sang with appropriate emotion and sensitivity especially in Act III. I also enjoyed the Gypsy sequence which introduced Act III.

The sets and lighting were particularly effective. Two walls with a total of three very high doors sufficed for most of the action. The high doors enabled the audience to see action in the "back rooms". The shadows cast in the Act IV death scene were extremely dramatic.

Mikhail Agrest kept the orchestra moving at a relatively fast pace. The ethereal sections were well played as well as the robust oom pa pa's. I was a bit stunned however by the volume of Violetta's final scream of joy together with the very loud final chords.. Quite a death scene.

The audience gave hearty rounds of applause to Malcolm MacKenzie and Ryan MacPherson and a standing ovation to Mary Dunleavy. And that summed up this excellent production which opened the 35th Anniversary Season at Glimmerglass.

Lew Schneider

All photos copyright Richard Termine. Used with permission