Other Links
Editorial Board
Editor - Bill Kenny

Deputy Editor - Bob Briggs
Founder - Len Mullenger
Google Site Search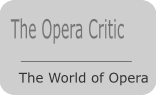 SEEN AND HEARD UK OPERA REVIEW
Puccini, Tosca: Soloists, Chorus and Orchestra of the Royal Opera House, Covent Garden/Jacques Lacombe, Royal Opera House, Thursday July 9th, 2009 (CC)


Conductor: Jacques Lacombe
Director: Jonathan Kent
Revival Director: Stephen Barlow
Designs: Paul Brown
Lighting: Mark Henderson

Cast:
Floria Tosca: Angela Gheorghiu
Mario Cavaradossi: Marcello Giordani
Baron Scarpia: Bryn Terfel
Spoletta: Martyn Hill
Cesare Angelotti: Kostas Smoriginas
Sacristan: Jeremy White
Sciarrone: Matthew Hargreaves
Shepherd: Johan de Silva
Gaoler: John Morrissey
Angela Gheorghiu as Tosca and Marcello Giordani as Cavaradossi

Even before curtain-up and baton down, this Tosca had been firmly in the press due to the indisposition of the scheduled Tosca, Deborah Voigt, due to acute colitis. In her stead, two Romanian sopranos share top billing, Angela Gheorghiu and Nelly Miricioiu, and it was Gheorghiu who stepped onstage for the first night of the run.

Gheorghiu sang Tosca back in the 2006 run of this staging, sharing the role in that instance with Catherine Naglestad. Here she sang against the Mario Cavaradossi of the Sicilian tenor Marcello Giordani and the astonishing Scarpia of Bryn Terfel. The staging is based on Jonathan Kent's for the 2006 performances (it has been revised in each season since then) – the revival director is Stephen Barlow.

The production is relatively traditional. A split-level stage provides space for Act 1's action. The painting that causes such controversy in the plot is stage right and in full view; there is a Madonna in the centre. The main impression of the first act is half-light tending towards darkness. Act 2 is enacted in Scarpia's apartments at the Palazzo Farnese, a place where bookshelves either have token books or none at all and where the only vaguely full bookshelf opens out as a door. The final act is impressive in its nocturnal evocation (points of light for stars); Lacombe seemed to take the on-stage night and suffuse the music with it. The final act had real momentum and tension, all due to Lacombe's long-range hearing.

Angela Gheorghiu 's assumption of the title role is impressive. I have been less than impressed by Gheorghiu in the past, either live in concert at the Festival Hall (I gave her a mixed reception in 2005) or in Met/Barbican simulcast (Mimì, Bohème in April 2008). Yet she did live every second of the anguished second act. Only a rather tremulous beginning to "Vissi d'arte" detracted here, and, as if aware of this, Gheorghiu brought that section to an impressive climax. Here final suicidal exit from the stage was a bit on the careful side, but then again I suppose one broken leg at Covent Garden recently is enough …

Marcello Giordani has previously sung Cavaradossi at the Puccini Festival in Torre del Lago in 2007. His is endowed with a big voice, as his "Dammi i colori … Recondita armonia" demonstrated – the thought did cross my mind that he is a little too powerful, rather lacking subtlety. His final act "E lucevan le stelle" went a long way to discredit that statement, and indeed it was in the final act that it all seemed to come together for Ghiorghiu and Giordani. I just wish he had a bit more power – the defiant cries of "Vittoria" lost their spine-tingling quality, alas. Giordani's future plans include Calaf at the Met and Gustavo (Ballo) at the Vienna State Opera.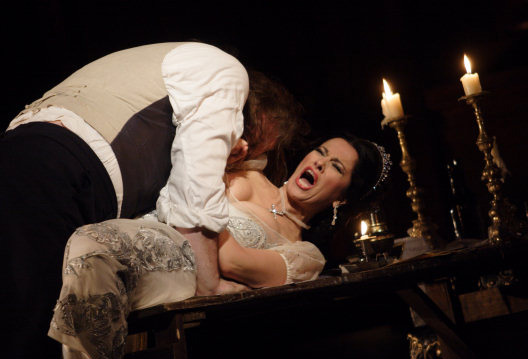 Bryn Terfel as
Baron Scarpia and
Angela Gheorghiu as Tosca

Whatever the positives of Gheorghiu and Giordani, it was Terfel who stole the show. Both assumptions of Tosca and Cavaradossi had their negative side – not so for this Scarpia. Terfel is physically perfect for the role – a great intimidating hulk of maleness. I had seen his Scarpia on DVD (Chailly, Decca 074 3201), but it is in the theatre that the full impact lies. His voice, of course, matches his wall-like bulk. He positively dominates the stage, and lives the role, spitting out his sly cries of "Ah, Tosca". There was real chemistry between Gheorghiu and Terfel (there is a moment when it can go either way, when it looks like they might kiss), something which adds to the sickly fascination of the second act.

The Lithuanian bass-baritone Kostas Smoriginas, a member of the Jette Parker Young Artists Programme, took Angelotti (as he did in the 2008 revival), and did so creditably. His voice is big enough, certainly. I wish the Spoletta, Martyn Hill, had been creepier – in the Chailly Amsterdam performance, John Graham-Hall is just as evil as his Scarpia, just in a different, slimier way. John Morrissey's Gaoler was a fine assumption of this small role; the Shepherd Boy of the first night, Johan de Silva, similarly acquitted himself well. Jeremy White was a characterful Sacristan.

Arguably most impressive of all was the conducting of Jacques Lacombe (who was kind enough to grant me an interview the morning after this performance). He kept things moving, allowing the music to generate momentum without ever giving the impression of rushing. His ear for orchestration is astonishing. Right from the expertly balanced opening chords, this facet of his direction was in evidence. It was as if Lacombe was out to discredit the Puccinian nay-sayers who insist this music is all splodge. He has a fine sense of the large-scale as well as the moment-to-moment beauty. Moments of subtlety were many and varied, complementing the grand effects of the Te Deum, the stabbing of Scarpia and Cavaradossi's execution. There was the odd moment that I am sure will be tidied up in later performances – Lacombe was going straight to a rehearsal intended just for that after our interview – like the fact that "Vissi d'arte" did not start together, but Lacombe is a significant conductor and Covent Garden would do well to ensure his services in the near future.

Colin Clarke

Pictures © Catherine Ashmore